The Spotter V3 looks like the easiest solution to upgrade your drone with a 5.8G video transmission solution with detailed GPS OSD. The AIO FPV camera can be attached easily to the fuselage using the included velcro bands. The only wiring needs to be done is to power it (wide range of input voltage is accepted 7-24V) .
Spotter V3's on-board 5.8G VTX features 40CH and adjustable broadcast power. According to your needs you can adjust transmission power between 20 and 200mW. In order to allow good heat dissipation, the camera features external heat-sink. The module comes with lightweight copper clover antenna.
Sponosored AD
The Top RC Hobby Spotter V3 provides detailed telemetry info (including GPS data) on your FPV display, even the camera is not wired to the flight controller.
Spotter V3 camera features & specs
All-in-one FPV camera (Microphone, VTX, Antenna, OSD and GPS);
Small size (37 x 18 x 14 mm);
External heat-sink for good heat dissipation;
Detailed OSD with GPS info;
Wide angle lens (170 degree FOV);
700 TVL resolution (1280 x 960);
Built-in microphone;
5.8G/40CH VTX with adjustable broadcast power (20/100/200mw);
Copper clover antenna;
Wide range of input voltage (7-24V / 2s-6s LIPO).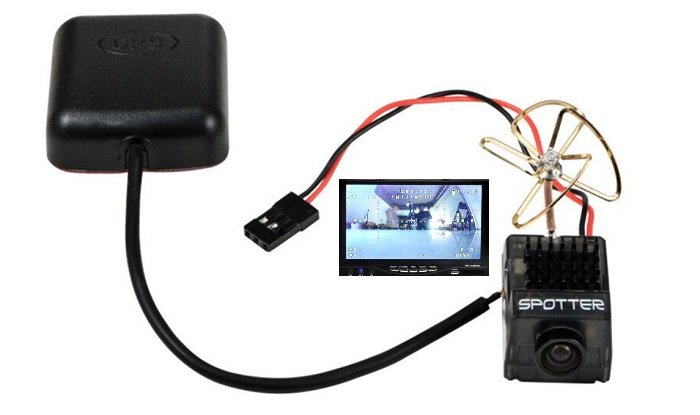 Box content:
Camera + VTX + Antenna module;
GPS module;
XT60 – to – power cord;
Velcro mounting pads;
User manual.