If you missed our 11.11, Black Friday & Cyber Monday drone deals and you are still after a nice Christmas gift, you should check our secret list of Santa's favorite drones for 2019.
Every year, FirstQuadcopter creates dozens of drone reviews in order to help you find the best Xmas quadcopter out there – for your budget, interest or pilot skills. To make it even easier for you, in this page we'll give you a bit of info about each drone we highlight too, so you can see some specs at a glance before you click through to the store and browse their detailed descriptions.
Sponosored AD
Top 5 drones for XMAS 2019
The end of the year, when all the Christmas light decorations are up on the streets, is a wonderful time for getting up your FPV drone and doing some night flights. For those who want to practice indoor, we will have some gift ideas too. We tried to select drones from multiple price categories in order to satisfy different budgets.
1. DJI Mavic Mini – Xmas gift under 500
Type: Cruising | Skills: Beginner/Intermediate | Camera: 2.7K | FPV: Advanced WiFi | Flight time: 30 minutes | Range: 4K | Features: Foldable design, Brushless motors, 3-axis gimbal, GPS & RTH | Package: RTF & Fly More Combo
With a budget of $500 you can't go wrong with the Mavic Mini. While it was revealed only a month ago (October 2019), it became quickly a best seller. Thanks to its ultra-lightweight (249 grams) design, it does not require registration in most countries. For more restrictive markets, like the Japanese one, DJI has a 199g version of the MM, too.
The smallest member of Mavic series features 2.7K camera and 3-axis stabilization. Through the Go Fly APP you have access to QuickShots modes like Dronie and Rocket. The sweetest thing of the MINI MAVIC is its flight time, in optimal conditions with a fully charged battery you can have up to 30 minutes airborne time. Mavic mini is available in two box versions: Standard and Fly more Combo (with 3 batteries, two-way charger, prop protector and carrying bag) Order from DJI
2. Fimi X8SE – Christmas gift idea under $500
Type: Cruising | Skills: Intermediate | Camera: 4K with 3-axis gimbal | FPV: Advanced 5G WiFi | Flight time: Up to 33 minutes | Features: Dual-GPS, Vision Positioning and Smart track | Range: Up to 5Km | Package: RTF
The FIMI X8SE is also an excellent choice when you have 500 bucks in your pocket. Biggest advantage over its DJI rivals is the lack of GEO-fencing – you have more freedom in terms of where you can fly. Like the Mavic series, it also features foldable design.
The X8SE comes with a nice expandable controller with built-in battery. Designed to be used with a smartphone, it doesn't have any LCD screen. The stick-ends can be removed and stored inside a rubber compartment in the transmitter.
Xiaomi Fimi X8SE has a lot of intelligent flight modes that you normally wouldn't find on a $500 quadcopter – such as the ability to create cool Hyperlapse videos. Check actual FIMI X8SE deals
3. Eachine E016H Mini – Xmas kids drone under $15
Type: Kids drone | Skills: Beginner | Camera: None | FPV: N/A | Flight time: 8 minutes | Features: Super safe design, Altitude hold & Headless mode | Package: RTF
Priced for only $14.99, the E016H Mini is the cheapest drone in our 2019 edition of "Best Christmas drone list". Like in case of most toy drones, the "H" letter in the product name means altitude hold. Thanks to the barometric air-pressure sensor, the Eachine E016H Mini drone is capable to autonomously maintain its flight altitude. Another kids friendly feature is the cage-type blade protector.
It can be found with 1, 2 or 3 batteries. Each fully charged LIPO will allow up to 8 minutes of play time. Order from Banggood
4. Eachine E58 Emotion – Xmas drone under $50
Type: Learn-to-Fly | Skills: Beginner | Camera: 0.3/2MP | FPV: WiFi | Flight time: 7-9 minutes | Features: Foldable design, Altitude hold, Headless flying, Multiple flight speed rates & RTH | Package: RTF
After being two years on the market, the E58 Emotion is still a pretty nice entry-level drone. The attractive Mavic alike design is paired with excellent flight performance and decent flight time.
Eachine offers the E58 drone with two type of cameras (720P and 1080P). Both versions feature WiFi real-time image transmission. At checkout you can opt for 1, 2 or 3 flight batteries. Buy from Banggood
5. Eachine E520S – Editor's pick under $100
Type: Learn-to-Fly | Skills: Beginner | Camera: 702P/1080P/4K | FPV: 5G/2.4G WiFi | Flight time: up to 16 minutes | Features: GPS, Headless mode, Altitude hold & RTH | Package: RTF
Small backpack friendly drones like the Eachine E520S are becoming increasingly more popular. When folded measures only 15 * 11 * 7.5 cm, so you can take it with you everywhere. In addition to the GPS positioning it features smart flight modes like Follow me, Circle hovering and Waypont flight.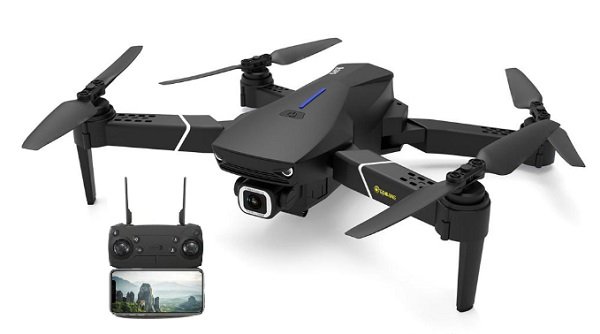 According to your budget you can opt between 3 type of cameras (720P, 1080P and 4K). All versions feature real-time image transmission. The aircraft is powered by a 1200 mAh LIPO battery. With a fully charged battery you can fly the drone for around 16 minutes which is one of the best flight time on its market segment. Order with 7% off
Bottom line: It's the season of giving, not receiving!
As we are already in December and the Christmas is almost knocking at our door I hope that I succeeded to provide you some helpful gift ideas.
Finally, always try to gift a drone according to the age, flight skills and interest of the person who will receive it.