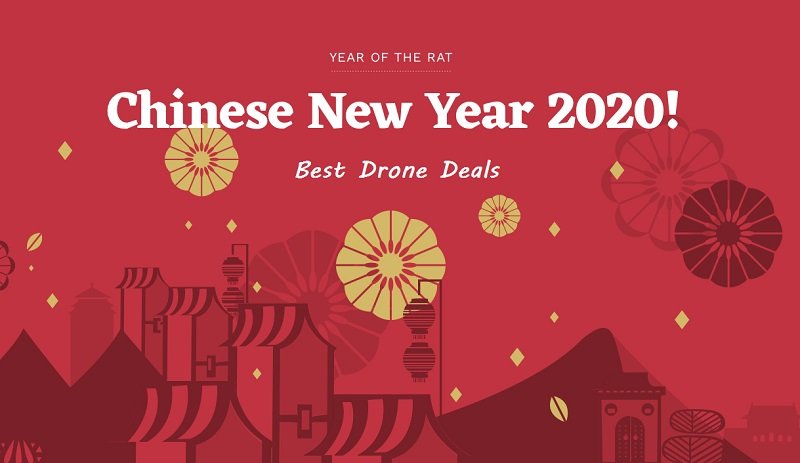 Banggood's Winter Sale may have ended only few weeks ago but they already started to prepare some cool drone deals in order to celebrate the year of the RAT. The Lunar New Year Sale brings on Banggood discount coupons for FiMI, Hubsan, Eachine and Emax.
Chinese New Year marks the day of the turn according to traditional lunisolar Chinese calendar – the new moon in the middle of the winter solstice and the spring equinox. 2020 is the year of the Rat, starting from January 25th, 2020 and lasting until February 11th, 2021.
Sponosored AD

Chinese New Year drone deals – 2020 year of the RAT
I will give you a bit of info about each drone I highlight too, so you can see some specs at a glance before you click through the store and have to browse their detailed descriptions.
FiMI A3 discount coupon – $221.60
Type: FPV Cruising | Skills: Intermediate | Camera: 1080P with 2-axis gimbal | FPV: 5.8G analogue | Flight time: 25 minutes | Features: GPS, RC with built-in LCD | Range: 1Km | Package: RTF
The FIMI A3 is an affordable newbie-friendly drone that comes with many many features, including a Full HD camera that is capable of recording 1080@30fps videos. The camera is stabilized by a 2-axis mechanical gimbal that will minimize any jello effect from your images and video footage. In addition to the dual GPS positioning, it has lots of intelligent flight modes.
The high capacity 2000mAh LIPO pack is another outstanding feature of the FIMI A3. This 3-cell battery can give you a flight time of up to 25 minutes according to the manufacturer.
For sure, the sweetest thing of the FiMI A3 drone is the 5.8G real-time image transmission which allows to be used with standard FPV goggles and monitors.
Now, during Chinese New Year Sale you can have it using this BGFIMIA3CZ coupon code for only $221.60.
Eachine EX4 with 20% off
Type: Cruising | Skills: Beginner\Intermediate | Camera: 4K | FPV: 5G WiFi | Flight time: up to 25 minutes | Range: ~1.2Km | Features: GPS, Altitude hold, RTH, Smart Auto follow and Waypoint flight | Package: RTF
Featuring 4K camera, 3-axis mechanical stabilization and compact foldable design, the Eachine EX4 is considered by many as one of the best Mavic Mini alternative.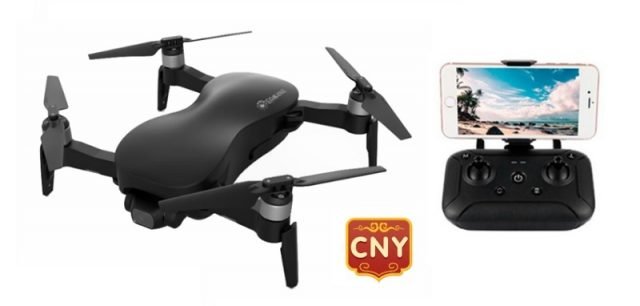 While folded up measures only 17.7 x 9 x 5.5 cm, with extended arms has around 17.7 x 19.6 x 7 cm. The aircraft weighs about 440 grams, this is important to note because in certain countries like the USA, any drone that weighs over 250 g needs to be registered at FAA before you can fly them legally.
According to the advertised specs, the 3s/2400mAh LIPO pack allows up to 25 minutes airborne time. By compassion, the Mavic Mini with a 2s/2400mAh battery can have up to 33 minutes flight time.
Use coupon Promotion Period: Chinese New Year Drone Sale. Coupon Code: BGEX412. Note: At checkout you can opt for 1, 2 or 3 flight batteries as well as for optional storage bag.
EMAX Tinyhawk II discount code – $98.99
Type: FPV Drone | Skills: Advanced | Camera: RunCam Nano 2 – 700TVL | FPV: 5.8G/37CH 25~200mw | Flight time: Depending on battery capacity | Features: 1-2 LIPO compatible | Package: BNF (EMAX SPI Receiver – FrSky D8 mode)
According to EMax, thanks to the new motors and design you'll get about 7% more power from the Tinyhawk II drone. Like its predecessor, it is also compatible with 1 and 2 cell LIPO packs. Standard package includes 1s/450mAh and 2S/300mAh batteries.
Its on-board RunCam Nano 2 camera features 1/3″ image sensor and it is paired with a 5.8G/37CH FPV transmitter. According to your needs, you can toggle between 25, 100 and 200mW VTX power.
Use coupon Promotion Period: Chinese New Year Drone Sale. Discount Code: BG10EXTHK. Coupon price: $98.99
Hubsan Zino drone with %40 off
Type: Cruising drone | Skills: Intermediate | Camera: 4K with 3-axis gimbal | FPV: RC down-link | Flight time: up to 23 minutes | Features: GPS+GLONASS satellite positioning and Intelligent flight modes | Package: RTF
Even if the Hubsan Zino is a near two years old model, it is still an extraordinary drone for its money. In addition to the fold-able design, it comes with stabilized 4K camera, 1Km range and excellent flight time.
The H117S Zino is powered by a LiPo 11.4V 3000Ah battery that displays its charging level on the controller and phone APP. According to the manufacturer, this quadcopter has a flight time of 23 minutes in ideal conditions.
Thanks to the dual-antenna transmitter you can fly the drone to a range of at least 1km, which is more than enough for the line of sight flights (LoS). In case you fly further than the controller's range, the Zino will automatically return to the take-off point. View Deal