While we all are worried about the evolution of the Covid-19 pandemic, DJI is preparing to surprise us with a new product on April 27th, 2020. From the "Up Your Game" slogan we could just guess that will be a new drone, camera gimbal, action cam or just another educational robot. After the leaked quick start manual it was no more wonder that the new mysteries drone will be the Mavic Air 2.
The first generation Mavic Air was a giant step forward when it was released in January 2018. In many aspects, it was far behind the Mavic Pro series. The only thing stand for it, was its friendly price tag. At that time, you could't find a better drone for $799.
Sponosored AD
Due to the lack of intelligent features (like active tracking) and lots of crash reports, the Mavic Mini also disappointed many drone enthusiasts. FirstQuadcopter.com was between the first independent drone blogs which had the chance to review it. We rated it with 4.2 stars from the maxim of 5. We liked its portability, decent image quality and of course that does not require FAA registration.
Mavic Air 2: What we know so far
As design, the new Mavic Air looks more like a Mavic Pro than its older brother. To be more packable it adopts foldable propellers.
Just like the original Air, the 2020 edition also comes with 3-axis mechanical image stabilisation and intelligent automated video modes. Both ActiveTrack and Point of Interest features were upgraded from version 2.0 to 3.0.
In terms of obstacle avoidance sensors, the second generation Air seems to have similar configuration (on the front, rear, and underside) like its predecessor.
The close-up shot of what appears to be the Mavic Air2's battery shows a capacity of 3500 mAh, which is a nice increase from the 2375 mAh LIPO pack in the original Air. The leaked user manual says that the maximum flying time is 34 minutes, yes 13 extra fun time compared to its predecessor. Featuring such high capacity power source we can't expect from the Air2 to be too light, for sure it will need FAA registration.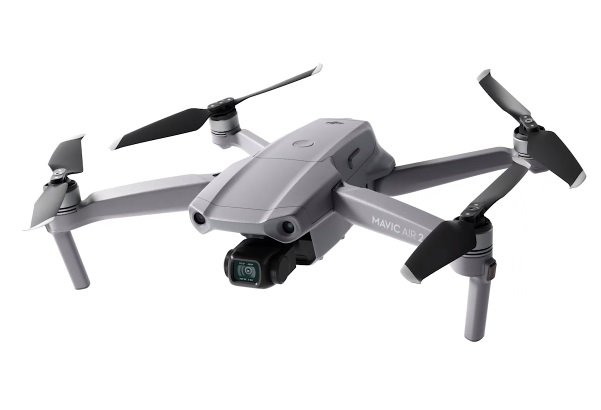 The manual also shows images of the re-designed remote controller. The mobile device holder is moved from bottom to top, like in case of the Phantom series remote controller. Featuring Ocusync 2.0 video transmission, the range was doubled from 4 Km to 8 Km (5 miles). Like most DJI drones, probably the Air2 will also have two versions (FCC and CE).
Expectations vs What we know vs reality
Shortly after a new drone comes out on the market, we start to think what features are missing from it and how the next edition could be better. Same thing happened with the Mavic Air 2. Since its first rumours, many DJI fans started to create and share their own wish lists. Some of them were realistic, but few impossible as well. For example why should DJI equip with 8K their Mavic Air 2 while the two time more expensive Pro series has only a 4K camera. In the table bellow I collected some of the top expectations and rumoured specs as well. As every day new leaked details become available, the table will be progressively updated till April 27 – Mavic Air II launch event, when third column will be populated with the real product specs.
Mavic Air2
Expectations
Leaks
Final specs
Size (mm)
Smallest as possible
Folded: 180×97×84mm
Unfolded: 183×253×77mm
Weight
Lightest as possible
570 grams
Camera
8K@60fps
4K@60fps or 1080p@240fps
4K/60fps Video
48MP Photo
Image sensor size
1 inch
Sony IMX586 1/2 inch
1/2-Inch
Optical zoom
10x
No
No
Max bit rate
200Mbps
120Mbps
120 Mbps
Gimbal
3-axis
3-axis
3-axis
FPV
4K
1080P
1080p/30fps
Video transmission
Ocusync 3.0
Ocusync 2.0
Ocusync 2.0
Range
16+ KM
8Km
10KM
Intelligent flight modes
Many as possible
Point of interest and QuickShot
Point of interest and QuickShot
Active tracking
Yes
Yes, 3.0
Yes, 3.0
Obstacle avoidance
360 degree
Yes
Advanced Pilot Assistance Systems (APAS) 3.0
Optical flow / Vision positioning
Yes
Yes
Yes
Geo fence
No
Yes
Yes
Max flight speed
100+ kph
68.4 kph
68.4 kph
Wind resistance
≤100 kph
8.5-10.5 m/s (Level 5)
RC FPV screen
Yes
No
No
Battery
5s/4000 mAh
3s/3500 Ah
3S/3500 mAh
Flight time
50+ minutes
34 minutes
34 minutes
FAA registration
No
Yes
Yes
Price
Low as possible
$700-999
$799

Order from DJI
Price and availability: Will it be cheaper than the previews Mavic Air ?
For now, only the release day is sure. Like in case of other DJI drones, probably will take at least one month (or even more due to the COVID-19 outbreak) till will be globally available for orders. We have not seen any leaks indicating the price of the Mavic Air 2, we just can hope that will be priced lower than its predecessor.
You have new details about DJI Mavic Air 2? Are you planning to purchase one? Let us know by drooping a comment below.
Last update on April 28, 2020