In my Mavic Air 2 review, firstly I will go through its most important features including camera performance, range and battery life, so at...
Two weeks before, the Caddx Loris official release date, iFlight already promised that their new Alpha A85 HD drone will come equipped with this...
While we all are worried about the evolution of the Covid-19 pandemic, DJI is preparing to surprise us with a new product on April...
Wee Tsai, social media representative of Xiaomi, just rumoured few photos of the upcoming FIMI X8SE 2020. The pictures show pretty nice upgrades, most...
We've spent a lot of time with the Mavic Mini - DJI's lightest drone. It is a very portable machine that is easy to...
About a month ago I did a side-by-side comparison of the Mavic Mini and FiMI X8SE. Now it is time to extend the list...
Despite that these days we would like to see more new Mavic Air 2 alternatives, RC toy manufactures still continue to copy older DJI...
Despite the Coronavirus pandemic, the 5th Annual FAA UAS Symposium is coming to you this summer through two remote episodes: July 8-9 and August 18-19. Episode II will NOT be a repeat of Episode I. Each episode will have its own distinctive focus areas, speakers and participants. Engage with FAA and industry leadership during presentations, breakouts and virtual networking...
With a weight of just 210 grams, the VISUO XS818 seems to be an excellent DJI Mavic Mini alternative. Priced for only $116.19 it comes with similar foldable design and a 4K camera instead of just 2.7K one. With folded arms measures only 9.7 x 7 x 15.3, so it can be fit in your backpack easily. In order to...
The new GEPRC Thinking P16 HD micro FPV drone features on-board Caddx Vista Nebula camera kit. This super compact digital video transmission system is compatible with DJI's FPV goggles. Despite its small size (only 79 mm wheelbase), it's powered by a 3S battery. GEPRC claims that due to the ultra-high efficient propulsion-system (GR1103 motors + GEMFAN 1636 propellers) and...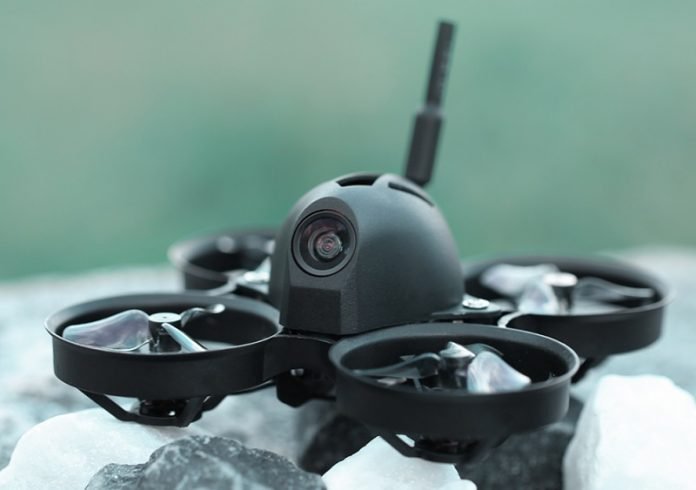 The iFlight Alpha A65 is micro size Tiny Whoop style brushless FPV drone. As its name says it is built on a 65mm size frame with duct blade guards. All the electronic parts, including the 800TVL camera, are well protected by a dome shape canopy. Its versatile flight controller can be configured with multiple flight modes through the micro USB...
For this week, the WASP 85X will be the third GEELANG racing quad introduced in our drone news section. Featuring powerful GL1202 KV8700 motors and 2" propellers, the GEELANG WASP 85X claims to be one of the fastest micro racers. Instead of using a 2S LIPO pack, GEELANG opted to serially connect two pieces of single cell batteries. For extra...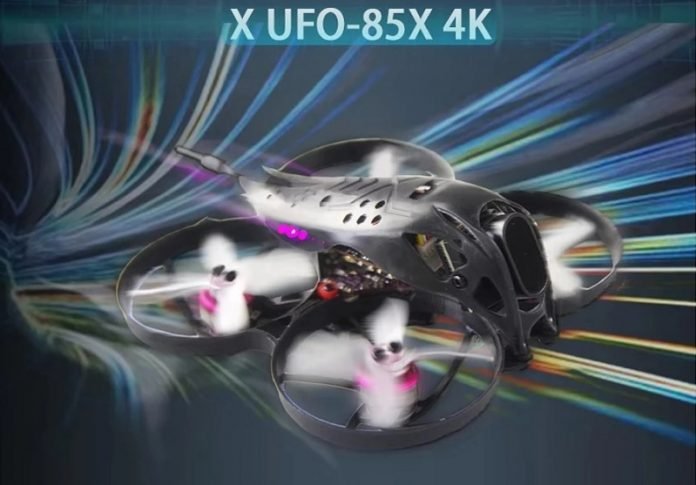 The GEELANG UFO-85X claims to have similar features and flight performance as the popular Beta85X 4K FPV drone, but in a less weight design. Despite its small size, the X UFO-85X features on-board dual-lens Caddx Tarsier 4K camera and 4S LIPO compatibility. The real-time video transmission is achieved by using a 40CH VTX with up to 200mW broadcast power. In...
The new PCMaker Bat78 Whoop style brush-less FPV quadcopter comes with two power options. While 2-3S edition has 11000KV motors and RunCam Nano 2 camera, 3-4S version has 8000KV motors and RunCam Split 3 Nano camera. Both variants feature same type of 5.8G VTX with adjustable broadcast power (up to 400mW). As its name says, the Bat78 is build on...
After 5 days of countdown, the iFlight Alpha A85 HD micro FPV drone has been finally officially revealed. As its name says it's build on a 85mm size frame and it features HD digital video transmission. Instead of DJI's FPV Air Unit, iFlight opted to use the lighter Caddx Vista HD VTX. iFlight Alpha A85 HD features AIO F4 flight...
The new GEELANG Lightning 120X drone comes with a cool scorpion alike design. As its name says, it's build on a 120mm size frame. During crashes the Runcam NANO 2 camera is well protected by a 3D protective canopy (black and red are included in the box). The real-time image transmission is achieved by using a 5.8G VTX with...
To clarify things from the beginning, the CSJ S161 Mini Pro is only a design clone, not a real Mavic Air 2 alternative. Even its camera which promises 4K resolution it's not capable to capture truly cinematic UHD videos. Also, being equipped with brushed motors, instead of more reliable brushed ones, it can be considered just a toy instead...