The Eachine VisWhoop is probably the smallest and most powerful race drone which feature DJI's latest generation digital FPV system. Despite its small size (130 mm wheelbase) in addition to the on-board DJI camera you can install a second GoPro Session Style 4K camera. Furthermore, you can power the drone with 3S as well as with 4S LiPo batteries.
Caddx Vista compared to DJI FPV Air Unit is not just cheapest, but also smaller. The only disadvantage of the Caddx Vista is the lack of on-board DVR (video recorder). You will be able to record the journey of your Eachine Viswhoop flights only via the DJI FPV goggles.
Sponosored AD
Thanks to the versatile Toothpick F4 flight controller, the VisWhoop drone is naively compatible with Frsky D8/D16 and DJI FPV radio transmitters.
Eachine Viswhoop highlights
Smooth and powerful;
130mm size carbon fiber frame;
Whoop style propeller protectors;
Toothpick F4 flight controller;
On-board (integrated into FC) 12A ESC;
High efficiency 1204 brushless motors;
Compatible both Frsky D8/D16 and DJI FPV transmitters;
Caddx Vista HD digital VTX (DJI FPV compatible);
DJI FPV camera w/ angle adjustment;
3-4S battery compatible (3S/ 650-850mah or 4S/ 550-850mah).
Eachine Viswhoop drone details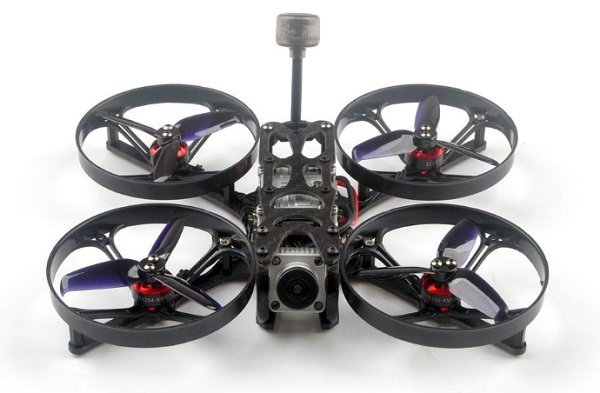 Toothpick F4 flight controller specs
MCU:STM32F411CEU6 (100MHZ, 512K FLASH);
Sensor: MPU-6000(SPI connection);
On-board 12A Blheli_S 4in1 Dshot600 ready ESC;
Built-in Frsky D8/D16 SPI receiver;
Betaflight OSD (SPI Control);
Built-in Current meter Max 70A, 5V 1.5A BEC and Voltage detection;
Power supply: 2-4S battery input (DC 8-17V);
Board size: 28.5 x 28.5 mm.
Onboard 4in1 ESC specs
MCU upgraded to EFM8BB21;
Factory firmware: F_H_40_REV16_7.HEX;
Support BLHeliSuite programmable;
Default protocol: DSHOT600;
Current: 12A continuous peak 15A (5 seconds);
Power supply: 2-4S LiPo/LiPo HV (7v/17v).
Propulsion system details
Motors specs
Model: EX1204;
KV rates: KV5000;
Lipo cells: 3-4S;
Configuration: 9N12P;
Stator Diamter: 15mm;
Stator Length: 4mm;
Shaft Diameter: Φ1.5mm;
Motor Dimension(Dia.*Len):Φ15mm*15mm;
Weight(g): 5.5 grams.
Propeller specs
Brand Name: Gemfan;
Model: Flash 2540;
Item Name: 2540 2.5×4 Inch 3-Blade Propeller;
Material: PC;
Center Mounting Hole: 1.5mm;
Hub Thickness: 5mm;
Blade Width: 9.9mm;
Quantity: 4 Pairs;
Weight: 0.98 grams.