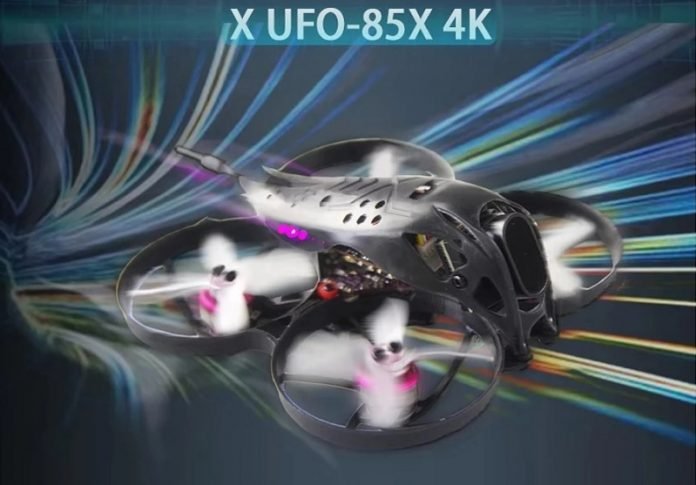 The GEELANG UFO-85X claims to have similar features and flight performance as the popular Beta85X 4K FPV drone, but in a less weight design. Despite its small size, the X UFO-85X features on-board dual-lens Caddx Tarsier 4K camera and 4S LIPO compatibility. The real-time video transmission is achieved by using a 40CH VTX with up to 200mW broadcast power.
In order to make it as light as possible, GEELANG opted to use an all-in-one F4 flight controller board with integrated 12A ESC and BetaFlight OSD. According to your existing transmitter you can opt between 5 different type of external radio receivers. The 1204 5000KV motors are paired with 2 inch propellers.
Sponosored AD

The UFO-85X 4K HD Hollywood drone comes in a nice handbag with one set of spare propellers, 4S (15.2v) 260mah 40C/80C battery and ND filters.
UFO-85X Hollywood features and specs
Whoop style frame with 85mm wheelbase;
Illuminated protective canopy;
Versatile F4 flight controller with integrated 12A;
1204 5000KV motors;
On-board Caddx Tarsier 4K FPV camera;
Detailed BetaFlight OSD;
5.8G/40ch VTX with 25-200mW video transmitter;
3-4S LIPO compatible;
Optional external DSMX/DSM2, FlySky AFHDS A2, FrSky XM+, Futaba SFHSS AC900 or TBS Crossfire radio receiver.
Main parts specifications
Flight controller specs
Compatible for Supra F4;
MATEKF411 4.0.2 (4.0.3);
STM32F411CEU6 (100MHZ, 512K FLASH) MCU;
Sensor: MPU-6000(SPI connection)
Integrated 12A Blheli_S 4in1 ESC (Dshot600 ready);
G_H_30_REV16_7.HEX ESC Firmware
Betaflight OSD (SPI Control);
Built-in Current meter Max 70A and voltage detection;
Current meter scale set to 480;
Built-in 5V 2A BEC;
Power supply: 2-4S battery input (DC 7-17V);
Board size: 28.5 x 28.5 mm.
Motors technical specifications
Type: GL1204 KV5000′
No.of Cells(Lipo):3S-4S;
Configuration: 9N12P;
Shaft Diameter:Φ1.5mm
Shift specifications: 2mm High strength steel;
Bearing Specifications: d2*D5*H2.5 MR52zz.
VTX specifications
Output power:25~200mw switchable;
Frequency: 40 channels;
Input voltage: 3.2V- 5.2V;
Current consumption: 320mA (type);
Power switching: third gear(25mW\100mW\200mW);
Antenna: RG178s antenna;
SmartAudio ready;
Weight: 5.8 grams.