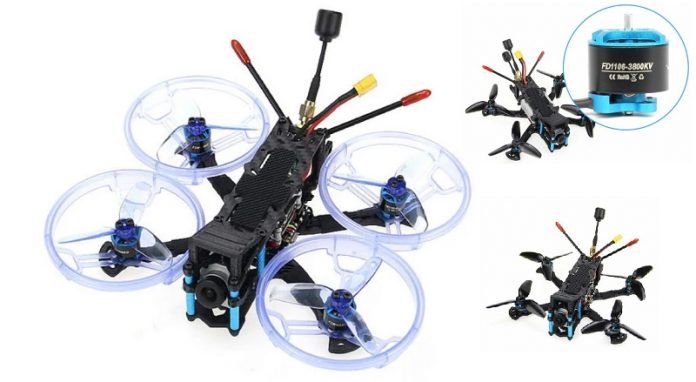 Despite that DJI's digital video transmission system is a quite expensive solution which can double or even triple the overall cost of a FPV drone, it is spreading more and more. Like HGLRC, most manufacturers started to include in their range of products drones with on-board DJI Air Unit.
The HGLRC Sector132 drone, as its name says, it is build on a 132 mm size frame. For safer indoor flights, it features removable propeller protectors. While without blade guards can be installed with 3 inch propellers, with them installed only 2.5″ ones.
Sponosored AD
HGLRC Sector132 comes with versatile, highly integrated Zeus35 flight controller. According to your existing transmitter, you can opt for FS-A8S V2, FrSky R9MM. FrSky XM+ or TBS Crossfire Nano RX radio receiver. PNP version is compatible with DJI FPV transmitter.
HGLRC Sector132 features and specs
132 mm size carbon fiber frame with removable blade protectors;
2'5″ and 3″ propeller compatible;
Zeus35 AIO Flight Controller w/ integrated 35A ESC;
Forward FD1106 3800KV motors w/ HQProp T3X3X3 propellers;
On-board DJI Air UNIT (camera + VTX);
DJI LHCP Antenna;
Optional FS-A8S V2, FrSky R9MM. FrSky XM+ or TBS Crossfire Nano RX radio receiver;
450~650mAh 4S XT30 battery compatible.
HGLRC Sector 132 main parts details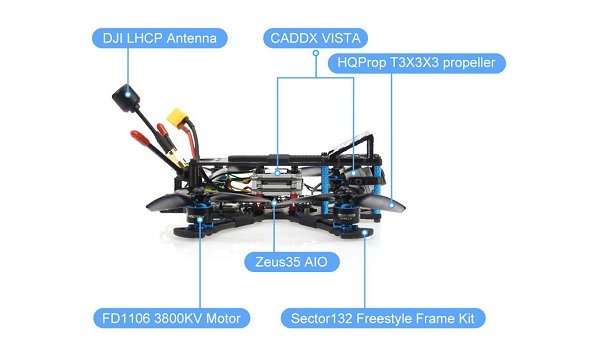 Frame kit specs
Material: carbon fiber;
Wheelbase: 132 mm;
Type:2.5/3″ Freestyle Frame;
2.5 inch props with propeller guards;
3 inch props without propeller guards;
Weight: 57.9 grams.
Flight controller specs
CPU: STM32F411;
Firmware: BF HGLRCF411 (HGLR)
MPU: MPU6000;
OSD: Supported;
BEC: 5V/2A;
BlackBox: 16M;
UARTS: 2;
UART1: VTX;
UART2 SBUS/iBUS/DSM/CRSF/R9MM;
Installing holes: 20 x 20mm/M3;
Dimensions: 40×32 mm;
Weight: 9.8 grams.
Electronic speed controller (ESC) specs
Input Voltage: 3-6s;
Constant Current: 35A;
Peak Current: 40A (for 10 seconds);
ESC Firmware: BLheli_S;
Dimensions: 40 x 32 mm;
Weight:9.8 grams.