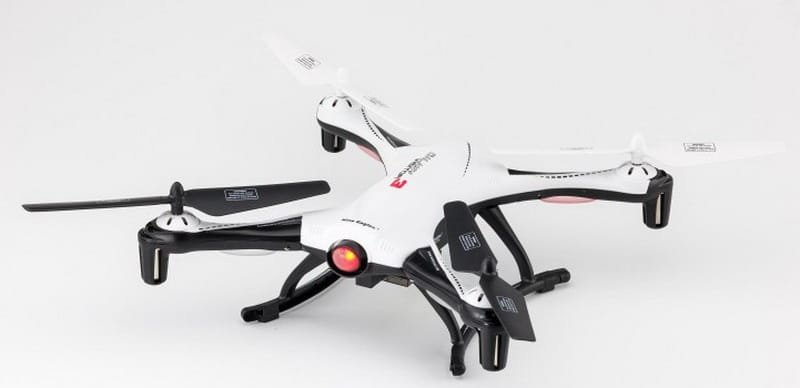 The Galaxy Visitor 3 's simple control system and good inherent stability make it an excellent choice for the beginners.
This aircraft is a medium size quadcopter with a distance of 14-24 cm between each rotor.
Highly developed 9-axis gyro stabilization system is the key to the model's extremely simple method of control and very accurate response.
Sponosored AD
The agility level of the Galaxy Visitor 3 is user-variable and this ensures that flying this quadcopter will never be boring even for advanced pilots.
This quadcopter can be flied indoor and also fly well with gentle breezes when flies outdoors.
The Galaxy Visitor 3 multi-rotor combines many advantages in one model, including small size, low weight and safe operation.
Because the geomagnetic sensor is inside of the remote controller, when you power on the transmitter, please make sure the transmitter and aircraft stay still and quite more than 3 seconds.
The signal protection is an awesome thing for beginner flyers, once the signal is lost during flying (flies out of effective control range or transmitter turns off), the Galaxy Visitor 3 will enter into signal loss protection mode. In this mode, the quadcopter will keep hovering at altitude between 2 meters and 3 meters for about 5 seconds, then will land safety.
Galaxy Visitor 3 Features:
Anti-collision guard simply by switching the acceleration sensor on and off;
Auto-Return function, safety guard against lose control of aircraft;
Integrated altitude sensor;
Signal Loss Protection function, if the signal is lost, the copter automatically hovers and lands;
LEDs of different color make it simple to detect the aircraft's altitude;
Optional on-board camera for aerial photography;
9-axis gyro;
Two flight modes;
Headless Flying;
Switch on/off of accelerometer
Galaxy Visitor 3 specifications:
Gyro Sensor: 9 Axis;
Remote controller: TX NE-TXOS218 (4CH, 2.4GHz);
Flight Controller: NE-MASF12;
Power System: 8.5 coreless motor;
Battery: 3.7V 1200mAh Li-po;
Transmitter battery: 4pcs. AA;
Flight time 15min-20min;
Control distance 100-200m;
Main Rotor Diameter 5.8'' (14.7cm);
Dimension 16.3 x 16.3 x 7.8 cm;
Whole Weight About 135g;
Galaxy Visitor 3 Camera specifications:
Memory storage: accepts up to 32G Micro SD card
Video codec: Motion JPEG
Audio codec: PCM S16 LE, mono
Video resolution: 1280×720,
Frame rate: 30fps
Still image: 1280×720
Package Included:
Galaxy Visitor 3
JFN 4CH transmitter
Camera(optional)
2G Micro SD card(optional)
Card reader(optional)
4x AA battery for the transmitter
3.7V 1200mAh battery
Lipo charger
Power adapter
Screwdriver
4x Propeller
User's manual
Nine Eagles, this time trough the Galaxy Visitor 3, makes a successful quadcopter for beginners and advanced flyers in the same time.
Pros:
Headless Flying
Altitude sensor
Signal Loss Protection
optional camera
Cons:
No GPS
Not compatible with GoPro