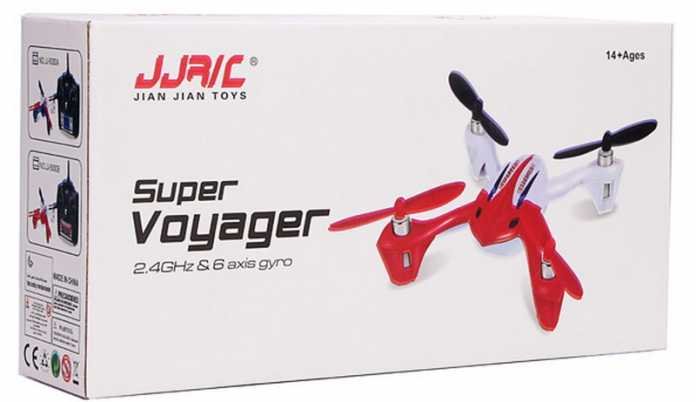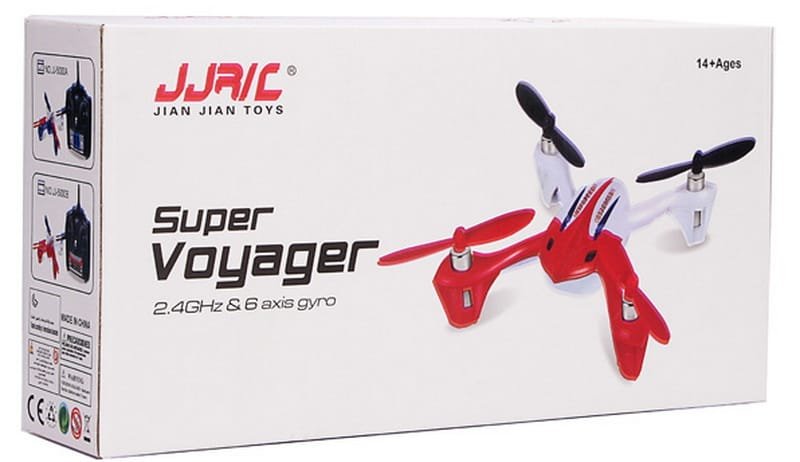 The JJRC Super Voyager is another small palm sized quadcopter from the Jian Jian Toys Chinese manufacturer.
It is available in two different color combinations: JJ-5000A (blue & white) and JJ-5000B (Red & white).
Probably the JJRC JJ5000A Super Voyager is one of the cheapest ready to fly quadcopter and will be a very popular Christmas present.
This small quadcopter comes with everything you need to fly it: transmitter, battery, battery charger, prop guard and four extra propellers.
Because the small size of the JJRC Super Voyager it's recommended to use indoor only. Also, the quadcopter has two speed modes that can be set by the pilot depending on his flying skills.
JJRC Super Voyager quadcopter description:
Product Name: JJ-5000A or JJ5000B RC Quadcopter depending on the color you chose;
Available colors : Blue & White (JJ-5000A) and Red & White (JJ-5000B);
Transmitter Frequency: 2.4Ghz;
Remote controller: 4 Chanel;
Onboard Gyro: 6 axis;
Main rotor diameter 55mm;
Battery: 3.7V 250mAh;
Flight time: 6-8 minutes, that is not bad for a palm sized quadcopter;
Charging time: approximately 20 minutes;
Remote control distance: about 50m;
JJRC JJ-5000 Super Voyager features:
For channel mini rolling quadcopter;
Over six minutes flying time;
The Jian Jian Toys Super Voyager has 6 axis gyro stabilization;
You can set Fast/slow speed mode depending on your flight skills;
Flight functions: Up/down/left/right/side flight/hover/flip;
Can be hand launch;
Low battery voltage alarm;
Bright LED light for night flight;
Awesome 360° Flips.