Like many cheap Chinese quadcopters, the FQ777 FQ40 also copies the design of a DJI drone. Same as the Eachine E58, renting the design of the popular Mavic Pro, the FQ777 FQ40 wants to imitate the newer Mavic Air. It adopts similar design lines and colors. In front, instead of the collision avoidance sensors it has two LED lights.
FQ777 released their FQ40 drone with two type of on-board cameras, 0.3MP and 2MP. Both camera versions feature WiFi real-time transmission. The FQ777 FQ40 is available in black and red colors.
In addition to the attractive look, the FQ40 drone comes with all the latest toy drone features. Thanks to the barometric air-pressure sensor, the aircraft is capable to maintain autonomously its flight altitude.
The drone itself measures 31 x 31 x 6.5 cm (with blade protectors on) and weights about 100 grams. Wheelbase is 20 cm.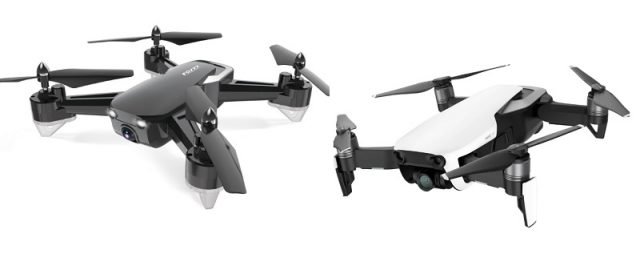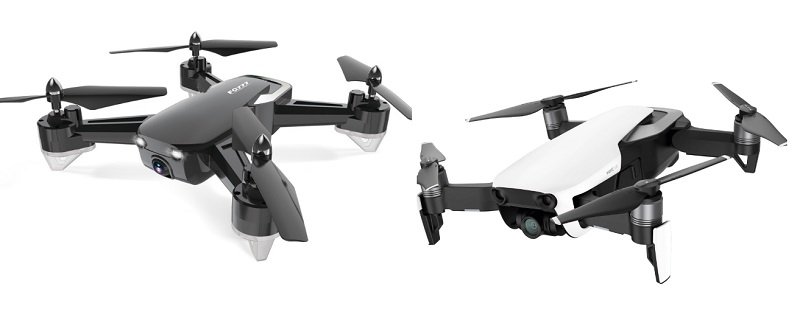 According to the manufacture's specs, the 800mAh battery allows about 12 minutes flying time. Frankly, not bad from a 40 bucks drone.
FQ777 FQ40 quadcopter features & specs
Mavic Air alike design;
Dual control mode (Phone APP & remote controller);
Barometric air-pressure sensor (altitude hold);
One key Take off/Landing;
Headless flight mode (intelligent orientation);
3D flips & rolls;
0.3MP or 2MP camera option;
WiFi real-time image transmission (FPV);
About 12 minutes of flying time.
As you can see in the image above, even the FQ777 FQ40's remote controller follows the DJI's design. It comes with similar phone holder and foldable antennas (probably fake ones).
In addition to the two control sticks and two shoulder buttons, the RC has another 8 control buttons. From left to right: Take-off/landing, RTH, Headless mode, Gyro calibration, Right fine tuning, Left fine tuning, Forward fine tuning, Backword fine tuning. While the left shoulder button allows to toggle between 3 speed rates, the right one enables the 3D flip mode.
What's inside the FQ777 FQ40's box?
Remote controller with retractable phone holder;
1s, 800mAh LiPo battery;
USB charging cable;
2 pairs of spare propellers (2xCW & 2xCCW);
1 set of blade protectors;
Screwdriver;