The new GEPRC Thinking P16 HD micro FPV drone features on-board Caddx Vista Nebula camera kit. This super-compact digital video transmission system is compatible with DJI's FPV goggles. Despite its small size (only 79 mm wheelbase), it's powered by a 3S battery. GEPRC claims that due to the ultra-high efficient propulsion-system (GR1103 motors + GEMFAN 1636 propellers) and lightweight design, with a 300mAh pack you can have up to 4 minutes of flight time.
The brain of this tiny CineWhoop is the GEP-12A-F4 AIO flight controller with an integrated 12A speed controller. According to your existing transmitter, you can opt from a wide range of external radio receivers (FlySky, FrSky, and TBS compatible). Of course, BNF package is natively compatible with DJI FPV remote controllers.
Features and specs
79mm size frame with protective canopy and duct blade protectors;
DJI digital FPV compatible;
GEP-12A-F4 AIO flight controller;
Integrated 4 x 12A BLHeli_S (Dshot/Multishot/OneShot);
BetaFlight OSD w/ AT7456E chip;
Caddx Vista Nebula camera kit;
GR1103 8000KV brushless motors witb 1.6″ GEMFAN 1636 propellers;
5.8GHz (48 Channel) w/ VTX telemetry (IRC Tramp) and adjustable broadcast power (PIT/25/100/200mW);
Optional radio receiver (FlySky FS-A8S V2, FrSky R-XSR, XM+ or TBS Crossfire Nano RX);
3S LIPO battery compatible (300mah suggested).
GEPRC Thinking P16 main parts technical specifications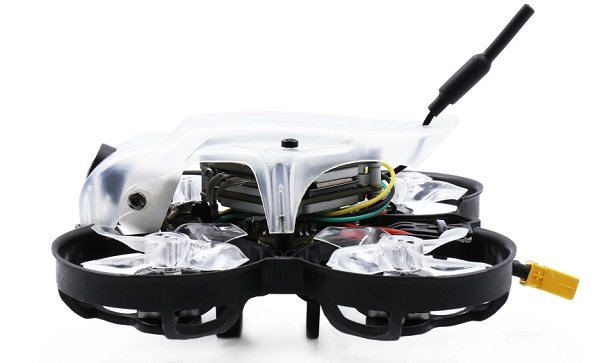 GEP-12A-F4 flight controller specs
MCU: STM32F411;
Gyro:MPU6000;
OSD:BetaFlight OSD w/ AT7456E chip;
Firmware target: GEPRCF411;
Integrated 12A ESC (BLHeli_S – Dshot/Multishot/OneShot protocols).
GR1103 motor specs
KV: 8000/10000KV;
No.of Cells(Lipo): 8000KV 2-3S 10000KV 1-3S;
Configuration: 9N12P;
Stator Length: 5mm;
Shaft Diameter: 1.5mm;
Motor (Dimension(Dia.*Len)): Φ 15.2*13.6mm;
Rotor: N52H arc magnets;
Weight: 3.8 grams.
VTX specifications
Number of channels: 48Ch (A,B,E,F,H,R bands);
Input voltage : 7-24V DC (2-6S);
Transmission power: 0mW / 25mW / 100mW / 200mW;
IPX antenna connector;
Output the camera voltage: 5 volts;
Size: 25 * 25 * 4.5 mm (20 x 20 mm mounting holes);
Weight: 3.5 grams.