MJX's Bugs series gets a new member called B4W Technic. Based on the first rumors we can say that it is the most versatile yet. It features triple positioning system (Optical flow + Ultrasonic + GPS), intelligent flight modes and excellent control flight autonomy. Furthermore it comes with space saving foldable design and on-board 2K camera. With folded arms, the aircraft measures only 11.5 x 7.5 x 20.5 cm.
According to the manufacturer's specs, the 7.6V/3400mAh battery pack allows up to 25 minutes airborne time. As charging time is about 270 minutes I thinks it is worth to invest in a second flight battery.
Thanks to the fail-safe return to home feature, the MJX R/C B4W will autonomously return to the take-off point, if battery is near empty or aircraft is out of transmitter range (RC signal loss).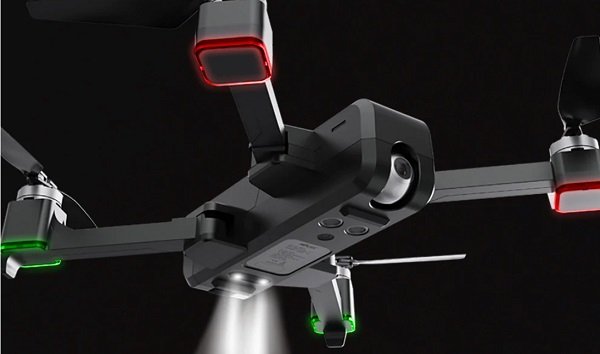 MJX Bugs 4W Technic features & specs
Space saving, folding design;
Triple positioning system (Optical flow + Ultrasonic + GPS);
Dual flight speeds (8 or 11km/h)
Status and positioning LED lights;
Strong & energy-saving brushless motor;
On-board 2K ultra HD camera;
WiFi real-time image transmission (FPV);
Intelligent flight modes (like Smart follow, Point of interest and Trajectory Flight);
GPS assisted automatic return (RTH);
Fail-safe return to home (Low battery or RC signal loss);
APP control makes the operation easier, especially for beginners;
Up to 1.6KM control distance;
About 25 minutes flight autonomy.
MJX B4W remote controller
As you can see in the image above, the MJX Technic B4W is packed with a nice transmitter with built-in phone holder and more than 1KM control range . On front panel besides the usual control sticks, you have only 3 control buttons (Photo/Video, Lock/Unlock motors and RTH). While the left shoulder button activates take-off/landing, the right one allows to toggle between Low and High speeds.
The status LCD will show you permanently the actual aircraft battery level, flight distance, altitude, flight mode (GPS On/Off), number of satellites, speed rate and RC signal strength.
Included accessories with the MJX B4W drone
Remote Control with phone holder;
7.6V/3400mAh battery;
Battery charger;
USB cable;
2 sets of propellers;
Screwdriver;
English manual;
Optional backpack.