After so many new FPV quadcopters, today I will introduce you a new cruising drone with 4K camera, called VIO Positioning High Great Mark. Let's discover if this $300 drone is a real competitor to the DJI Mavic series (Pro & Air).
Like the Mavic, the High Great Mark also has foldable arms and foldable propellers. Weighting only 200 grams, it can be conveniently carry all daylong. Featuring APP control, does not require a transmitter, only a compatible smartphone.
Based on Qualcomm Snapdragon platform integration and continusous optimization and technology breakthrough makes Mark total weight is just about 200g. No need for drone registration. Mark's unique VIO technology simplifies the traditional internal structure and 2 cameras are the all sensors Mark carride. Complexity simplifies without doing compass calibration.
Instead of a traditional GPS positioning system, the High Great Mark drone adopts some proprietary system called VIO technology. According to the manufacturer's statement this allows extremely stable hovering (in both, indoor and outdoor environments).
The advanced VIO technology is an innovative positioning way. The VIO technology can replace the traditional optical flow and GPS positioning mode and can easily achieve precise and stable indoor andoutdoor hovering. The VIO technology enables Mark to freely shuttle between indoors and outdoors. Not limited to the GPS signal.
VIO Positioning High Great Mark features & specs
Compact design with foldable arms (similar to the

DJI Mavic

);
Qualcomm Snapdragon Platform;
Intelligent flight modes (Rocket, Dronie, Circle, Helix & Active track);
Gesture control;
4K camera with 13MP image sensor;
4k@30fps or 1080P@30fps video recording;
WiFi real-time image transmission (720P);
Internal EMMC 16G storage;
Hover Accuracy Range(In Safe Mode): Vertical: ±0.1m;
Max Ascent Speed: 2m/s;
Max Descent Speed: 2m/s;
Max Horizontal Speed: 3m/s;
Max Flight time: 18 minutes (no wind).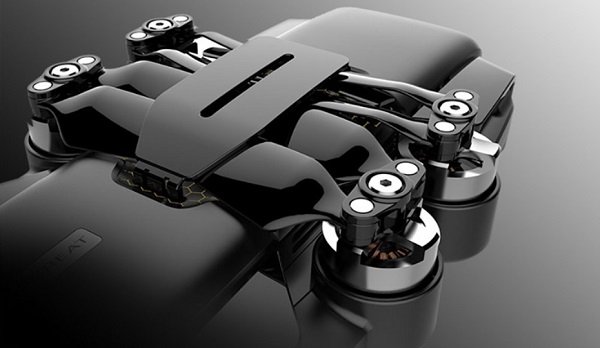 Included with the VIO Positioning Great Mark drone
2s 1300mAh Li-Po battery;
Battery charger;
Spare propellers;
User manual.
Conclusions
Let's be fair, with WiFi FPV, limited control range and short flight time, this drone can't be a real alternative of the DJI Mavic Pro, not even for the little DJI Spark. Furthermore, it seems that the High Great VIO Positioning Mark drone does not have a camera gimbal, which will result in shaky aerial footage.