Since the announcement of the second generation of DJI FPV goggles, I decided that it is time to get one and make the switch from analog to digital FPV. In my DJI FPV Goggles V2 review, I will discuss the specifications, features, compatibility, comfort in use, and what are the major differences compared to the original V1 goggles and cheap boxed 5.8GHz analog FPV headsets.
Back in 2019, DJI made their first intrusion into a growing niche market. Initially, the FPV community received its move with repulsion but, when they saw the outstanding transmission quality of the DJI Air Unit, many started converting their quadcopters from analog to digital FPV. The process was not too complicated but very expensive. DJI digital FPV ecosystem includes 2 must-have parts and an optional one. You will need at least one DJI FPV goggles and a digital VTX (Caddx Vista or DJI Air Unit) + Camera for every of your FPV drones. The DJI FPV transmitter is optional and many opted to use their existing remote controller.
In addition to the high-quality 720P HD digital video transmission, the DJI FPV system provides onboard (in the VTX) and remote recording (in the Goggle). While the DJI Air Unit can record the live feed at 1080p@60 fps or 720p@120 fps footage, the Goggles V2 has 'only' 720p@60 fps.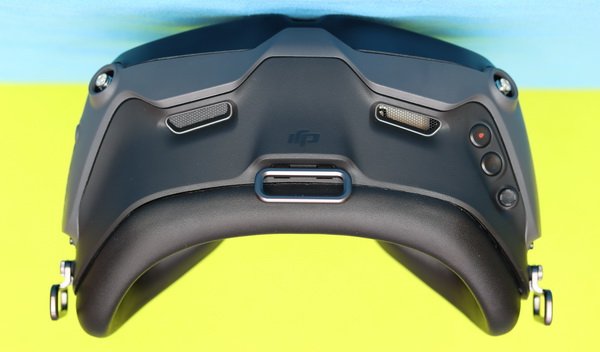 When it comes to first-person flying (FPV), low latency communication is crucial. The DJI FPV goggles V2 has two working modes: Low-latency mode (810p/120fps ≤ 28ms) and High-quality mode (810p/60fps ≤ 40ms). It's fast enough to do nimble maneuvers with the quadcopter and still be able to react virtually in real-time.
DJI FPV Goggles V2 hands-on review
Disclosure: This review is NOT SPONSORED! The product was ordered and paid for by us. I wrote the article from the perspective of a real shopper who wants to switch from Analog to Digital FPV. However, there are few links included of stores where you can get the DJI FPV goggles V2.
Since DJI does not deliver to my country. I had to order it to an address in the neighboring country. Having myopia, I also ordered a pair of corrective diopter lenses – you have an option for -2, -4, -6, and -8.
Unboxing
DJI provides premium quality from packing to after-sale customer support. The Goggles V2 includes all the accessories (battery, antennas, and power\data cables) you need to use right out of the box. While the face foam padding comes pre-installed, the headband needs to be attached by yourself. There are four dual-band antennas included (2.4G+5.8G). For such a highly-priced product is a pity that they don't provide a carrying case. The included protective pouch is not too helpful, as you need to remove the antennas in order to fit inside. Many also miss a DC-XT60 battery cable from the box.
At a glance
The DJI FPV Goggle V2 has an excellent build quality and looks like a high-tech gadget from a sci-fi movie. The front plate reminds me of the eyes of a fly. Its design is completely different from any other existing FPV headsets on the market. Roughly measures 202×126×110 mm and weighs 420 grams (without battery). On the front has 4 antennas, 2 TX and 2 RX positioned in the cross.
Instead of an internal battery, it comes with an external 2S 1800 mAh power bank. According to DJI, with a fully charged LIPO pack, you can have up to 110 minutes of working time. The included battery bank has 4 charging level indicator LEDs and a power button. If you need a longer operation time, you can use other high-capacity batteries (11.1-25.2 Volts).
At the bottom, there are two sliders (one for each eye) that allow adjusting interpupillary distance (IPD) within 58-70mm. USB Type-C and micro SD slots are on the bottom-left.
The T-shape headband can be adjusted in width and height, allowing comfortable usage for any head size. It has 7 vent holes (4 outside and 3 inside) and an active fan system to prevent fogging.
Buttons and controls
The DJI FPV Goggles V2 has a total of 4 control buttons (Up/Down channel adjustment, Shutter/Record, and back) and a 5D joystick. The actual channel is displayed on a 5×5 LED array for the flying fellows. Navigating through menus is easy and intuitive. Additionally, there is a tiny 'Link' button that allows pairing the goggles with the digital VTX or DJI FPV drone.
Where to buy the DJI FPV V2 Goggles V2?
The first batch of DJI FPV Goggles V2 was sold only in bundle with the V2 transmitter and their first FPV drone. Personally, I opted to order it from DJI, but you can get it as well from many popular RC retailers, including Banggood. While in the US, it is priced at $569, in Europe you can buy it for 689€ ($822).
Optional accessories
External 5.8GHz RX;
Crystal HD Patch antennas;
Antenna storage cover with lens protector;
Replacement sponge foam padding;
Protective tempered glass film lens protector;
Diopter corrective lenses;
Battery bay with cable organizer;
DC to XT60 power cable;
Storage bag.
First usage
First of all, using FPV goggles is a totally different flying experience over the normal smartphone-screen controller that you would use with the Phantom\Mavic drones. It requires many practice hours till you get used to it. In the beginning, it is very frustrating that you can't switch from FPV to LoS view any time you want or needed. Secondly, this is not a VR goggles, meaning that the drone will not turn following your head movements.
Like all DJI products, the FPV goggles V2 need to be activated before the first usage. This can be done eighter via your mobile phone and DJI Fly APP or through your personal computer and DJI Assistant. In both cases, you need to connect the headset with your device using the included USB Type-C cable.
I wouldn't say I'm a big fan of the long wire to plug in the power bank. Who wants to keep the battery in his hand or in his pocket while is flying. Having something on the headset that holds the battery would be a much better option.
Eyeglasses, contact lenses, and correction diopter lenses with DJI V2 Goggles
From the perspective of a person who has myopia, looking for the first time into the DJI Goggles V2 was a huge disappointment. I didn't see too much, the screen was blurry and duplicated (one image for each eye). With my existing box FPV goggles that are using a single 5″ LCD screen, the image is clear without eyeglasses or using diopter lenses. Somehow I was prepared for this kind of issue, so I purchased a pair of corrective lenses that was closest to my myopia level. With the lenses, I finally got to see the screen but still not perfectly clear. In the first seconds, the image was doubled till my brain got used to it.
I have to admit I was impressed by the image quality. There is a huge difference compared to my existing analog goggles. It's like I'm looking at a huge cinema screen. Also, it provides a more cinematic 16:9 aspect ratio compared to the 4:3 ratio commonly used by 5.8G analog systems.
The faceplate design is compatible with using eyeglasses (of course, if they are not too big), but I found it not very comfortable.
I will test it also with contact lenses in order to see which option provides the best view and comfort to use.
DJI FPV Goggles V2 analog 5.8Ghz mode
As you probably know, the DJI FPV Goggles V2 does not have a built-in analog FPV receiver, but at least it has a video input that can be used for this purpose.
The Hawkeye Little Pilot Master FPV monitor is self-powered, has a built-in 5.8GHz FPV receiver and a video out port. Furthermore, it comes in the box with a compatible AV cable. It is the perfect companion for the DJI FPV goggles V2. You just need to plug in the 3.5mm jack cable and search for your drone's video signal. Using a self-adhesive velcro, it can be easily attached to the headset. This solution allows your friends to watch what you see through the goggles. Recording works in AV-IN mode as well.
DJI FPV Goggles V2 with Caddx Vista and Nebula Nano camera
BetaFPV already shipped out the Caddx Vista Nebula Nano kit. I will install it on my analog Pavo30 drone when it arrives and finish the last part of the DJI FPV Goggles V2 review.
DJI FPV Goggles V2 versus V1
The first and second-generation DJI FPV goggles have identical designs, shapes, dimensions, and weight. This means that your existing accessories (such as faceplate foam, headband, diopters, and case) from V1 will fit for V2 as well.
In terms of visual experience, both use the same 2″ LCD displays and optics, offering identical FOV (field of view) and resolution of 1440 × 810 pixels for each screen.
In the comparison table below, I highlighted the most important differences between the two generations of DJI FPV goggles.
| | | |
| --- | --- | --- |
| DJI FPV Goggles | V1 | V2 |
| Transmission Frequency | Single-Band: 5.8GHz | Dual-Band: 2.4GHz & 5.8GHz |
| Built-in analog 5.8GHz receiver | No | No |
| Live View Mode | 720p@120fps | 810p@120fps |
| Screen Refresh Rate | 120Hz | 144Hz |
| Battery | – | External |
| Input Voltage | up to 17V (2S to 4S) | up to 25.2V (2S to 6S) |
| Video Output Support | No | Via USB Type-C |
| Weight | 420 grams | 420 grams |
| Price at DJI | Discontinued | $569 |