FPV goggles like this Eachine EV900 allow you to use your quadcopter's onboard FPV camera in order to get a first-person view when flying. Let's discover other capabilities in our Eachine EV900 review.
While most of the racing drones are equipped with 5.8G FPV and can be paired with any FPV goggles, DJI drones adopt proprietary wireless video transmission (Lightbridge and OcuSync) and they can be used only with DJI goggles. Eachine solved this incompatibility issue by adding an HDMI input port to their EV 900 FPV goggles. This way it can be conveniently used with FPV racing drones as well as with DJI drones like Phantom 4 and Mavic Pro. Through the HDMI In you can also connect other video sources such as video players or even your laptop. Honestly, I do not know how healthy it is for the eye to watch a full-length movie through the EV900 headset, but it's a nice feature to try.
Eachine EV900 FPV goggles review
Before I get into details I should thank Cherise from Banggood for offering me these HDMI FPV goggles. After we agreed on the review, the package was sent out quickly and delivered in just 9 days with standard free shipping, the best time for overseas shipping :)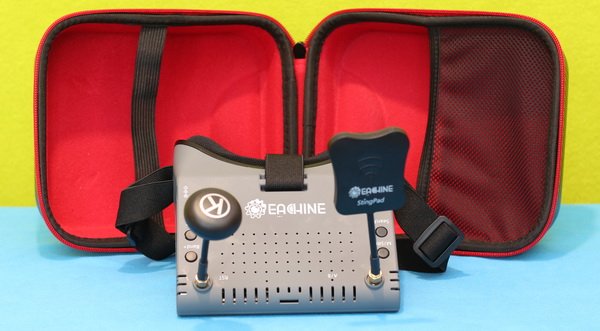 The EV900 comes in a nice hard case which induces the feeling that we are dealing with a premium class product. Eachine includes the following accessories: power adapter, USB charging cable, JST power cable, VIDEO out cable for DVR, micro HDMI cable, and two antennas (K-loverleaves Omni and StingPad panel). Furthermore, there are included a cleaning cloth and a nose sticker.
Initial impressions
Being a box goggles, I expected to be bigger and heavier. In order to make the goggles smaller, Eachine tilled the 5″ LCD screen. The image is projected towards your eyes through a mirror and magnifier lens. It is fairly light (about 330g), which is important for long time usage.
According to the manufacturer's specs, the built-in 2400 mAh battery allows about 2 hours of continuous working time. Thanks to the external power connector, it can work also through an external power bank.
In front of the FPV goggles, there is a small opening that looks just like a micro SD slot, but unfortunately, there is nothing behind it. Maybe Eachine already started to design an upgraded version (EV900 PRO) with integrated DVR.
All the buttons and the 2 antenna connectors are located on top of the EV900 goggles. While on the left side there are 2 buttons (Menu/Source and Search), on the right side there are located 3 buttons (Power ON/OFF, CH+, and Band+). Mini HDMI and AV ports are found on the left side of the headset.
Powering ON the goggles, a faint noise confirms that there is a fan inside. Although you can watch movies through HDMI, there is no built-in speaker. You will need to use a headset connected to the goggle's AV port.
Let's have a look at the Eachine EV900's features and specs
5 inch Full HD (1920×1080) high brightness screen with 120Hz refresh rate;
Super-wide visible angle (up to 85 degrees);
Comfortable face sponge;
Built-in 5.8GHz 40ch diversity video receiver;
Dual antenna system;
Advanced auto-searching function with OSD;
Low delay (latency 20-50ms);
Built-in 3.8V/2400mAh battery with about 2 hours of working;
Video IN/Audio OUT connectors;
HDMI input for DJI Phantom and Mavic Pro drones.
Eachine EV900 review: The field test
Let's find out how comfortable it is, if it has true diversity, also how good is the signal reception.
Is it comfortable? Does it need any mod?
Featuring three-ways adjustable, "T" type headband, the EV900 goggles can be adapted for almost any head size. The problem is with the face plate's nose area. I can't decide whether the nose opening it is too small or just badly positioned. Luckily my nose has a decent size and after a few minutes, I got used to the goggles on my head. But, if you have a big honker, you are in trouble. You will need to mod the faceplate by cutting out a piece of it.
Sighted people will also have issues using this EV900 headset. In addition that it is too small to be used with eyeglasses, there is no way of focal length adjustment (interpupillary distance adjustment).
Teardown
Frankly, initially, it was not my plan to take apart the google, but after testing the HDMI input I found out that is not working. I tried with 2 different types of desktop computers and a laptop, nothing, only a blue screen. I also test it with a second HDMI cable. Same thing :(
Therefore, in order to check if the problem is about a bad cable connection or poor soldering, I removed the 6 screws that hold together the Eachine EV900. Inside, everything looks fine, every cable in its place. The HDMI connector soldering look also good. I concluded that there must be something wrong with the mainboard :(
As I didn't find anything suspicious, at least I can confirm that it has two radio modules inside (so it has true Diversity). I also found inside a reset button and a Rec/Photo button. Therefore I am sure that Eachine plans to develop a new version of the EV 900 with integrated DVR.
Reception quality
In order to test its reception quality, I used my recently reviewed Eachine M80S drone and the HolyBro Kopis 1 racing quad.
None of these two drones were found on auto-search. Even if the signal from the drones was found, it skipped it over till it searched all the available channels and bands. Anyway, you can set the right channel on manual mode in just a few seconds.
Looking for the first time into the goggles, I said WOW. Thanks to the full HD screen, the EV900 has the best image quality of all FPV goggles I reviewed. No visible pixels, the colors are vibrant and the screen is very bright.
The reception quality (FPV range) is widely dependent on the VTX's broadcast power and VTX antenna type. While together with the M80S (with 25mW VTX) I got a stable signal from as far as 100 meters, with the HolyBro Kopis 1 (VTX set to 600mW) FPV range was more than I will ever need from a racing quad.
I almost forgot to mention that as input for the screen you can toggle between HDMI, RF-A, RF-B, Diversity, or Analogue. No PIP feature, if you ask.
Under the configuration menu, you can adjust the: Contrast, Brightness, Hue, Saturation, Sharpness, Color temp, scale, Picture mode, and noise reduction.
Expert's ratting
Price/performance ratio

Design and build quality

Features

Ergonomics / Comfort

Signal strenght
Summary
I was very impressed by the image quality of the Eachine EV900. The 1920 x 1080 screen does the job pretty well. The problem with HDMI was a big turn off, but this issue is probably only with my copy. The lack of integrated DVR is compensated by Diversity receiver and pretty cool design. Those with big nose should be aware regarding this box goggles, at least till Eachine updates the face plate of EV900.
Where to buy the Eachine EV 900 box goggles?
Now, with 26% off you can have the EV900 from here for only $139.99. The price is justifiable if you have a low to medium budget for FPV goggles with HDMI input and a FULL HD screen.
Good stuff
Full HD FPV screen;
Low latency;
Dual antenna system with true diversity;
Good signal reception;
HDMI input (if you have luck and works).
Bad stuff
NO DVR;
Can't be adjusted the focal length;
Auto search does not work properly;
Don't fit comfortably to my face.
Ugly stuff
My HDMI is not working :(