Eachine LCD5802S 5.8GHz 7″ LCD with diversity
Yesterday I had my first FPV flight using this Eachine LCD5802S screen and it performed very well. It was a great autumn Sunday, with perfect colors, lots of sun, just perfect for going out and playing with my new "toys". I had an awesome 15 minutes fight with my X380 Quad equipped with a 2D Gimbal, RunCam HD camera and 600mW 5.8G transmitter. My six years old boy wanted to hold the Eachine LCD2802S and he indicated me the direction he wants to see. I know, I have the greatest co-pilot ever :)))
There are several FPV screen models on the market with different sizes and features. Unfortunately, the High-End 10″ HD screens with built-in DVR and HDMI connection have the price arround $200 which is way over my budget. Being my first FPV screen I tried to keep the allocated budget under $100 and I decided to order this 7″ FPV monitor from Eachine with integrated diversity receiver.
Eachine LCD5802S review and test
This Eachine LCD5802S screen was the final piece of my FPV setup and probably the most important one. Right after I picked it up from the local postal office I went home and I opened the box to check if it works. Firstly, I installed the two included antennas and only after that I power it ON. Then I connected via AV-in a 600 TVL camera and I selected as video source "AV In". The image quality was surprisingly good.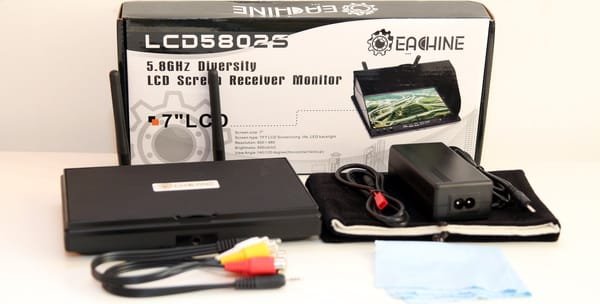 To allow a very good visibility even in sunniest days, the monitor comes with a built-in foldable sunshade which also offers a very professional look for this "cheap" first person view monitor.
Eachine LCD5802S review – Inside the box
7″ FPV monitor (with built-in 7.4V 2000mAh Li-Po);
2pcs of AV to 2.5mm jack cables;
AC to 12V power adaptor;
2pcs of 5.8GHz rubber ducky antennas (RP-SMA);
Protective carry pouch;
Screen cleaning wipe;
Eachine LCD5802S user manual.
I was very disappointed to found out that there are not included some mounting accessories or brackets in the package. Nevertheless, there is a standard slide mount on the back as well as a tripod screw hole on the bottom of the screen that allows to mount the screen with third party accessories.
As it is very hard to find a 220V socket on most of the flying zones, this Eachine LCD5802S comes with an integrated 2000mAh backup battery that allows a pretty good autonomy. The battery is built-in and unfortunately not swappable so it needs to be recharged when is empty. On the top right corner there is a battery level indicator which displays the remaining battery life.
On the left side of the monitor there are four pcs of 2.5mm jack sockets (RF A – Out, RF B – Out, Diversity AV out and AV in) and a 12V DC plug for charging.
Under the 7″ 800×480 LCD screen are 3 LED lights (channel A, channel B and charging indicator) and 6 buttons:
"Band +" allows to switch between four bands, A-D;
"Channel+" allows to switch between 8 channels, CH1-CH8;
"Menu"  activates the configuration menus (Brightness, contrast, color, sharpness, rotation, volume, power off, language and exit);
"Search"  will search automatically for signal;
"Source" allows to select the input to display;
Power ON/OFF.
One of the most important specs for an FPV display is the brightness of the screen. The LCD5802S is promoted to have 600cd/m2 which is okay for most situations especially thanks to the sunshade.
The integrated 5.8GHz 32 channel audio-video receiver is very stable without any blue screen. In order to achieve the optimal signal strength this LCD5802S has dual antenna ports (RP-SMA female) which permits to install the stock rubber ducky antennas or some cloverleaf antennas. In the left up corner there is a real-time RSSI indicator.
Eachine LCD5802S review – Final worlds
As I previously mentioned I'm planning to use this FPV monitor together with my X380 quad. Unfortunately I still haven't figured out how to install it on top of the remote controller. For this purpose I ordered a CNC FPV monitor mounting bracket, but it doesn't fit perfectly for the job and I'm still looking for better mounting solution.
Considering that it costs only $99.99 with this coupon code "LCD5802S" here, I think this monitor is a good all-in-one 5.8Ghz FPV screen. This 7″ Eachine LCD, thanks to the AV-in, can be also used for other stuff which require CVBS inputs (like: analog cameras). The only thing missing from this FPV monitor besides the mounting accessories is the DVR function. Anyway, the live feed video can be also recorded with an external stand-alone 5.8GHz DVR.
After I told my son about the FPV goggles he become very enthusiast to test one and now I have to save money for it. In this rhythm I can't get bored…I love this hobby!
Pros
Built in Li-Po battery;
Foldable sunshade;
Diversity;
Battery level and received signal strength indication (RSSI);
Built-in speaker;
Very good and sharp image quality;
Stable, without blue screen (yet);
Tripod screw hole;
AV input.
Cons
Glossy reflective display;
No HDMI input;
No DVR function (video recording);
No mounting accessories.
Updates 25.04.2016
Eachine announced a newer version with built-in DVR and 40CH receiver. The Eachine LCD5802D allows to record the journey of your flight.