This would be my second attempt of publishing my HGLRC Veyron 3 review. The draft of my previous article was lost together with 6 months of hard-working (drone reviews, quadcopter news, and lots of uploaded user manuals) due to messing up my blog's database.
While Oscar Liang and Half Chrome were more focused, in their Veyron 3 CineWhoop review, on features, FirstQuadcopter will also provide additional details like what is actually a CineWhoop, binding instructions, and BetaFlight configuration – practically a complete guide about how to take it in the air.
What is 'CineWhoop'?
If you never heard before about 'CineWoops', that's OK. They are a relatively new style of drones with duct prop guards, designed for filmmakers who needed a smaller and safer option while working in tight spaces. 'Cine' comes from cinematic and 'Whoop' from TinyWhoop, an epic small drone that has ducts protectors around the blades.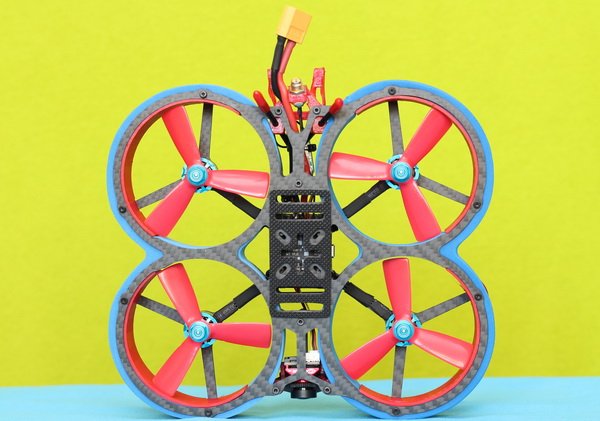 'Cinewhoop' style drones are awesome flying machines that can capture crisp HD footage that only versatile and expensive quads are capable of producing. They are typically smaller (2-~3 inches) and more stable than racing-grade FPV drones, allowing you to capture some pretty amazing cinematic footage. Due to the large duct blade protectors, they are also much safer for newbie pilots as well as for indoor flights. Furthermore, most of them can be equipped with an additional GoPro camera for 4K footage.
HLRC Veyron 3 CineWhoop features
Robust 136mm size carbon fiber frame with large Whoop style EVA pipe blade protectors;
Versatile ZEUS35 AIO flight controller w/ integrated 35A ESC;
Forward 1408 3600KV (4S) or 2400KV (6S) with 3-inch propellers;
Powerful to carry a GoPro camera (included 3D printed mount);
The battery can be installed along the main axis or perpendicular on this one;
Caddx Ratel Starlight FPV camera w/ 2.1 mm lens;
Forward MT Mini VTX with up to 600mW output power;
Optional FrSky XM+ or FS-A8S V2 radio receiver;
4S and 6S power options.
HGLRC Veyron 3 in-depth review
Disclosure: I received this CineWhoop as part of a product review collaboration with HGLRC. Product specs and quality may vary according to the manufacturer's reliability, so I cannot guarantee that you will get a drone that performs exactly the same as seen in my article.
While the Veyron 3 was sent out on March 12, I receive it only on August 12. Few more weeks and probably it would have been permanently lost because the label on the package was already barely visible.
The Veyron 3 comes in a quite big white box with a silver HGLRC logo on it. Besides the drone, there are included the following accessories: FPV antenna, 1 pair of spare propellers, 2 battery velcros, 3D printed GoPro mount, 90° micro USB adapter, and lots of bonus HGLRC stickers.
I received a blue/red version but there is also a black/red edition available. Both color options have 4S and 6S power versions. The only difference between them is that while 4S comes with 3600KV motors, 6S has 2400KV. Personally, I opted for 4S power because of the possibly longer flight time and more beginner-friendly flight performance.
At a glance
The Whoop design of the Veyron 3 with semi-circle (precisely, 186°) 3D printed ducts is quite unique – all its contenders (iFlight BumbleBee, FLYWOO CHASERS, Diatone Taycan, and Eachine Cvata) have full-circle ducts. The soft EVA foam protectors makes a good job, absorbing most energy of the impact – minor crashes will make no damages. However, their position needs to be re-adjusted because props often scratch them after crashes.
The top of the frame has anti-slip rubber padding in order to hold the battery firmly. On the rear, there is a 3D printer antenna mount (Crossfire compatible). The bottom plate is 2mm thick with holes for 9x9mm and 12x12mm motor mounting pattern. The frame can accept 20 x 20 mm and 16 x 16 mm flight stacks. Motor wires are nicely organized and secured to the frame.
As I previously mentioned, there is included a GoPro Hero camera holder, that can be fixed to the top of the frame with supplied screws. IMHO the angle of the mount is too aggressive for the capabilities of the HGLRC Veyron 3.
HGLRC Veyron 3 is often advertised to be under 250 grams, but this is only half-true. While the bare drone weighs about 245 grams, after installing the 1800mAh battery the setup reached almost half a kg. Even by using a smaller capacity LIPO pack you will be far above FAA's minimum weight requirements. With a GoPro 7 on top and an 850mAh battery, the scale showed 525 grams.
Price and availability
All variants of the Veyron3 CineWhoop can be ordered directly from HGLRC and also from the most popular online retailers. Currently, the Caddx Ratel edition shown in this review can be found for $209.99 in PNP box (no radio receiver). In case you already own DJI FPV goggles, you can opt for an HD digital edition with an onboard Caddx Vista transmitter for $309.99. In case of a nasty crash or you just want to build your own CineWhoop, there is also an available complete frame kit with included GoPro mount for just $62.99.
HGLRC Veyron 3 review: FPV rig
HGLRC's Veyon3 has two versions: Analog FPV with 5.8G VTX + Caddx Ratel 1200TVL camera (shown in this review) and digital FPV with Caddx Vista + DJI FPV camera.
As you can see in the video below, the Starlight camera offers excellent video quality even in low light conditions. Also, there are no props or other drone parts visible in the FPV footage. Through the Betaflight Configurator APP you can customize the OSD screen. You can display Flight time, Flight mode, battery level, signal strength, and other useful stuff.
Transmission power and channel settings can be adjusted remotely via BetaFlight OSD. At the highest power rate (600mW), the board becomes quickly very hot, so you should avoid keeping it on the ground for a long time. Also, you should never power it on without attaching the antenna.
HGLRC Veyron 3 review: Initial setup & Flight experience
Because I already own a Taranis Q X7 transmitter, I opted for a pre-installed FrSky radio receiver, but there is also FlySky A8S V2 and CrossFire Nano options available.
After I localized the 'F/S' button on the radio receiver, I created a new aircraft profile on my transmitter and name it 'Veyron 3'. In the case of FrSky XM+ radio receiver, operation mode needs to be set to 'D16'.
Next, I enabled the "Bind" option, then I powered on the Veyron3 while using a toothpick to press and hold the tiny F/S button. If you do things right, the LED on the radio board should turn green.
In order to take it in the air, you need to make some basic configuration in the BetaFlight APP. As the included 90° micro USB adapter doesn't work, I need it to remove the top plate (it had 'only' 14 screws) to manage to connect the Zeus35 flight controller to my computer.
Like usually, I opted to use left shoulder switch to Arm/Disarm the motors, and the right 3 position switch to toggle between flight mods (poz1 – Stabilized, poz2 – Horizon and poz3 – Acro). I also assigned 'Air' mode to the right switch – during landing, I suggest to deactivate this mode. Despite that it dosen't have an onboard buzzer, you can set ESC/Motors to make high pitched warning noise in case of signal loss or low battery voltage.
The HGLRC Veyron3 is much faster as I expected from a CineWhoop, but still don't have a Bugatti-like performance. On 'Horizon' mode, even newbies can make cool side, front, and backflips. For the tests I used a 1800mAh LIPO which provided more than 10 minutes of flight time with the tiny Insta360 Go camera on top.
Making noise like thousand of ghosts crying from a horror movie, for sure is not a silent indoor player.
Editor's ratings
Price/performance ratio

Build quality

Camera & FPV & OSD

Flight performance
Verdict
Currently, there are many similar CineWhoops on the market but only HGLRC Veyron 3 has an innovative bumper system allowing us to take minor crashes without major damages. The red/blue color combination makes it look good in the air.
Setting-up the drone was easy. From un-boxing to take-off was less than one hour. My only complaint is regarding the hardly accessible USB port.
While by definition a 'CineWhoop' should alow to record HD/UHD footage without additional gears, the Veyron3 has a Caddx Ratel camera without onboard recording. IMHO a Caddy Tarssier 4K would be a better option for the job.
If you are looking for a feather-light FPV drone that doesn't require FAA registration, you should not even read my review. Fully equipped (second camera + battery) weighs more than 500 grams.
The Good
Excellent built quality with nicely organized wires;
Crash-proof foam bumpers;
Can be upgraded with DJI FPV Air Unit;
Good flight performance;
Two power options.
The Bad
Quite a heavy setup (>250 grams);
No onboard recording (DVR);
Hard to access flight controller USB port;
Lack of buzzer and tail light;
Antenna mount could be stronger;
Too noisy for indoor fun.
The Ugly
Out of the box, the propellers touched the guards (this could be due to the long shipping time);
Included 90-degree micro USB adapter not work.