Shortly after I sold the old Kopis, my FPV backpack felt sad and empty. It was not just my fastest racer, but also the BEST looking one. When I read that HolyBro is planning to release  a second generation of Kopis 2, I contacted them in order to test and review one. Three weeks later I'm holding the black beast in my hand :D. Let's discover what brings new the Holybro Kopis 2 SE.
Like its predecessor, the Holybro Kopis 2 has also two variants: PNF (Plug-N-fly) without receiver and BNF (Bind-N-Fly) with FrSky XSR radio receiver. Both versions are delivered without battery, charger and transmitter.  If you opt for Kopis 2 BNF, I suggest you to check out my Taranis Q X7 Review for a great affordable transmitter.
I'll start with an overview of the features & specs, but if you're anxious to understand more about all these, skip down to read my in-depth review.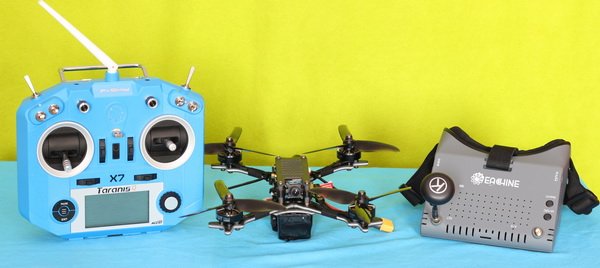 Holybro Kopis 2 features and specs
Super strong 3K carbon fiber frame (5mm arms);
Large top plate for second DVR camera (GoPro Session or Hero);
Latest Kakute F7 flight controller with soft-mounted gyro sensor;
Black F40 PRO2 2400KV brushless motors by T-Motor;
DALPROP Cyclone T5046C 3-leaf propellers;
RunCam Swift Micro FPV camera with angle adjustment (0~90°);
Atlatl HV V2 5.8G 40CH video transmitter (25 mW, 200 mW, 500 mW, 800 mW & PIT mode);
VTX telemetry & On-board buzzer;
Supports 4S-6S Li-Po batteries;
Weight 282 grams without battery & props.
Holybro Kopis 2 FPV racing drone review
It has passed about one year between the first and second Kopis. This time HolyBro stepped up from F4 to F7 flight controller. Besides faster processing speed, the Kakute F7 has some other major benefits too.
Motors are upgraded as well on the Kopis 2SE. Due to the high torque (Max Thrust of 1.62kg), T-Motor advertises their latest F40 PROⅡ KV2400 brushless motor as to be "extremely explosive & efficient".
Holybro Kopis 2 SE review: At a glance
The Kopis 2 comes in the same nice carry\storing bag, as you could see in my Kopis 1 review also. The suitcase style handbag can store the drone with mounted propellers, 1 set of spare propellers, up to two flight batteries and other smaller accessories. No GoPro camera mount included. The FrSky receiver comes fully wired and installed on its place.
While many liked the black & pink color combination of the first Kopis, this new version comes fully black including the DALPROP Cyclone propellers. The bottom/top plates are a bit longer than its predecessor had, so can accommodate even 4s/1800mAh LIPOs.
Made by 5 mm thick carbon fiber, the X-shape frame looks very sturdy. Wires between motors, ESC and Flight controller are nicely organized. Antenna wires are no more left loose like on my Kopis 1. Build quality is superior of all my FPV racing drones. Well done Holybro!
Designed for FPV, it has no lights, just a tiny buzzer on the right side, near the micro USB firmware port. The Foxeer Lollipop 5.8G antenna is linked to the Atlatl HV V2 VTX through a short pigtail.
Unfortunately, propellers are not self tightening and you can easily loose those black prop nuts when you replace the blades on the flight field.
Kopis 2 SE review: Camera, FPV and OSD
During crashes, the RunCam Swift Micro camera is well protected from every direction by the frame. Anyway, if something goes bad, the camera can be replaced in just 5 minutes. The angle of the FPV camera can be easily adjusted, matching it with your flight style.
Image quality is excellent. Warm and vibrant colors without noticeable latency. Using the included 5D keypad you can fine tune the camera settings according to your personal preferences.
Thanks to the high broadcast power, the FPV range is not an issue. The second-generation Atlatl HV V2 VTX features up to 800 mW transmission power. While it is intended to be configured via Telemetry (SmartAudio), you can also set the desired TX channels through the Channel-Change button (found on the left side).
For a more immersive FPV flight experience, you have audio transmission (the VTX has an onboard microphone). With a compatible FPV goggle, you can hear the noise of the four powerful motors.
By default, elapsed flight time, flight mode, battery voltage, and instant current OSD values are displayed on the FPV monitor. Through BetaFlight configurator you can add more OSD info (like flight altitude & virtual horizon).
In order to record the journey of your flights, in addition to the RunCam Swift Micro, you can mount a GoPro or alike action camera on the top plate.
Binding with FrSky transmitter & initial setup
First of all: Do not power ON the Kopis 2 drone with installed propellers till everything is configured properly.
As my Taranis Q X7 transmitter already had a profile for the Kopis One ( "Internal RF" and "D16" mode), I just cloned it and renamed it to "Kopis 2 SE".
In order to have access to the FrSky radio's F/S button, you need to remove the top plate. After I selected the "Bind" option on the remote, I connected the drone battery while holding the receiver's F/S button. The successful binding will be confirmed by a flashing RED light.
The FrSky R-XSR has two working modes (CPPM & SBUS). Switching between modes can be done by long-pressing (4 seconds) the FS button. Note: for Kopis 2 you need to set SBUS (solid blue light).
The next step is to verify the channel mapping and assign the control switches through BetaFlight Chrome APP. I opted to use the left shoulder switch to Arm/Disarm the motors, and the right 3 position switch for toggling between flight mods (poz1 – Stabilized, poz2 – Horizon, and poz3 – Acro). For beginners, I suggest setting the Stabilized-Horizon-Stabilized sequence, this way they can't accidentally switch to free-style mode.
Check the Kopis 2 manual for additional setup instructions.
How it performs in the air?
My answer is simply WOW! This graceful flying machine is damn fast and agile. While I test it with an "only" 4s LiPo, it has truly impressive punch-outs. Flips and Rolls are performed easily as if it is light as a feather. On Angle mode is very stable, hovers nicely, so even newbies can have fun with it.
While for most cases 200mW is just fine, VTX power can be conveniently increased/decreased remotely. From OSD menu can be also accessed PIT mode where you can safely (without disturbing other flyers) change TX channels & bands.
The fact that a slight part of the motors and half of the frontal propellers are visible in the FPV feed it can be considered annoying, but it also makes your flights more realistic.
Next step will be to test it with a 5s LiPo. It should provide an even better throttle response and hopefully some extra flying time.
Pricing
Taking into consideration that just 1 set of motors costs more than 100 US dollars, the price of $299 is not that much for such a premium class FPV racing drone. Banggood offers the BNF package (with pre-installed FrSky receiver) for $315.
Editor's ratings
Price/performance ratio

Build quality

Camera & FPV & OSD

Flight performance

Flight time
Verdict
Frankly, except the lack of a GoPro mount, I don't have any complains regarding the Kopis 2 SE. It has excellent build quality, the frame seems very sturdy, it should survive many crashes.
The FPV camera offers nice image quality and the VTX has a strong signal even on the lowest power setting.
With the right pilot, it has the speed and performance to win almost any drone racing competition.
The good
Fully assembled and configured;
Included case;
Very durable frame (5mm arms);
Super fast racer;
Excellent FPV range;
Telemetry & OSD;
4s-6s compatible;
The bad
FPV flight with Kopis 2 SE by Szabolcs
Kopis 2 SE vs Kopis 1
While the first generation Kopis was more focused on design and accessories (GoPro mount & status LEDs), the Kopis 2SE is about pure performance. When you see the world through FPV goggles, things like navigation lights and drone color are not important anymore. You care only about FPV quality, speed and agility.
| | | |
| --- | --- | --- |
| | Kopis 1 | Kopis 2 SE |
| Flight controller | Kakute F4 | Kakute F7 |
| VTX | Atlatl HV 40CH up to 600mW | Atlatl HV V2 40CH up to 800mW |
| Camera | RunCam Swift | RunCam Swift Micro |
| Motors | T-motor AIR40 2450KV | T-motor F40 PRO2 2400KV |
| Navigation lights | Yes | No |
| Buzzer | Yes | Yes |
| GoPro mount | Yes | No |
| Color | Black & Pink | Black |
| Weight | 300g | 299g |
Holybro Kopis 2 ROTOR RIOT Edition
Six month later, Holybro in collaboration with ROTOR RIOT announce an upgraded version of Kopis2. The most important improvements of this second edition are the better HypeTrain Stingy 2207 2150KV Motors and Runcam Micro Eagle camera.
Holybro Kopis2 HDV 6S – DJI Edition
More than 1 year after we published the review, Holybro came up with an upgraded 6 version called Kopis2 HDV. As its name says it features HD digital video transmission. DJI's latest generation FPV Air Unit provides low latency super long range video transmission.
last update on 10/October/2019