Walkera Goggle 4 in-depth review with pros and cons
Just published my first FPV goggles review and I already have here on my desk another model. On first impression, this Walkera Goggle 4 looks much better so I'm hopping that will perform also better, especially that is not the cheapest FPV goggles on the market.
Walkera announced their FPV Goggle 4 series in two versions, a premium one and a basic one. In my opinion the most important features of the Walkera Goggle 4 Premium over the Basic edition are the HDMI input and the DVR function. HDMI connectivity is a must have if you want to fly through FPV goggles consumer quadcopters such as the DJI Phantom 3 and 4. Unfortunately, the basic version is the one I received for review :(.
Over the time, Walkera moved from aerial quadcopters to racing quadcopters. They releases new racer models almost every 6 months, from small ones like the Rodeo 150 to big ones like the Furious 320. Lately, in order to offer complete FPV packages, they started to manufacture also FPV goggles.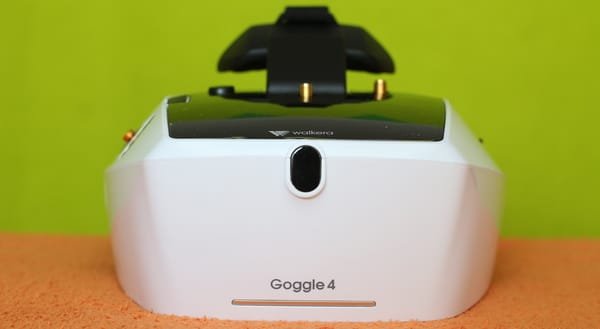 As many times I mentioned FPV glasses are designed to provide the ultimate FPV experience, in my opinion they are suitable only for experienced pilots. Frankly, it is much harder to control the quad through FPV goggles compared to the traditional way (at least to me).
Walkera Goggle 4 FPV goggles review
Before I get into details I should thank Amy from GearBest for offering me this product. After we agreed on the review, the package was sent out quickly and delivered in 4 days. This is the first time that I have no complains regarding DHL's shipping services.
The FPV glasses comes in an elegant cardboard box which induces the feeling that we are dealing with a quality product. Inside the box I found besides the Walkera Goggles 4 and its battery: AC/DC adapter, micro USB cable, two 5.8G antennas and user manual.
In order to disperse the weight, the battery pack is located on the head strap in the neck area instead of being integrated into the goggles. The connection between the headplay and the power source is realized by a short USB cable.
Both design and build quality are excellent. Good work Walkera! The straps are adjustable so it's easily adapted for any head size. In order to allow good heat dissipation, on both sides there are vent holes. Anyway, in my opinion they should add also fan cooling to prevent fogging.
In the front part there is a black spot that firstly I thought to be a camera. Unfortunately it's only part of the design without any real function.
On the top part of the goggles are located two SMA connectors. The center one is dedicated for the LHCP antenna and the left one for the rubber ducky antenna.
An AV Input RCA plug is provided on the bottom of the FPV goggles to allow you to connect another video source (like camera, TV or media player). Switching between external video and internal 5.8G receiver can be done using the big black button located on the top of the goggles. I'm planning to use this feature by attaching a small camera (like the RunCam OWL Plus) to the Walkera Goggle 4 in order to have dual point of view (drone and pilot).
In order to allow easy and convenient settings, instead of tons of buttons, the goggles features a stylish joystick. By pulling the little stick backward can be activated the configuration menu. By pressing the stick as a button can be changed the current reception band (A, B, E, Race and IRC/FS). Toggle between the channels can be done using the CH-Up and CH-Down buttons.
Although the Walkera Goggle 4 basic doesn't have a built-in DVR, you can add an external one through the AV Output. You can find the plug located near micro USB power socket (right side behind a flap).
Walkera Goggle 4 highlights
Ergonomic design for comfortable usage;
AV input/output for external DVR;
Brightness, contrast and hue adjustment;
Automatic video format detection (PAL / NTSC);
Automatic and manual channel search;
5″ LCD display (3 x 800 x 480 pixels);
Built-in 40CH 5.8 FPV receiver;
Double antenna technology for stable image reception;
7.4v 1200 mAh Li-Po battery;
About 2 hours of operation time.
Walkera Goggle 4 review – Usage
While this FPV goggles was designed to work with Walkera racing quadcopters I think that is compatible with mainly any other 5.8G systems. I tested it with my Cheerson CX-35 and XinLin X181 and it worked perfectly just like with my Runner 250 Advanced and the Walkera F210 quad.
Wearing this Walkera Goggles 4 is more comfortable than the other FPV glasses that I own. The only convenient spot is around the nose where the frame is a bit obscure.
Although I read on another review made by a fellow that there is enough room to use it with prescription glasses I haven't managed to do so. In my opinion it is very hard to design a FPV goggles that fits in eye glasses.
In the introduction of my review I said that the control stick is a great idea. After few usage I changed my opinion and I would prefer a multi button solution.
Thanks to the dual-antenna design the video signal was very stable. I managed to fly about 300 meters far for me till the video signal started to be jerky (using 600 mW TX). Although the LCD screen is not HD, the image quality is more than acceptable.
The advertised operation time offered by the 7.4v 2000mAh is about 2 hours which in my opinion it is enough for FPV flights but in case you want even more, you can attach any external USB power bank.
Unboxing and quick test video of the Walkera Goggles 4 FPV
Price–performance ratio

Design and build quality

Features
Walkera Goggle 4 review - Verdict
Honestly, at this moment there are many other entry-level FPV goggles on the market with more friendlier price so why should you purchase the Walkera Goggles 4? On one hand because it has a pretty cool design which allows very comfortable usage and on the other hand it allows feature extensions through the AV In/Out.
The integrated 5.8G diversity receiver offers very stable video reception and if you need even better range you can easily replace the stock antennas with higher gain ones. The 5″ screen is very crispy and the image quality can be fine tuned in terms of contrast, brightness and hue adjustment.
Currently this FPV goggles is in "flash sale" and can be ordered with free shipping for $150 (now is $179) from here. I'm hopping that the price will drop even more taken into consideration that the Premium edition with much more features should be available for orders very soon.
Updates on 06.08.2016
Just got this "JRWKG" coupon code, which reduce the price to $162.99.
Pros
Nice design;
Very confortable;
Dual antenna;
Built-in 40ch diversity receiver;
AV In/Out;
Cons
A bit overpriced;
No diopter adjustment;
No DVR and HDMI input.
Although this product review is sponsored, all opinions are my own!
Walkera Goggle 4 review – Photo gallery