Since the first Air 2S rumors, many DJI fans decided to cancel their Mavic Air 2 order and wait for the new upgraded model. Our DJI Air 2S vs. Mavic Air 2 comparison guide includes features, specs, battery life, range, and camera performance.
The completely redesigned, second-generation Mavic Air was released on April 24, 2020, and to be honest, no one thought that DJI, after only one year (April 15, 2021), will come up with another model of the series.
The new DJI Air 2S features the same folding design as the older Mavic Air 2. The only visual difference is the extra pair of the obstacle avoidance sensor on the nose of the aircraft. Now, the propellers have orange stripes instead of silver ones.
DJI Air 2S vs Mavic Air 2: In-depth comparison guide
In the table below, I compared the most important specs of both mid-range DJI drones. I highlighted red where the new DJI Air 2S excels and with green where the older Mavic Air 2 still shines.
 
DJI AIR 2S
Mavic Air 2
Size
Folded: 138×81×58 mm
Unfolded: 159×203×56 mm
Folded: 180 × 97 × 74 mm
Unfolded: 183 × 253 × 77 mm
Weight
595 grams

570 grams

Gimbal
3-axis
3-axis
Image sensor size

1″

1/2″
Megapixel
20MP

48MP

Max Video resolution

5.4k@30fps

, 4K@60fps or 1080p@120fps
4K@60fps or

1080p@240fps

Max bit rate
150Mbps
120Mbps
Photo mode
RAW + JPG
RAW + JPG
HDR
Yes
Yes
Digital Zoom
2-4x
2-4x
FPV
1080P
720P and 1080P
Communication

OcuSync 3.0

OcuSync 2.0
Range

12KM for FCC and 8K for CE

10KM for FCC and 6K for CE
DJI FPV Goggles v2 compatibility
No
No
Wind resistance
8.5-10.5 m/s (Level 5)
8.5-10.5 m/s (Level 5)
QuickShot modes
Dronie, Rocket, Circle, Helix, Boomerang, and Asteroid
Dronie, Rocket, Circle, Helix, Boomerang, and Asteroid
MasterShots

Yes (Portrait, Proximity, and Landscape)

No
Hyperlapse
Yes
Yes
Active tracking
Yes, ActiveTrack 4.0
Yes, ActiveTrack 3.0
Point of interest
Yes, Point of interest 3.0
Yes, Point of interest 3.0
Advanced Pilot Assistance Systems
Yes
Yes
Obstacle avoidance

Yes, 4-directions

Yes, 3-directions
Optical flow sensor
Yes
Yes
WiFi file transfer
No
No
Internal Memory
8GB
8GB
Battery
3s/3500 mAh
3s/3500 mAh
Flight time
31 minutes

34 minutes

FAA registration
Yes
Yes
Release date
April 15, 2021
April 24, 2020
Regular price (Standard/Combo)
$999/$1,299

$799/$988
Battery life
Many will be disappointed for sure that the Air 2S has 3 minutes less flight time than its older brother. The difference comes probably from the fact that the Air 2S weighs 30 grams more. While the DJI Air2S is advertised with 31 minutes of flight time, the Mavic Air2 with 34 minutes of battery life. Apparently, both are powered by the same type of 3s/3500 mAh LIPO pack.
Flight range
The new DJI Air 2S comes with the latest OcuSync 3.0 communication that provides up to 12KM range in the US (FCC) and 8KM in Europe (CE). By comparison, the Mavic Air 2 adopting OcuSync 2.0 has 10KM-FCC and 6KM-FCC range. Thanks to the new transmission system everyone hopped that the Air 2S will compatible with the DJI FPV Goggles V2 and DJI Motion Controller. Regretfully, is not for the moment!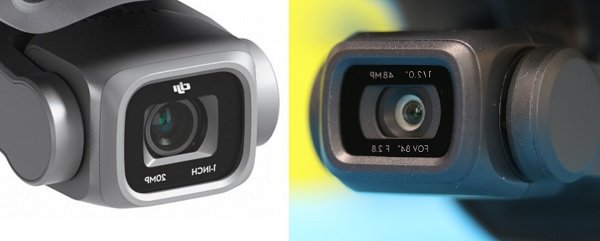 Camera performance
The biggest difference between the DJI AIR 2S and the Mavic Air 2, is the camera. In comparison, the 2021 Air drone is equipped with a 20MP/5.4k 1″ sensor camera, the 2020 Air with a 48MP/4K 1/2″ sensor camera. The size of a sensor affects photo/video quality. Larger sensors usually mean better image quality. By comparison, a 108MP phone with a tiny sensor will never provide the same quality as a 20MP full-frame DLSR camera. A larger sensor also provides better low-light performance and the ability to take wider angle images. Max video bitrate was increased from 120 Mbps to 150 Mbps.
Not all the specs of the Air 2S camera have been improved compared to its predecessor. The older Mavic Air 2 has better slow-motion capabilities at FULL HD resolution (1080p@240fps vs 1080p@120fps). 
Other Features
While Air 2 has a 3-direction obstacle avoidance system, the new upgraded Air 2S has 4-direction collision avoidance sensors. The extra sensors will ensure safer autonomous flights such as RTH and ActiveTrack.
Both, feature the same set of QuickShot modes (Dronie, Rocket, Circle, Helix, Boomerang, and Asteroid), so no improvements on this aspect.
Bottom line
If money counts, you should consider that for the price of the DJI Air 2S, you can buy the older Mavic Air 2 Fly More Combo with 3 flight batteries and lots of extra accessories.
On the other hand, if you want to fly for longer distances and to capture higher quality footage, the DJI Air 2S an excellent alternative to the more expensive Mavic 2 Pro.
For the extra $200 you will get better camera performance (1″ vs 1/2″ CMOS Sensor), lots more intelligent features, an improved obstacle sensing system (4-directions vs 3-directions), and a transmission system (12KM vs 10KM).