Following the great popularity of the iFlight Chimera4 and Flywoo Explorer, Eachine also releases its own 4″ long-range FPV drone named after Nevermore, the SHADOW Fiend, a hero possessing abilities that inflict superb burst damage from varying distances.
The Eachine SHADOW Fiend is built on a robust carbon fiber frame with a wheelbase of 180mm. At the end of each arm, there is a powerful 1404 2750kv matched with 4″ GEMFAN propellers.
Designed for long-range FPV flights, the Eachine SHADOW Fiend comes with onboard digital video transmission and GPS positioning system. You can opt between CADDX Nebula Nano V2 and CADDX Vista kit.
Eachine SHADOW Fiend features
180mm size carbon fiber frame (3mm bottom and 2mm top plates);
F405 flight controller;
20A 3-6S 4IN1 ESC;
Optional CADDX Nebula Nano V2 or CADDX Vista kit;
1404 2750kv Motors and GEMFAN4024 2-leaf Propellers;
Onboard GPS positioning;
2-4 LIPO compatible.
Eachine SHADOW Fiend main parts specs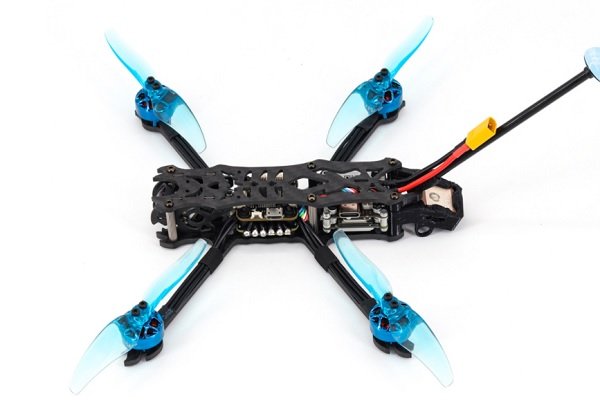 Flight controller specs
Main control chip: STM32F405;
Support Firmware: betaflight/cleanflight/inav;
IMU:MPU6000;
BEC:5V/1A;
Integrated OSD;
Support PPM/DSM/IBUS/UAR: UART6-RX;
External Buzzer and LED strip port;
Mounting holes: 20*20mm;
Weight: 3.0 grams.
Speed controller specs
Con. Current: 20A;
Peak Current:25A(up to 10 seconds);
Input Voltage: 2-6s;
Main control chip: EFM8BB21F16G;
Firmware: BLHeli_S;
Support DSHOT150/300/600 / MULTISHOT / PWM / ONESHOT;
Mounting Hole: 20x20mm /Φ2
Weight: 7 grams.
Brushless motor specs
KV:2750rpm/v
NO-Load Currency(IO/10V)0.2;
Support Lipo: 2-4S;
Max Con. Current: 7.16A;
Max Power: 119.4W;
Pull: 284G(16.8V/4024R);
Configuration: 12N/14P;
Recommend Prop: 2-4″
Internal resistance(Rm): 0.486Ω;
Stator Diameter: 14mm;
Stator Length: 4mm;
Motor Dimensions(Dia.*Len): Φ20x19mm;
Shaft Length: 4mm;
Shaft Diameter: 1.5mm;
Mounting Hole Distance: 9*9mm;
Screw: M2;
Weight: 10.8g.