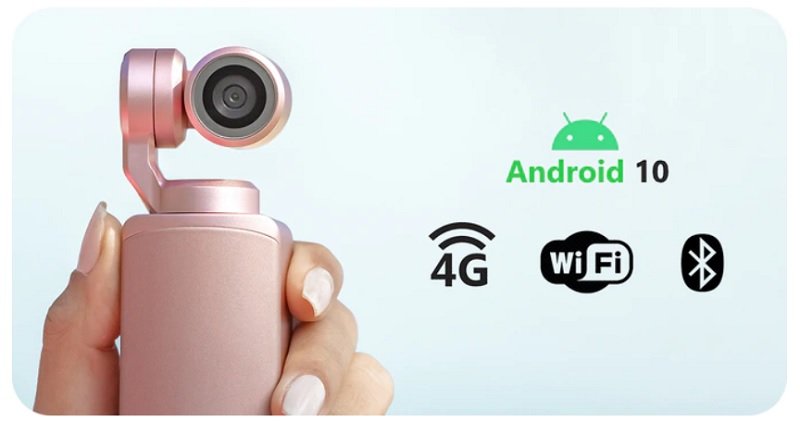 Rayshot recently listed on Kickstarter their upcoming project. The RiderShot Android-based smart gimbal camera comes with some pretty interesting features, including 4G mobile connectivity.
Established in 2017, RayShot Tech is the pioneer of smart pan-tilt mobile phone cameras, focusing on the design and development of innovative smart pan-tilt cameras and AI smart electronic products and providing overall solutions.
Rayshot integrates 4G connectivity and a high-quality FHD camera with a micro three-axis mechanical stabilization gimbal to give you perfectly smooth shooting everywhere you go. Its powerful shooting functions, intelligent system, and lightweight design make filming simple and easy! By using a built-in Android OS, you can use it to access apps, surf the web, make calls via apps, live stream, cast your screen, share on social, and more.
The RiderShot gimbal measures 156.5×36.5×43.5mm and weighs about 160 grams. The built-in 2500mAh capacity allows about 240 minutes of continuous working time.
Rayshot gimbal features and specs
First Android-based pocket smart gimbal with 4G mobile communication;
Android 10 OS;
4G LTE mobile connectivity (Nano-SIM slot);
Bluetooth 4.2 and WiFi 802.1 a/bg/n wireless connectivity;
3-axis mechanical stabilization;
Big color live-view display (2″ IPS);
1/2.3″CMOS image sensor;
Two built-in microphones with noise-reduction;
Smart Face Tracking;
High-capacity (2500mAh) battery that allows up to 240 minutes.
Rayshot gimbal uses the world's first dedicated 2.0-inch IPS touch screen instead of physical buttons, making operating the controls, previewing videos, and accessing apps easier than ever before.
Using a high-quality Sony 1/2.3″ CMOS image sensor, with an optimal field of view, wide-angle F2.0 lens, Rayshot lets you film in FHD (1920×1080) with up to 60fps. Videos are captured in MP4/MOV format (H.264) with up to 120Mbps. Nothing yet in the technical specs about the UHD – 4K capabilities of this 3-axis gimbal camera.
Rayshot gimbal promo video