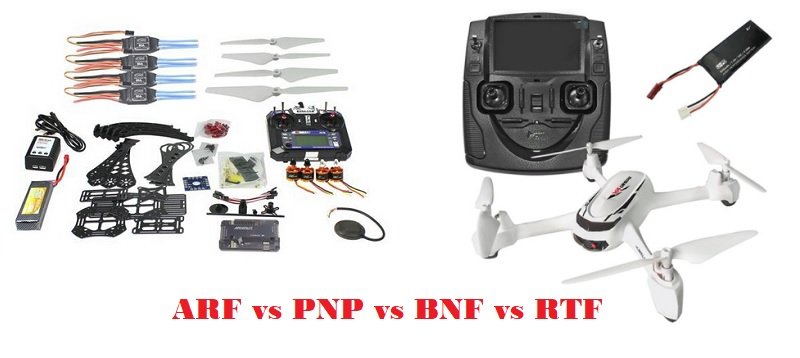 If you are a regular reader of FirstQuadcotper.com, you probably noticed that in my drone reviews I use many times terms like "ARF", "PNP", "BNF" or "RTF". In this article I will explain each of these jargons.
It is very important to know what exactly stands behind this acronyms because you can find the same drone in multiple package variants (PNP, BNF or RTF).
ARF, PNP, BNF and RTF? What's the difference?
Knowing these 4 terms will definitively help you work your way around purchasing your first drone.
ARF stands for Almost-Ready-to-Fly
ARF means the aircraft needs some additional "need to complete" parts and building steps before you can start flying. Common additional items include servo's, motors, electronics, remote controller, flight battery and tools (soldering irons, screwdriver even glue). Generally, these are DIY kits which require knowledge in the field. ARF kits may or may not be shipped together with a transmitter.
PNP stands for Plug-N-Play
PNP drones come with everything you need except for the radio system (receiver and transmitter), flight battery and charger. Usually it comes fully assembled and it contains frame, flight controller, ESCs and motors. PNP FPV drones also come with camera and VTX (5.8G video transmitter). BTW, PNF stands for Plug-N-Fly and it is about the same with PNP.
BNF stands for Bind-N-Fly
BNF quadcopters come with everything you need except for a remote controller. With BNF products you can use your existing transmitter, of course the included receiver needs to be compatible with your remote. Prior to your first flight a "binding" processes and channel assignment needs to be done.
The Jumper T8SG Plus RC is compatible with most of the common radio standards (FrSky, FlySky, Walkera, Futaba, Syma, Hubsan,….), so you can have one remote controller for all your BNF drones.
RTF stands for Ready-to-Fly
RTF means the drone you are purchasing is fully assembled and comes complete with everything you need to fly. It includes remote controller and also flight battery. In case of most RTF FPV drones you will additionally need a FPV screen (monitor or goggles).
Conclusion
Bottom line is that whether you are a newbie or a professional drone pilot, RTF version brings all you need to fly out of the box. BNF and PNP kits are for old-time RC pilots who usually are in possession of one or more remote controllers (transmitters). ARF drone kits are recommend only for DIY enthusiasts with basic knowledge of electronics.