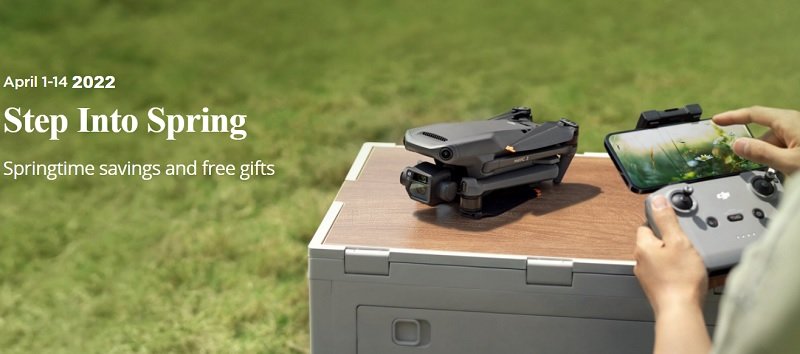 April is here and several stores, and big brands, are offering discounts in honor of the spring season. It's a good chance to save on your new drone, action camera, or gimbal.
DJI's spring sale season runs between April 1 and 14th. In this period you can save big on your favorite gear and you can also receive a free gift. Most of their consumer drones are discounted right now. You can save up to 20% on the DJI MINI 3, and 23% on the DJI FPV drone combo. Vloggers should also check their spring sale for discounts on the DJI Action 2 camera, DJI Pocket 2 4K stabilized camera, and the DJI OM5 phone gimbal. Check here for the hottest DJI deals.
Flourishing Photographers
"Springtime is, without a doubt, my favorite time of the year for aerial photography. Capturing nature in all its beauty as it returns to the world is one of life's great joys."
DJI Mavic 3: Buy now the ultimate drone for aerial photography with 7% off (USD $2,049 – $2,199). With a 4/3 CMOS sensor and the legendary Hasselblad color solution, you can capture the incredible richness of spring true to its colors.

DJI Air 2S Fly More Combo

kit: Fantastic all-round drone for just USD $1,299 during the Spring sale. This adventure drone comes with a 1″ CMOS sensor, a compact body, and the game-changing MasterShots feature. Enjoy intuitive features as you explore your surroundings.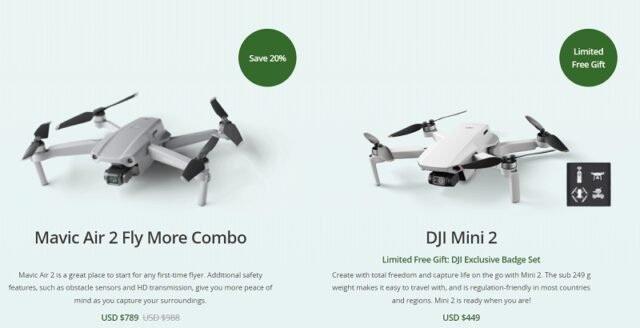 Budding Creator
"Spring is a time for new beginnings, so why not go out and practice some aerial photography? Favorable lighting means there is less need for post-editing, so I'm ready to share right on the spot."
Mavic Air 2 Fly More Combo

: Oldies but goldies. The Air2 is still a great place to start for any first-time flyer. Additional safety features, such as obstacle sensors and HD transmission, give you more peace of mind as you capture your surroundings. Now you can get it with 20% off (USD $789 – $988)
DJI Mini 2: Create with total freedom and capture life on the go with Mini 2. The sub 250 g weight makes it easy to travel with and is regulation-friendly in most countries and regions. Now during DJI's spring sale, you can get for free an exclusive badge set.
Springtime Adventurers
"As someone who likes to keep active, springtime for me is always a highlight. There are few things better than getting back out on the road with friends after a cold winter and capturing our adventures."
DJI Action 2: This ultra-versatile action camera is designed to adapt to whatever you throw at it. And with HorizonSteady, you can enjoy stable videos, regardless of how wild the action gets. Now you get it with 15% off (USD $439 – $519) and a free magnetic protective case.
DJI FPV: Flying in FPV is an adventure in itself. The thrill of speeding over trees or cruising by the water is an unforgettable experience that is perfect for adrenaline-seekers. For the first time, you can get this ultimate FPV combo with 23% off (USD $999 – $1,299)
Blossoming Families
"Teaching my kids the importance of appreciating nature is essential to my partner and me. Spring is the perfect time for my little ones to discover the wonders of the natural world."
DJI Pocket 2: This compact

3-axis gimbal

4K camera is perfect for capturing playdates. Pop in your pocket and capture perfectly smooth footage of any outing. Order it during DJI's April sale and you will get a free crossbody bag
DJI OM5: Create memories that will last a lifetime this spring with DJI OM 5. Capture flawless selfies, and super-smooth videos, and unlock the full potential of your smartphone. DJI also includes with this phone gimbal a free crossbody bag
---
Stay in touch!
If you'd like to stay up to date with all the latest drone news, rumors, reviews, and tutorials, then follow us on our socials: Twitter, Facebook, Instagram, and YouTube