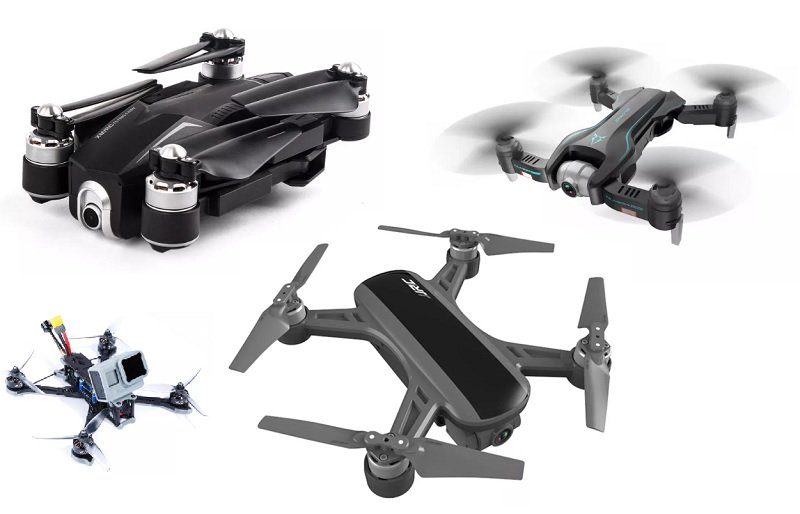 Shopping for your first drone can be frustrating, especially if you're on a budget. It also can be quite confusing with all those specifications to think about – range, flight time, smart features, camera resolution or aircraft type (beginner, cruising, FPV or racing). In the past years, many of the barest-budget drones came out on the market with just Full HD video resolution, but nowadays most of them promise 4K recording.
We'll give you a bit of info too about each quadcopter we highlight, so you can see some specs at a glance before you click through the store and have to browse their lengthy descriptions.
Autumn 2019 discount coupons
Trying to cover the needs of most newbie pilots, for October we selected four drone deals.
1. FunSky S20 sale (40% off)
Type: Learn-to-Fly | Skills: Beginner | Camera: 4K/1080P | FPV: 5G WiFi | Flight time: 18 minutes | Features: Foldable design, Optical flow positioning, Altitude hold & RTH | Package: RTF
The FUNSKY S20 is a nice entry-level drone with lots of cool features. It adopts similar foldable design like the epic Eachine E58. When it's folded, it measures only 16.2 x 11.2 cm, so you can take it with you everywhere.
According to the advertised specs, the 7.4V/1200mAh battery allows up to 18 minutes flight time. As charging time takes about 5 hours. it is highly recommended to purchase couple of spare LIPOs for longer fun time.
Check deal on BG Promotion Period: 21 – 26 September 2019.
2. JJRC X9P Heron coupon code (5%)
Type: Cruising | Skills: Beginner | Camera: 4K | FPV: 5G WiFi | Flight time: 15 minutes | Features: Brushless motors, 2-axis gimbal, GPS, RTH & Healdess mode | Package: RTF
Heron X9P's brushless motors are not just more powerful, but also more reliable compared to the brushed ones. IMHO, they make the difference between toys and real drones.
In order to allow super-stable hovering, the JJRC X9P quadcopter features dual satellite positioning system (GPS + GLONASS) combined with Optical Flow positioning.
Its 4K camera is installed on a 2-axis gimbal which allows remote angle adjustment. The camera features 50x digital zoom and 5G WiFi real-time image transmission.
Being powered by a 3s/1000mAh LIPO pack, maximum flight time is around 15 minutes.
Use coupon Promotion Period: 21 – 30 September 2019. Coupon Code: BGX9P5
3. XMR/C M8 drone sale (15% off)
Type: Cruising | Skills: Beginner | Camera: 4K | FPV: 5G WiFi | Flight time: 30 minutes | Features: Brushless motors, Foldable design, GPS & Fail-safe RTH | Package: RTF
While the XMR/C M8 was just announced, it is already on sale – now you can find it with 15% off. With up to 30 minutes of airborne time, it has one of the best battery life in its price tag.
Instead of a mechanical gimbal, its 4K camera features electronic image stabilization (EIS). Camera can record 1920*1080 videos and takes 2592*1520 photos.
Its folding backpack friendly design allows easy transportation. When it is folded up, the aircraft measures only 16 * 12.3 * 6.6 cm. During night flights, you will be assisted by four lead lights – one under each 1600KV brushless motor.
Thanks to the GPS assisted fail-safe RTH feature, the XMR/C M8 quadcopter will autonomously return to the take-off point if the flight battery is near empty or communication is lost with the remote controller.
Check promotion on BG Promotion Period: 21 – 30 September 2019
4. iFlight Nazgul5 discount code (12% off)
Type: Racing FPV drone | Skills: Intermediate | Camera: Caddx Ratel | FPV: 5.8G 25/600mW | Flight time: depending on battery capacity | Features: 4S compatible, 5″ propellers, can be equipped with GoPro and multiple flight modes | Package: BNF & PNP
For the end I kept the sweetest deal. Using the 'BGIF4S' you can have the iFlight Nazgul5 racing drone with 12% off. Being equipped with SucceX-E F4 versatile flight controller, it can be configured with multiple flight modes. While newbies can practice with Angle mode (fully stabilized), experienced pilots can have fun with Acro mode (freestyle).
The iFlight Nazgul5 FPV quadcopter is available with two power options. While 4S variant comes with 2450KV motors, 6S edition has 1700KV ones. Both versions are built on the same 227mm size carbon-fiber frame and are 5 inch propeller compatible.
Use coupon Promotion Period: 21 September – 01 October 2019. Coupon Code: BGIF4S