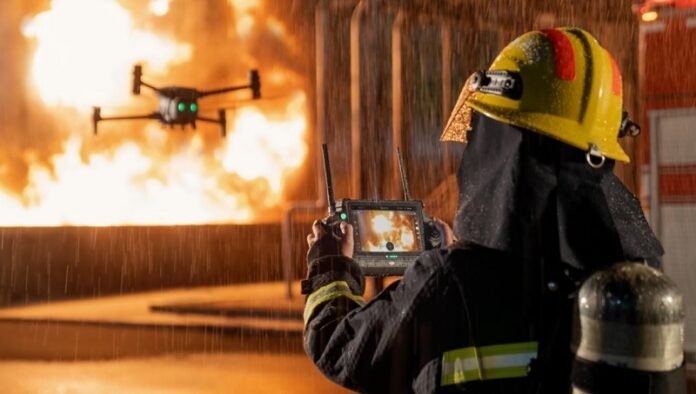 DJI has officially revealed their new Matrice 30 series, designed for heavy-duty professional jobs. The DJI M30 and 30T feature 54 km/h wind resistance and the ability to fly in snow, heavy rain (IP55 rating), and temperature as low as -20°C (4°F).
The Matrice 30 comes with a 48MP 1/2″ CMOS sensor optical zoom camera (5-16×) optical and 200× digital zoom, a 12MP wide-angle camera, 8K photo 4K@30fps video resolution, 1920×1080@30fps FPV camera, and a laser rangefinder which can give the precise coordinates of objects up to 1,200 meters away. Additionally, the M30T features s 640×512 pixel radiometric thermal camera.
Designed for harsh flight conditions, the DJI Matrice 30 comes with built-in advanced redundancy systems to help keep your critical missions going even in unexpected scenarios. DJI claims that their M30/M30T features Three-propeller Emergency Landing. In the unlikely case of a motor malfunction during flight, the M30 Series can make an emergency landing with just three propellers/motors. Basic controls, such as ascending, descending, and horizontal movements, are still in place. Inevitably, the drone and the payload will be damaged during the landing, but the operator can choose to land somewhere away from people or buildings to keep them safe.
In addition to DJI's four-antenna OcuSYnc 3 communication system, the M30 series features an LTE GSM link for backup transmission that allows it to maintain connection in complex terrains. For an ultimate flight experience, the Matrice 30 series comes with the DJI RC Plus remote controller that has a 7.02″ LCD touchscreen, with a resolution of 1920×1200 pixels, and super brightness of 1200 cd/m2. While in FCC mode the range is up to 15KM, in CE/SRRC/MIC modes is 8Km.
The TB30 intelligent flight 6S battery has a total power of 131.6 Wh and provides up to 41 minutes of flight time. The expected hovering time is about 36 minutes. The smart battery pack has the following built-in safety features: Anti-Backflow, Short Circuit, Over Voltage, Over Current, and Temperature.
This new generation commercial drone comes with DJI Dock, an autonomous docking solution that allows for fully automatic, programmed flights from take-off to landing. With FlightHub 2, unlock full DJI Dock functionality from the cloud. Schedule missions, create and edit flight routes, and manage data collected.


Matrice 30 / Matrice 30T technical specs
48 MP 1/2″ CMOS sensor zoom camera (5×~16× optical and 200× digital);
12 MP wide-angle camera;
8K photos;
4K/30 FPS videos;
Laser range finder with precision up to 1,200 meters away;
640×512 px radiometric thermal camera (M30T only);
1080@30fps FPV camera;
IP55 ingress protection;
Operating temperatures from -4 to 122 Fahrenheit (-20 to -50 Celsius);
FPV pilot camera;
OcuSync 3 Enterprise communication;
Support for D-RTK 2 Mobile station;
41-minutes of max flight time;
Dual TB30 batteries (400 cycles, 20% to 90% in 30 minutes);
Foldable legs;
8.16 lb (3.7 kg) take-off weight.
Pricing and Availability
The M30 and M30T aren't the cheapest DJI drones but for an enterprise product, this is somehow normal. While the Matrice 30 starts at $10,000 the M30T with additional features starts at $14,000. The new DJI Dock is available separately and according to the company is currently being tested and will be available for orders in Q4 of this year.