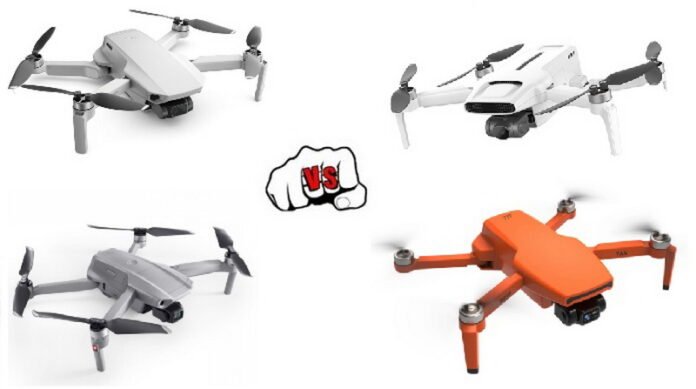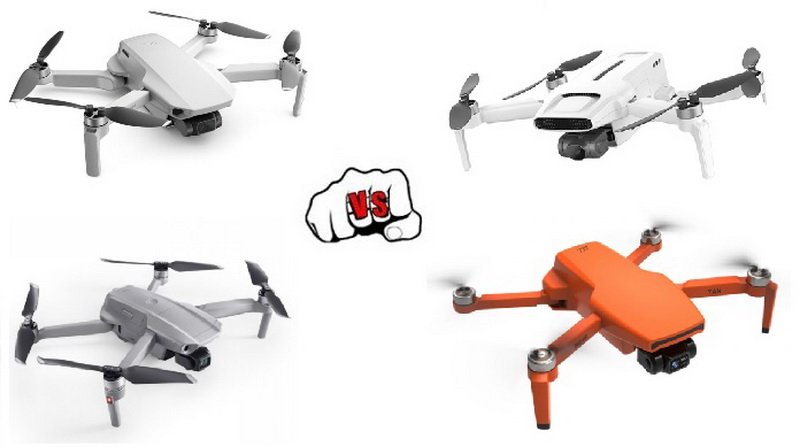 Without any doubt, the DJI MINI 2 is currently the best drone in the 250 grams class. It features excellent flight performance and comes equipped with a high-quality 4K camera. On paper, there are several drones that promise similar functionalities, but they are worthy rivals? Let's find out what are the Top 5 DJI MINI 2 alternatives that you can buy in 2021.
The DJI Mini 2 was officially revealed on November 4, 2020, and has a take-off weight of just 249g, meaning that it doesn't need to be registered with the FAA in the USA. Compared to its predecessor, it has a higher-resolution camera, extended range, and better battery life. Its improved motors help flying in winds up to 10.5 m/s (Level 5). The Mini 2's size, price, and smooth performance make it an excellent option for those who are looking to get their first drone.
Best DJI Mini 2 alternatives: In-depth comparison
In the table below I compared the most important specs of the 3 best Mini 2 alternatives. I highlighted with green where the FIMI MINI excels, with blue where the old MAVIC MINI still shines, and with orange the straightness of ZLL SG108Pro. I marked with red where the DJI MINI 2 is the clear winner.


DJI MINI 2
FIMI MINI Pro
Mavic MINI
ZLL SG108 Pro
Size
138×81×58mm
145x85x56mm

140×82×57mm

130×83×57mm
Weight
249g

245g

249g
278g
Foldable Design
Yes
Yes
Yes
Yes
Camera
4K@30fps
4K@30fps
2.7K@30fps
4K@25fps
HDR
NO

Yes

NO
NO
Gimbal
3-axis
3-axis
3-axis
2-axis
Smart flight modes

Panorama, Hyperlapse, One Tap, and QuikShots (Circle, Dronie, Helix, Rocket, and Boomerang)

Active tracking and intelligent flight modes
QuikShots (Circle, Dronie, Helix, and Rocket)
intelligent flight modes
Active tracking
No

Yes

No
No
Obstacle avoidance
No
No
No
No
Optical flow sensor
Yes
Yes
Yes
Yes
Flight time
31 min
31 min
30 min
25 min
Battery capacity
2s/2250 mAh
2s/2250 mAh
2s/2400 mAh
2s/2200mAh
Range

10KM FCC

or 6KM CE
8KM
4KM FCC or 2KM CE
1KM
Communication
OcuSync 2.0
TDMA HD
Advanced WIFI
WIFI
FAA
No
No
No
Yes
Price
$449
$449
$399

$147
Battery life
All 3 contenders are powered by a two-cell battery pack and have a similar flight time as the DJI MINI 2. The FIMI X8 MINI and MINI 2 are powered by 2250mAh batteries and have 31 minutes of battery life. At the end of the list is the ZLL SG108 Pro with 25 minutes of advertised flight time.
Despite that, the first generation MAVIC MINI is powered by a higher capacity battery pack (2400mah vs 2250mah) it has 1 minute less flight time than the MINI 2.
Flight range
In terms of flight range (maximum flight distance) is very difficult to compete with the DJI MINI 2. Adopting pro-grade OcuSync 2.0 communication, in optimal conditions can achieve up to 10 KM. It has more than two times better range than its predecessor. The SG108 Pro uses a standard drone-to-phone WIFI connection which provides 1000 meters top range.
The FIMI MINI adopts TDMA communications which provide up to 8KM range – only 2KM less compared to MINI 2. Personally, I fly for such long distances only for test purposes. In most countries, you are not allowed to fly out of visual distance (LoS).
Camera performance
While the MINI 2, MINI 1, and FIMI MINI are equipped with a 3-axis gimbal, the SG180Pro only with a 2-axis one. Besides the improved range, the biggest upgrade from MM1 to MM2 is the increased resolution. While the original MINI MINI was capable to record 2.7K@30fps videos (40Mbps), the new MINI 2 is able to record 4K@30fps videos (100Mbps).
The recently released FIMI MINI is capable of recording 4K@30fps with up to 100Mbps max bitrate.
Top 5 DJI MINI 2 alternatives
FIMI X8 Mini Pro
Hubsan Zino MINI Pro (April 25 release date)
Mavic MINI
Mavic Air 2 (over 250 grams);
ZLL SG108 Pro
Bottom line
Hope that we helped you make the decision about which DJI MINI 2 alternative suits you better for your needs and especially for your budget. Remember that besides the raw specs, things like after-sale support and spare parts availability are also very important. DJI continuously offers software and firmware upgrades that not just eliminate bugs and issues, but also is adding new functionalities.
In case you want a drone from a different brand, the FIMI MINI seems to be the best alternative at the moment. It is equivalent to the DJI MINI 2 in terms of battery life and camera performance.