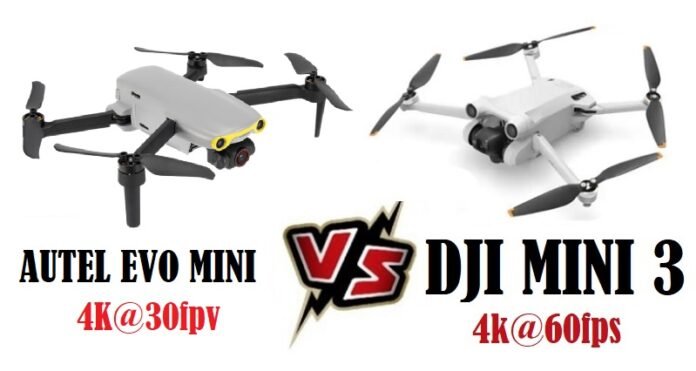 Features an obstacle avoidance system the DJI Mini 3 Pro and Autel EVO Nano Plus, are currently the safest sub 250g drones. While they are in the same weight and price class, they have much in common but also some key differences. Which is the best lightweight drone for you? Let's take a closer look!
There are plenty of reasons to go for a drone under 250 grams, not least because they're much easier to carry around, but also because they're much more restriction-friendly. For example in the US, FAA allows flying drones that weigh less than 0.55 lbs for recreational purposes without special registration.
Before we start I should mention that I'm a big fan of DJI products. DJI drones pack the newest tehnology and are exceedingly well built and superbly designed. The Autel EVO Nano Plus was the company's first drone that I reviewed and to be honest I was impressed by it.
DJI Mini 3 Pro versus DJI Mini 2
The table below will try to compare the most important specs of these two compact drones. I highlighted with red where the upcoming MINI 3 excels and green where the older EVO Nano is still better.
| | | |
| --- | --- | --- |
| Features/Specs | DJI MINI 3 Pro | Autel EVO Nano+ |
| Size | 145×90×62 mm | 142×94×55mm |
| Weight | 249 grams | 249 grams |
| Camera | 4K@60fps | 4k@30fps |
| Sensor | 1/1.3″ – 48MP | 1/1.28″ – 50MP |
| Aperture | f/1.7 | f/1.9 |
| Max bit rate | 150Mbps | 100Mbps |
| Photo mode | RAW + JPG | RAW + JPG |
| Gimbal | 3-axis | 3-axis |
| True vertical shooting | Yes | No |
| Digital Zoom | Yes | Yes |
| FPV | 1080P | 1080P |
| Communication | OcuSync 3.0 | SkyLink |
| Range | 12KM for FCC | 10KM for FCC |
| Wind resistance | Level 5 | Level 5 |
| Intelligent flight modes | QuikShots (Circle, Dronie, Helix, and Rocket) | Rocket, Fade Away, Orbit, Flick |
| Obstacle avoidance | Yes, 3D – APAS 4.0 | Yes, 3D |
| Active tracking | Yes, ActiveTrack 4.0 | Yes, Not working |
| Optical flow sensor | Yes | Yes |
| Geofence | Yes | No |
| Remote controller | RC-N1 and RC Pro | Standard |
| Battery | 2s/2453mAh | 2s/2250mAh |
| Flight time | 34/47 minutes | 28 minutes |
| FAA registration | No | No |
| Colour options | White | White, Gray, Orange, or Red |
| Release year | 2022 | 2021 |
| Price | $759 | $949 |
Camera: 4K@60fps vs 4K@30fps
While the new DJI MINI 3 Pro features a 4K@60fps camera with a 48MP (1/1.3″) sensor, the Autel Nano Plus has a 4K@30fps camera with a 12MP (1/2.8″) one. Usually, a larger sensor means better low-light capabilities, so you can expect from the Nano+ a superior video performance during night flights compared to the MINI 3.
Both drones are equipped with a 3-axis gimbal for mechanical image stabilization. The Mini 3 Pro's gimbal provides vertical shooting mode, opening up endless creative possibilities for TikTokers. Both our contenders feature 4x digital zoom.
Range and video transmission: Both have 12KM in FCC mode
While the MINI 3 Pro features DJI's latest long-range transmission system the OcuSync 3.0, the EVO Nano comes with Autel's SkyLink communication. In FCC mode (US region) the OS3 provides 12KM and the SL 10KM in optimal conditions. Both drones support 1080p live-video transmitter which offers an outstanding view on your phone.
Battery life: The MINI 3 Pro has a huge edge
The MINI Pro 3 is offered with two types of batteries. While the "Standard" 2s/2453mAh pack offers 34 minutes of flight time, the "Pro" 2s/3850 mAh battery promises an impressive 47min of flight time. By comparison, the Autel Nano is powered by a 2S/2250mAh pack that allows about 28 minutes of battery life.
Collision avoidance system: 3 direction obstacle sensors
Many risks come with flying quadcopters, and obstacles are one of those major sources of risk. Both DJI MINI 3 Pro and Autel EVO NANO feature a three-direction obstacle avoidance system. They have two vision sensors in each direction (front, forward, and downwards).
This safety feature continuously scans the nearby environment and detects obstacles in real-time avoiding collision with objects, such as buildings, trees, and electricity poles.
Final Thoughts
The Mini 3 Pro is undoubtedly the superior drone in this matchup and it has an even better price tag. It features vertical shooting, active tracking, and almost double flight time with the Pro battery.
On the other hand, the Autel Nano does not have a geofence system allowing you the freedom to fly in much more areas.