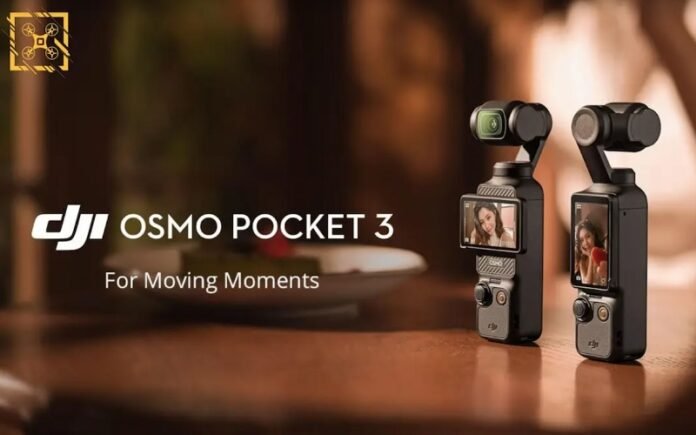 The Pocket 3 is drone-maker DJI's upcoming pocket-stabilized 4K vlogging camera and comes with a rotative large screen for vertical and horizontal shooting modes. The third generation has also a bigger 1-inch CMOS sensor for improved low-light performance. By comparison, the original Osmo Pocket (v1) had a 1/2.3″ and the second-generation OP (v2) 1/1.7″ one.
Quadro_News (Igor Bogdanov) via Twitter/X shared pretty much all the important features, of the DJI Osmo Pocket 3. His post also showed some teaser images of the new stabilizer's design. Intended for vlogging and traveling the Pocket 3 can be operated comfortably by one hand. It has selfie mode that rotates the camera by 180 degrees. The premium image sensor is matched with stereo recording for crystal-clear spatial audio.
Can't wait till 25 October 2023? Here's what we know about DJI OSMO Pocket 3 gimbal for now!
[3-Axis Gimbal Mechanical Stabilization]: DJI's expertise in gimbal technology ensures your footage stays smooth and steady. The 3-axis gimbal mechanical stabilization system guarantees professional-grade results, even in challenging shooting conditions.
[2-inch Rotatable Screen for Landscape-Portrait Shooting]: The addition of a 2-inch rotatable screen opens up new possibilities for creators. It enables shooting from both horizontal and vertical perspectives, making it a versatile tool for a wide range of content.
[1-Inch CMOS with up to 4K@120fps Recording]: This pocket-sized powerhouse boasts a 1-inch CMOS sensor, allowing for stunning UHD 4K video recording at an impressive 120 frames per second.
[ActiveTrack 6.0 – Subject Follow]: Enhanced tracking capabilities with ActiveTrack 6.0 make capturing moving subjects a breeze. Whether it's tracking a fast-paced sport or a casual stroll, the OSMO Pocket 3 promises precision.
[Full-Pixel for fast focusing]: Quick and precise focusing is vital for capturing those split-second moments. With full-pixel fast focusing, you won't miss a beat.
[D-LogM 10-Bit for post-processing]: For those who demand more control over their footage in post-production, the DJI OSMO Pocket 3 offers D-LogM 10-bit support, allowing for greater color grading flexibility.
[Improved audio with Stereo Recording]: Immersive audio is a critical component of video quality. This device incorporates stereo recording, ensuring that your sound matches the visual excellence.
Interested for more? Stay tuned for news about DJI's upcoming gimbal!