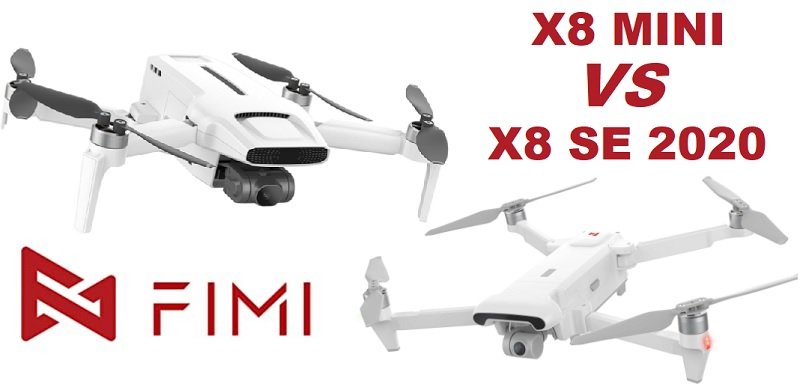 Today, we will have an in-depth comparison of two Xiaomi FIMI drones. The new X8 MINI was announced in March 2021 and will be available in two versions. While the 'Pro' weights 245 grams and has up to 31minutes of flight time, the 'Standard' has 258 grams and 30 minutes of battery life. In contrast, the X8 SE 2020 weighs 765 grams and has a flight autonomy of up to 35 minutes.
At a glance, the biggest advantage of the FIMI MINI Pro over its older brother is its reduced weight. In most countries (including the US), drones under 0.55 lbs (250 grams) can be used without registration.
FIMI MINI versus FIMI X8 SE 2020
In the table below, I compared the most important specs of these two Xiaomi FIMI drones. I highlighted red where the small X8 MINI excels and blue where the bigger X8 SE shines.
FIMI MINI
FIMI X8 SE 2020
Size

Folded: 145x85x56 mm




Unfolded: 200x145x56 mm

Folded: 204x106x73 mm
Unfolded: 287x247x96 mm
Weight

258 grams (Standard)




245 grams (Pro)

765 grams
Gimbal
3-axis
3-axis
Image sensor
1/2.6″
1/2.6″
Megapixel
12MP
12MP
Max Video resolution
4K@30fps
4K@30fps
Max bit rate
100Mbps
100Mbps
Photo mode
RAW DNG + JPG
RAW DNG + JPG
HDR
Yes
Yes
Digital Zoom
3x
3x
FPV
NA
720/1080P
Communication
TDMA
TDMA
Range
8KM
8KM
Wind resistance
Level 5

Level 6

Max flight speed
16m/s

18m/s

Smart flight modes
Smart tracking, One-tap Shots, and RTH
Smart tracking, One-tap Shots, and RTH
Obstacle avoidance
No
No
Internal Memory
No
No
Battery
2s/2250mAh

3s/4500 mAh

Flight time
31 minutes (Pro)
30 minutes (Standard)

35 minutes

FAA registration

No for Pro

, Yes for Standard
Yes
Release year
March 2021
April 2020
Price
$449 (Order from Banggood)
$419 (

Order from Banggood

)
Camera performance
Both drones come equipped with a 3-axis mechanically stabilized UHD camera that is capable of recording 4K videos with up to 30 fps. At the highest resolution, the max bitrate is 100Mbps. Both FIMI drones can take 12MP still photos in JPG or RAW formats.
The third-generation FIMI X8 features a new 1/2.6-inch Sony sensor and a fixed 26mm equivalent F/2.0 lens that provides an 80º field of view (FOV). Its powerful Hisilicon video CPU records in 4K@30fps, 2.7K@60fps, or 1080p@90fps formats. This 2020 edition also brings HDR recording for both photos and videos.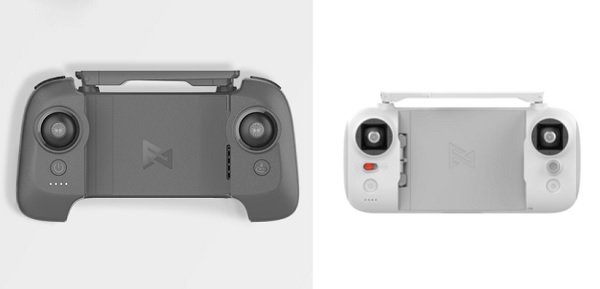 Flight range
Both FIMI drones come packed with a similar remote controller. The phone can be inserted between the handlers. Both feature the same proprietary TDMA communication that provides up to an 8KM range.
Battery life
As said at the beginning of my comparison article, the X8 MINI has 31 minutes of battery life and the X8SE2020 35 minutes. The extra 4min of a fun time is due to the much higher capacity battery. While the FIMI MINI is powered by a 2s/2250mAh battery, the X8SE by a 3s/4500 mAh LIPO pack.
FIMI MINI vs FIMI X8 SE: Our verdict
Personally, I like the smaller size of the FIMI MINI Pro. If you travel a lot, you will appreciate it that fits in almost any backpack. It has an excellent battery life and the flight range of the 3 times heavier brother.
On the other hand, If you live on an ocean coast with strong winds, you should consider the more powerful FIMI X8 2020. It has level 6 vs level 5 wind resistance. The top speed of the X8 SE is also higher compared to the FIMI MINI.