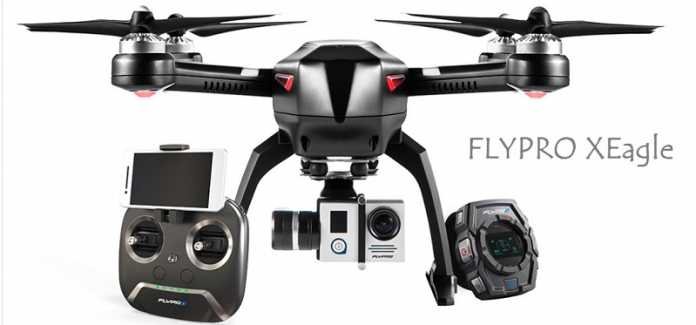 FLYPRO XEagle with 4K camera and xWatch
Lately I read that many quadcopter manufacturers started to develop obstacle avoidance. This FLYPRO XEagle seems to be the first consumer grade quadcopter which adopts this high-end feature. With a built-in infrared photoelectric sensor can detect obstacles from 10cm up to 15meters and avoid collisions. I'm very curious to see the first test videos of this features.
The FLYPRO XEagle can act like a personal flying camera. It can be controlled by the Xwatch which also allows to display some useful flight parameters. Equipped with a Firefly S6 camera, the aerial videos can be recorded with Ultra HD resolution (4K/24fps, 2.5K / 30fps or 1080P up to 60fps).
Adopting many new technologies like dual-GPS, dual-compass and auto off control protection it seems to be a very safe aircraft. The flight parameters (battery voltage, GPS coordinates and flight altitude) are stored on a memory card. The "UAV Black Box" allows further analysis of the flights and helps to troubleshoot flight issues.
This FLYPRO XEagle will be available in four versions:
XEagle Basic;
XEagle Sport;
XEagle Advanced;
XEagle Professional.
FLYPRO XEagle Professional highlights
4K camera for aerial filming;
2-axis brushless gimbal;
Intelligent 3s battery;
360 Degree, high-speed follow mode;
Dual GPS mode (GPS+Glonass);
GPS signal protection;
Double compass intelligent protection;
Low battery voltage protection;
UAV Black Box to log the flight parameters;
Smart XWatch control (about 300m control range);
Innovative voice control;
Swift auto obstacle avoidance (10cm to 15 meters effective range for obstacle detection);
Up to 22 minutes flight autonomy;
FLYPRO XEagle Professional package includes
The quadcopter it self;
2.4GHz remote controller with phone holder;
FLYPRO xWatch smart remote controller;
11.1V 5200 mA Li-Po battery;
2sets of propellers;
Battery charger;
4K camera (Firefly s6);
2 Axis Gimbal;
FLYPRO XEagle user manual.
Image credits to: FlyPro