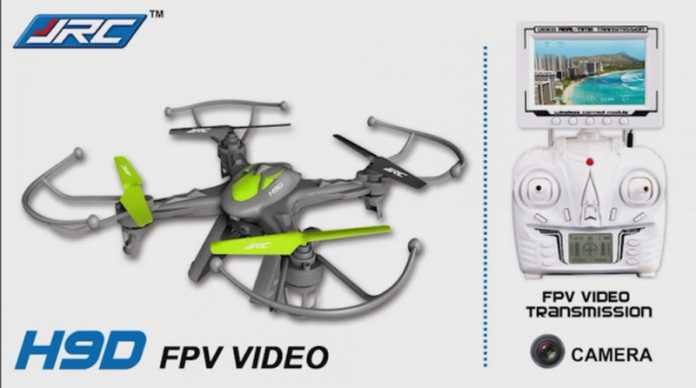 JJRC H9D First Person View Quadcopter with HD camera
Just found this new 5.8Ghz FPV quad from JJRC. Today was listed on one of the biggest online store for only $99.99. Unfortunately they didn't rumored anything about the flight range, FPV range or flight time.
The JJRC RC toy manufacturer recently launched many successful models and slowly becomes a familiar name in the world quadcopters.
To guaranty the quality of the live video feed they equipped the JJRC H9D with a HD camera, not some 0.3MP low quality camera like on other cheap FPV quadcopters.
The remote controller of the H9D quadcopter looks very attractive with that big color LCD screen on the top. Its purpose is not just for display control and settings parameter but also to receive live video feeds from the aircraft 's camera.
My oppinion is that those from the JJRC succeeded the year's hit with this H9D FPV quadcopter. I tested their previous model, the H8C/F183, and the only thing missing was the first person view.
Rumored JJRC H9D specifications
Four channel remote controller with LCD screen;
Remote frequency 2.4GHz;
Integrated speed control;
6-Axis Gyroscope;
2.0MP HD camera for aerial videos and stills;
First person view;
Recommended for both indoor and outdoor flight;
Dimensions: 23 x 23 x 13 cm;
Weight: 450g.
JJRC H9D package includes
The quadcopter it self;
2.4Ghz transmitter with FPV display;
625mAh Li-Po battery;
Battery charger;
4 pcs. of extra propellers;
Screwdriver;
JJRC H9D user manual.
I will update this post immediately after I will get more details about the JJRC H9D quad.