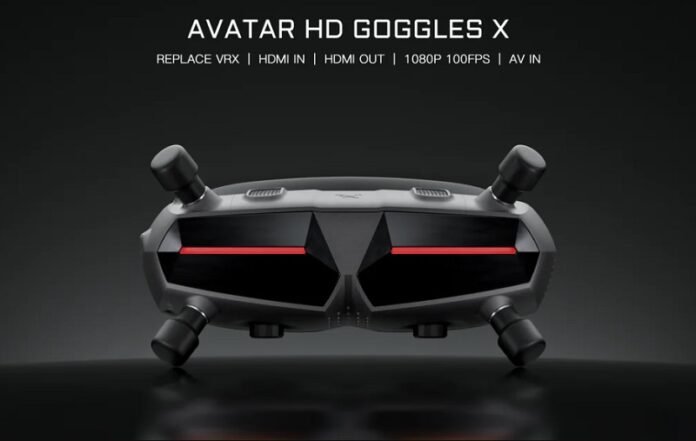 Without any doubt, the FPV headset is the most expensive part of an FPV system, and you would probably like to use your investment for many years. CaddxFPV's new Walksnail Avatar HD Goggles X comes with a modular design that allows upgrading the VTX module and the antennas. The manufacturer promises the release of a next-generation receiving module that allows up to 20km transmission distances.
Thanks to the AV and HDMI inputs, it is multi-platform compatible. Via the AV-in, you can use legacy 5.8G analog VTX or, through the HDMI-in, an HDZERO VRX module.
When the first teaser photos were shared on social media, many thought that it was a joke due to the "X" logo on the front plate, similar to the logo use used by Elon Musk in Twitter's rebranding campaign. The final release of the Avatar HD Goggles X has only two RGB LED bars with adjustable colors (red, green, and blue).
The Avatar Goggles X can be powered from 2S up to 6S batteries. The power consumption averages around 8 Watts (7-26V). Between the two lenses is a proximity sensor that detects whether the FPV headset is on your head -if not, it will turn off the screens automatically, preserving battery life.
For remote control and live-sharing, the Walksnail FPV goggles has built-in Wi-Fi and Bluetooth connectivity. The headset also has a built-in Gyro for fixed-wing, RC cars, and other scenarios.
Those who need prescription glasses will welcome the built-in adjustable +2.0 to -6.0  diopter.
Key features of the new Avatar HD Goggles X
The cover above the goggles can be opened for easy replacement of new receiver modules, providing pilots with a cost-effective way to upgrade their goggles. Meanwhile, we are developing the next-generation receiving module, which can achieve a breakthrough in flight distance, expected to reach 20 kilometers and develop a sustainable development strategy.
The front cover of the goggles can be removed and replaced with a new antenna, replacing the two antennas located under the goggles, which provides pilots with more options to optimize their FPV experience. The front cover of the goggles adds a light function and a touch of style to your gear.
Industry-leading H.265 encoding technology to provide 1080p@100FPS FPV video quality with low latency, providing an immersive and responsive experience.
AV IN interface and support analog signals support (5.8G legacy VTX), a versatile solution for FPV pilots.
HDMI input expands the range of devices that can be used with the goggles, providing more flexibility and convenience. The HDMI OUT interface can be connected to other display devices to share your flight footage with pilots in real-time.
The built-in Bluetooth Wi-Fi module allows pilots to connect their goggles to an app and access a range of features, including sharing their FPV experience on social media, wireless upgrading firmware, map mode for locating the drone, and live viewing goggles screen. This feature is around the corner.
Optics can be adapted to your needs.

Adjustable from +2.0 to -6.0 via diopter knob to personalize the viewing experience and easily go glasses-free.
Lenses for astigmatism, myopia, and blue light-blocking glasses can be replaced to meet different vision needs.
The goggles use infrared sensing technology to provide pilots with a convenient and energy-efficient way to turn the screen on and off without manually pressing any buttons. This feature helps to extend the life of the screen.
Technical parameters
| | |
| --- | --- |
| Communication Frequency | 5.725-5.850GHz |
| Transmitter Power(EIRP) | FCC:<30dBm; CE:<14dBm; SRRC:<20dBm; MIC:<25dBm |
| Average Gain | 2dBi |
| Number of antennas | 4 |
| Polarization | LHCP |
| Transmission Distance | >4km |
| I/O Interface | HDMI Out, HDMI Input, 5Pin 3.5mm Audio Port, DC5.5*2.1mm Port, Micro SD Card Slot |
| Transmission Resolution | 1080p 100fps, 1080p 60fps, 720p 100fps, 720p 60fps |
| Code Rate | Max 50 Mbps |
| Min. Latency | Average 22ms |
| Screen Resolution | 1920*1080@100Hz |
| Display type | OLED |
| IPD Mechanical Range | 54mm-74mm |
| Adjustable Focus Range | +2.0 to-6.0 Diopter |
| FOV | 50° |
| Power Input | 7-26V(2S-6S) |
| Built-in WIFI | Yes |
| Built-in Gyro | Yes |
| Built-in Bluetooth | Yes |
Pricing and availability
The new goggles can be pre-ordered for $459.00 from Caddx's online store. This price is pretty attractive considering that its less-features predecessor is sold for $559.00. Spare face plate foams can be ordered for $9.99. The Walksnail Patch Antenna V2 For Avatar Goggles X is priced at $25.90, respectively, the Walksnail Redbird Antenna V2 (2pcs) for $15.90).