GTENG T908W it is advertised as to be a DIY quadcopter but, if you ask me, it is more like a modular drone. You don't need to solder or something like this, just put together the main parts and you are ready to fly.
In my opinion, the fact that a drone can be easily split into parts should not scare you. While assembling the GTeng T908W you will learn a bit about how these flying things work. You can experiment with what happens if one motor fails or if it rotates in the wrong direction.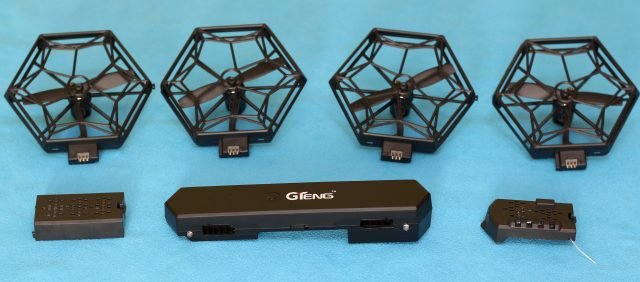 GTENG Winner T908W drone highlights
Easy to assemble modular design;
Grilled propeller protectors for safe indoor flights;
Barometric altitude hold (auto-hover);
Multiple speed rates;
APP control;
Motor protection;
0.3MP camera for photos and videos;
WiFi real-time image transmission;
About 6 ~ 8 playtime.
My first "contact" with GTeng was through their FPV watch. The T909 is an easy to use wearable FPV monitor.
GTENG T908W quadcopter review
Disclosure: I received this Winner T908W drone as part of a product review collaboration with Banggood. Although the product was offered as a gift, all the opinions in this review remain my own. As usual, they have not even tried to suggest the way how to write my article.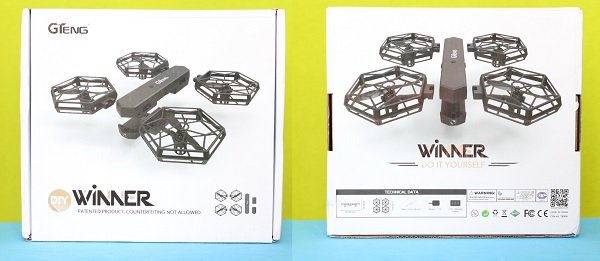 With "standard free shipping", the package arrived in about 3 weeks. No paperwork or custom fees. Inside the box I found, besides the drone and its remote controller, a complete set of spare propellers, USB battery charger, screwdriver, and user manual.
The aircraft comes fully assembled but it can be split into pieces in a moment.
At first look, the GTENG T908W resembles to the much expensive SIMTOO MOMENT Airselfie drone. It adopts similarly caged propellers and a longish fuselage.
Unfortunately, all propellers and blade protectors are black, so during day flights, it is very hard to determine the orientation of the aircraft. A and B fans have different connectors so you can't accidentally mix them.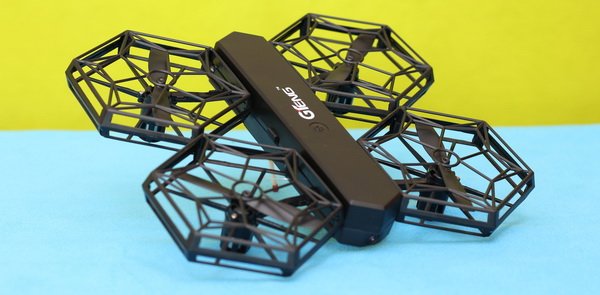 The power button is located on the top of the aircraft. Being a "soft" button I recommend removing the Li-Po when the GTENG T908W is stored for longer periods. The charging port is located on the fuselage – which is lame because the 750mAh battery must stay inside of the drone while refueling.
During night flights you will be guided by four LED lights. Two blue ones on the front and two red ones on the back.
GTENG T908W review: Remote controller
Like the aircraft, the transmitter is also fully black. It comes with a foldable phone holder and it is powered by 2 pieces of AAA batteries.
Featuring alt-hold, both sticks are centered. On the front panel are in total 8 buttons, grouped two by two.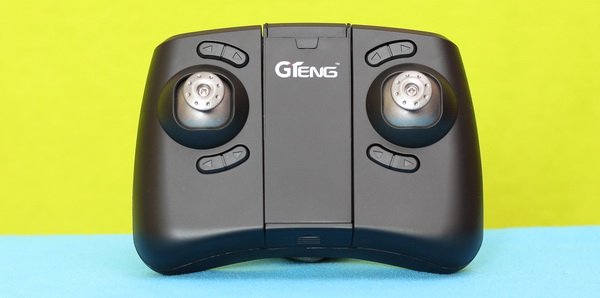 While the left shoulder buttons allow to Take off or Land, the right one enables headless mode (by long-pressing) and RTH (by short pressing).
Switching between flight speed rates can be done by pressing the left stick like a push-button.
Calibrating the GTENG T908W can be achieved by moving both sticks to the lowest left position.
Although in the T908W's specifications there is nothing mentioned about the APP control, after I installed the suitable application (by scanning the QR code from the box) I found out that actually, I can control it in 3 ways:
physical remote controller;
through "

GT FPV

" APP with virtual sticks;
gyro mode by tilting my smartphone.
GTENG T908W review: Camera
The 0.3Mp WiFi FPV camera is removable. No angle adjustment nor micro SD slot. Captured files (photos and videos) are stored on the smartphone's internal memory under the "Drone" folder.
Four minutes of recorded video (640 × 480 @ 15 fps) occupies about 16 MB. Definitely, the image quality is not the strength of this drone. Both, bit rates and frame rates are too low. Lack of vivid colors is also an issue.
WiFi real-time image transmission is cool but there is a noticeable latency compared to 5.8G solutions, so FPV flying through VR goggles is like Russian-roulette.
GTENG T908W review: Test flight
Prior to your flight, you need to arm the motors by moving both sticks to the lowest-outer position. Pressing the "Take-off" button, the aircraft will start to rise in the air.
Being a smooth and gentle flyer you will never win any race with the GTENG T908W. Switching between speed rates does not make much difference. Due to its poor wind resistance, I would recommend it more for indoor than outdoor flights.
If it crashes up-side-down, the motors will be automatically stopped.
My first flight ended after 4 minutes. Frankly a bit less than I would expect. With similar toy drones, I managed to stay airborne for up to 7 minutes. Without the camera module, you can probably earn some extra play time.
Price–performance ratio

Easy to assemble

Flight performance

Camera

Remote controller
Summary
On one hand you get a nice flying machine with plenty of features. On the other hand you get a modular RC toy with which you can learn about how works a drone.
Thanks to the grilled propeller protectors you can play with it indoor without any worry. Altitude hold works really great. Image quality could be better.
The GTENG T908W comes with free shipping and can be ordered from here for $51.99. Unfortunately, being a new product we need to wait for spare parts availability.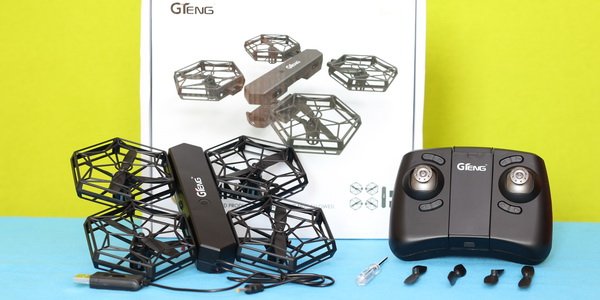 What I liked
Safe for indoor flights;
Modular design;
Altitude hold works nice;
Multiple control modes.
What I didn't like
Very slow;
Poor wind resistance;
A bit expensive for what it offers.