Power stations have improved drastically in recent years and have become more and more used for outdoor activities as they are much more portable than gas generators. In this review, we will have a closer look at the Vevor 300W mini solar generator that is great for powering your laptop and charging family phones and other gear while you are camping.
The storage capacity of this Vevor power station is 296Wh (20Ah/14.8V), and that is definitely on the lower end of the spectrum when it comes to being a power station. The max 300W output power is enough only to power smaller appliances and low-power tools. Without a UPS mode, it is not suitable as a backup power source for the recirculation pump of your house's heating system. Instead, the small size and just 3kg weight make it the perfect way to carry it around, which is made easier because of the foldable handle at the top.
Its built-in sine wave inverter's efficiency is 85% (DC to AC conversion), which means that you lose 15% of energy (mainly in heat) when you use AC devices. If you're a heavy user of 12-volt power like me, this should not be an issue for you.
VEVOR 296Wh | 300W Power Station review
Disclosure: I received this travel-friendly power station as part of a product review collaboration with VEVOR. Product specs and quality may vary according to the manufacturer's reliability, so I cannot guarantee that you will get a unit that performs the same as seen in my review.
Last month, I was contacted by VEVOR's marketing team in order to test some of their products and eventually join their affiliate program. I checked their website and found a wide variety of products, including power tools, hand tools, automotive, lawn & garden, hardware, and lots more. Many, many exciting products, but out FirstQuadcopter's main niche. In the Deals category, under the Clearance tab, I found this compact power station that I thought would be perfect for charging my drone batteries in the flight field. As the 296Wh storage capacity is not too much for a weekend-long flight session, I also requested a 600W wind turbine. Here, I should mention that I found some of their products under other brand names -I even own a Parkside (Lidl's in-house tool brand) 50m laser measure almost identical to their tool. VEVOR's brand slogan is "Tough tools, Half Price".
A few days later, I received two identical packages, which confused me as I had expected two different products. I found the same power station in each box when I opened it. They told me that the order was doubled by mistake and I could gift the second unit to a friend.
VEVOR packs its 300W power station in two recycled cardboard boxes. For extra protection during shipping, the inner box has a foam padding. Besides the multi-lingual instruction guide, a 19V-3A AC/DC adapter, power cable, and car charger cable are included.
At a glance
Until now, I was used to the big and heavy Power Stations. The VEVOR 296Wh is truly compact compared to what I reviewed before. It measures only 23 x 14 x 16.9 cm and weighs roughly 3kg. The overall build quality of this mini power station is solid, and like most other power stations on the market, it's made of plastic. It has a combination of orange and grey colors like many Vevor products. A foldable handler is on the top for comfortable manipulation.
On the front panel around the status screen, there are four groups of sockets (inputs and outputs). On the LCD's left are four USB ports (2xType-C and 2xType-A) and a DC charging input (12-24V). On the right, above two DC5521 type 12V-DC outputs, a standard 12V/10A car cigarette socket behind a protective rubber flap. Right under the status display is the AC 220V outlet. In addition to the ON/OFF power button, three other buttons activate USB-out, DC-out, and respectively AC-out.
A group of 6 LEDs are on the left. In addition to the 3 brightness levels, you can set SOS mode (flashing). On the opposite side, a cooling fan starts only if needed. This power station is generally silent, and the fan started only on full load (300W AC consumer).
Vevor 300W power station: Key features
[Well-Crafted & Portable Design] Measuring just 9.06 x 5.51 x 6.65in (23 x 14 x 16.9 cm) does not occupy too much space. With a 7.05 lbs (3.19 kg) weight and a collapsable carry handle, this camping power station is stress-free to carry all around with you.
[Security You Can Trust] This compact solar generator has six protections (over-current / over-load / low-voltage / over-voltage /short circuit / over-temperature) and seven types of certification (ETL / FCC / CE / PSE / IC / UKCA).
[Unbeatable Lithium Battery & Sine Wave AC out]: It has a high-quality, long-lasting class-A lithium-ion 296Wh (20Ah/14.8V) battery pack. The efficiency is still ≥80% after 1000 cycles, and the single-cell capacity is 2900mAh. With an advanced BMS system, pure sine wave output provides a clean and stable power supply.
[Charge in No Time] Get ready to charge at twice the efficiency. It allows simultaneous DC + Type-C 100W charging, increasing the charging speed by 50%. Three charging modes are mains, car charging, and solar panel charging. Estimated charging times: AC charging + Type-C (PD100W) charging: 3.5 hours, AC charging: 7 hours, car charging: 4.3 hours, and 120W solar panel charging: 4 hours.
[9 Ports to Get Any Job Done]: Nine output ports to meet all your needs: Type-C PD100W, Type-C PD27W, 2 x QC3.0 (24W), DC Charging Port 12V-24V, 2 x AC Output 300W Max, Cigarette Lighter, DC Charging Port. If the charge is less than 2W, it will automatically shut down, extending the rechargeable time of CPAP and other low-power continuous output products.
Pricing and Availability
Directly from VEVOR, this portable 300W power station can be purchased for 209.99€. This price includes free shipping and AC/DC adapter. The company has warehouses across the globe for fast order processing. VEVOR products are also available on online platforms such as Amazon and Aliexpress.
Vevor 300W Power Station: Charging modes
As I previously mentioned, this compact power station unit does not have a built-in AC/DC converter and can be charged from a standard 220V AC outlet only using the provided 19V/3.5V power adapter. According to the manufacturer's specs, it takes up to 7 hours to fully charge it this way. To speed up the process, you can additionally use a 100W PD Type-C charger to reduce the charging time by half (3.5h). During my tests, using the USB-C and the DC inputs simultaneously, the total charge power was 130W.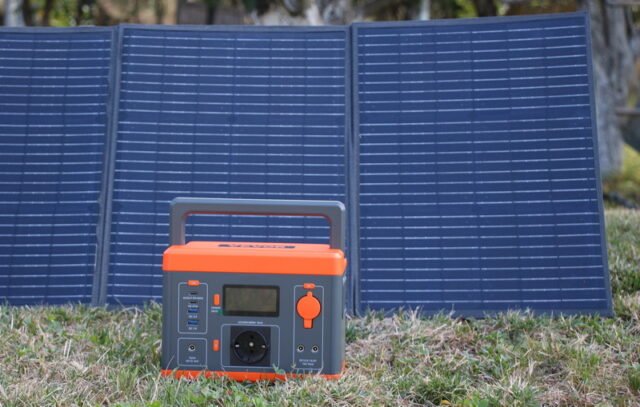 When you are traveling, you can charge it from your car's or RV's cigarette socket in 4.3 hours. Outdoor, using a 120W solar panel, the estimated charging time is 4 hours – This time can vary depending on how sunny it is. To use a solar panel with this Vevor PS, you will need a DC5521 to PV MC4 cable.
Vevor Power station: Run time
The Vevor 300W|296Wh power station is intended to be used with various devices, including tech gear, cordless tools, and camping appliances. These days, most of the daily use gadgets are powered and charged via a USB port. Laptops, cameras, drones, and gimbals can all be powered or charged with this power station. It has two QC3.0 (24W) USB-A ports for low-power legacy devices, a 27W Type-C, and a PD 100W Type-C port for fast-charging compatible devices. The car cigarette lighter socket allows the use of camping fridges or 12V water boilers.
The table below shows some expected runtimes according to power usage. During use, the LCD screen permanently shows the current load and remaining runtime.
| | | |
| --- | --- | --- |
| | Power usage | Usage time |
| Smartphone | 12Wh | 12 times |
| Laptop | 65Wh | 3 times |
| DJI consumer drone | 28Wh | 10 times |
| BOSCH ProCORE 18V 5Ah | 90Wh | 2 times |
| Fan | 20W | 12 hours |
| Mini fridge | 60W | 4 hours |
| Light | 5W | 30 hours |
| CPAP | 40W | 6.6 hours |
To test the maximum load capacity on the AC socket, I used a 600W LIPO charger. At 352W, the station shut down the AC port as overload protection.