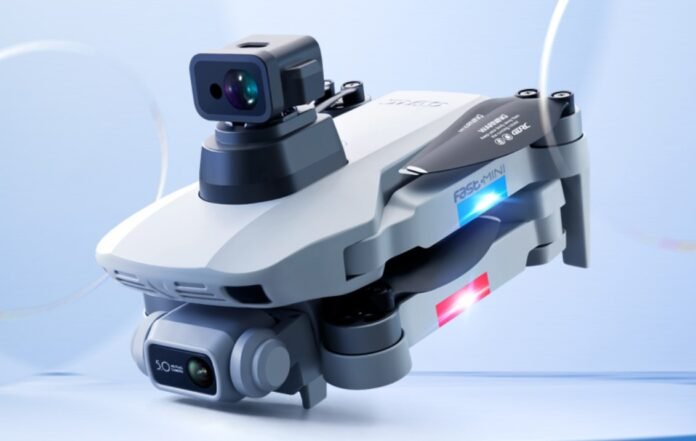 The newly released 4DRC F8S has some excellent features that make it a good DJI MINI 2 alternative for under $200. The sweetest thing is on top o the drone, a 360° obstacle avoidance module. Furthermore, it comes with GPS-assisted flight mode and optical-flow stabilization.
Drones are one of the top favorite Christmas gifts, so you have a lot of choices, especially drones that are relatively inexpensive, like the 4DRC F8S. The first thing I must say about this DJI MINI 2-like drone is that it has a similar foldable design and a lovely gray finish with cool LED light that gives it a futuristic look. It measures only 90 x 50 x 140mm with folded arms, so you can probably fit it in a large trouser pocket.
A handy feature of this drone is its brushless motors. These are powerful and efficient, and one of the reasons the drone 4DRC F8S claims to have excellent wind resistance.
The quadcopter has a battery life of 30 minutes, which is on the upper end for low-cost consumer drones. However, this is the official flight time, usually calculated if you fly in perfect conditions. So, expect something more in the range of 20-25 minutes, which is still a reasonable flight time for such an affordable drone.
Pricing and availability
The 4DRC F8S can be ordered from Banggood with a starting price of US$139.99 with one battery or $159.99 with two batteries. These prices include a pair of spare propellers, charging cables, and a shoulder bag.
Selling points
Folding arms, small size, easy to carry.
Six-axis gyroscope, smoother flight, and more convenient control.
6K HD ESC dual camera, 50x zoom, gives a wide range of HD pictures and video.
With wifi, the function can be connected APP, and APK system to take pictures, video, and real-time transmission through the phone camera image.
360° automatic detection of surrounding infrared obstacle avoidance, worry-free flight.
Optical flow fixed point hover provides stable flight.
With a 2500mAh large capacity battery, the flying time is up to 30mins.
Draw a flight path on the screen, the drone will fly autonomously along the specified path.
Way-point Flight: Plan your flying route by drawing the dots on the built-in map on the App and recording beautiful scenery along the route.
Point of Interest: Select a building or location and click it on the map of the App. The drone could continue to fly clockwise around this specific building or location, presenting a comprehensive image.
Return to Home (RTH): It will always return automatically whenever the Battery is low, the Signal is lost, or you press one key return.
About 30 minutes of battery life.
Up to 3000 meters of control distance.