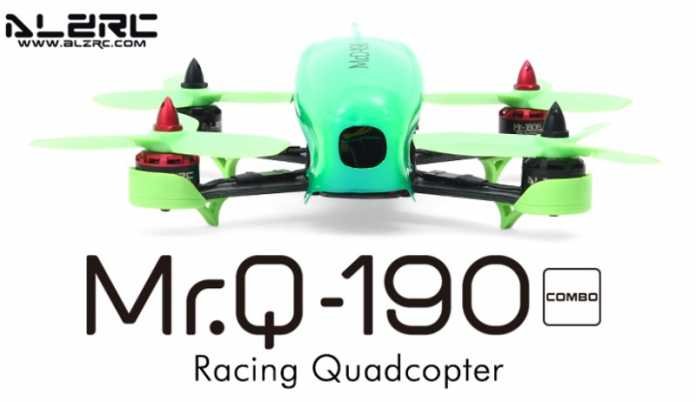 ALZRC Mr.Q 190 with OpenPilot CC3D flight controller
In 2016, under the "Quadcopter News" section I introduced many interesting racing quadcopters like this ALZRC Mr.Q-190. Although they were from different manufacturers with different design, most of them use the same flight controller. Currently, most of the racing quads are based on the F3 or CC3D FC.
The ALZRC Mr.Q 190 comes with 3K carbon fiber frame, nylon landing legs (motor protectors) and nylon canopy.
In front of the quad is located a 600TVL camera. The real-time video transmission is provided by 40CH 200mW VTX module.
According to the specs, the Mr.Q-190 drone can be powered with 3s Li-Po batteries (850~1000mAh) – which allows about 5 – 7 minutes of flight time.
ALZRC Mr.Q-190 Highlights
Lightening modular design (frame weights only 110g);
190mm wheelbase 2.5mm 3K carbon fiber frame;
Protective canopy;
Symmetrical X layout with low center of gravity;
Versatile OpenPilot CC3D flight controller;
Powerful brushless motors;
4 in 1 16A ESC;
Onboard buzzer;
Low voltage alarm;
Suitable for 850~1000mAh 3S 25C batteries;
About 5 – 7 minutes of flight autonomy.
Mr.Q 190 drone main parts
190 mm X shape airframe;
Protective canopy;
4 pieces of Mr-806-2400KV brushless motors;
CC3D flight controller;
4-in-1 ESC module;
5.8G 40CH 200mW VTX;
600TVL camera;
Rubber ducky FPV antenna.
1set 4 inch tri-blade propellers (2cw and 2ccw).