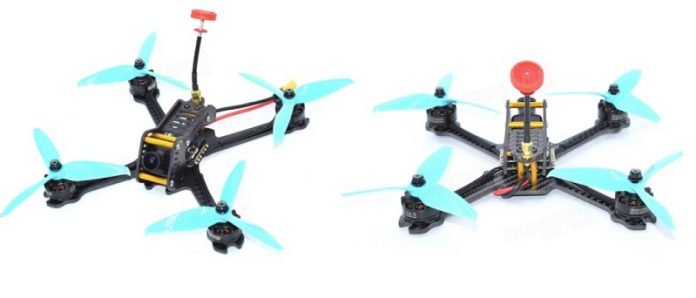 In my opinion, there are no flying gadgets out there more exciting than FPV drones right now. The Armor 220 paired with a compatible FPV goggles is the closest thing to being a bird.
With a starting price of $268, the Armor220 quadcopter its a bit cheaper than its direct competitor, the HOLYBRO KOPIS 1. Both FPV quads are based on the popular Omnibus F4 flight controller. The AuroraRC Armor220 frame kit can be also purchased separately for $57.99.
The Armor 220 is available with two types of radio receiver. According to your existing remote controller you can opt for FlySky AFHDS 2A or FrSky XM+ receiver.
Armor220 core features and technical specs
Robust 220 mm sized carbon fiber frame (by AuroraRC);
Norma X design;
Versatile Omnibus F4 Flight controller with integrated VTX and OSD;
Adjustable VTX transmission power (25/100/200mW);
AR960H camera camera with 1/2.7″ CCD image sensor;
Compatible with DSMX, PPM, SBU and IBUS radio receivers;
Bottom plate thickness: 4 mm + 0.5R;
Size: 185 * 185 * 51 mm;
Weight: 295 grams (without battery).
On-screen-displays (OSD) have become pretty standard for racing drones, but this time, in order to reduce weight, OSD and video transmitter has been integrated into the flight controller. You can switch the VTX's broadcast power between 25, 100 and 200mW.
Instead of 4 individual ESCs, the DYS SR2205 brush-less motors are driven by a single 4-in-1 35 Ampere ESC.
Armor220 main parts / package content
220 AuroraRC ARMOR frame kit;
1 set of DYS SR2205 brush-less motors;
F4 flight controller integrated 48CH VTX;
4 in 1 35A ESC;
AR960H

FPV camera

;
2 sets of 5152 propellers (blue/transparent/black or red);
Battery strap;
IPEX-2 turn SMA (inner needle) conversion line;
Pagoda antenna (inner hole);
Receiver plug cord;
Radio receiver (BNF version only!).