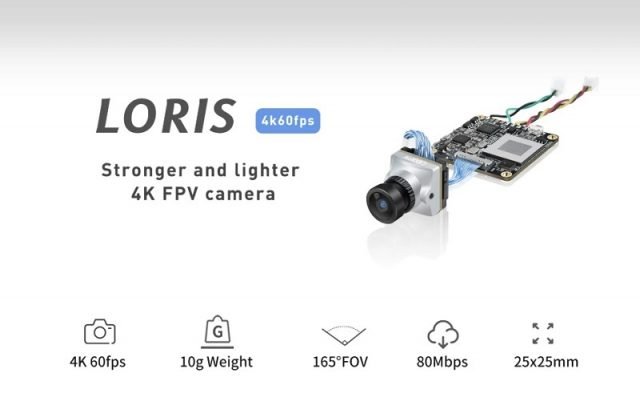 Two weeks before, the Caddx Loris official release date, iFlight already promised that their new Alpha A85 HD drone will come equipped with this tiny 4K FPV camera. Thanks to its compact size and lightweight design, the Caddx Loris can be installed on most micro class FPV drones.
The camera module features a 1/2.7 inch CMOS sensor and 1.8mm lens which allows 165° field of view. The DVR board allows you to record 1080P videos with up to 120fps or 4K videos with 60fps.
Caddx Loris camera features and specs
Single board, compact size, and lightweight;
Wide range of input voltage (5-18 volts);
1/2.7 inch CMOS image sensor;
1.8mm lens with 165 degree field of view (both FPV and recording);
Up to 1080P@120fps and 4K@60fps video recording (80Mbps – MP4 video format);
0.01 LUX minimal illumination;
DVR board size: 29 x 29mm;
Camera size: 14 x 14mm (can be extended to 19x19mm);
Two color options (black and silver).
Caddx Loris DVR board pin-out
VCC (5-18V);
Ground (GND);
Video;
Menu;
RX;
TX;
AGND.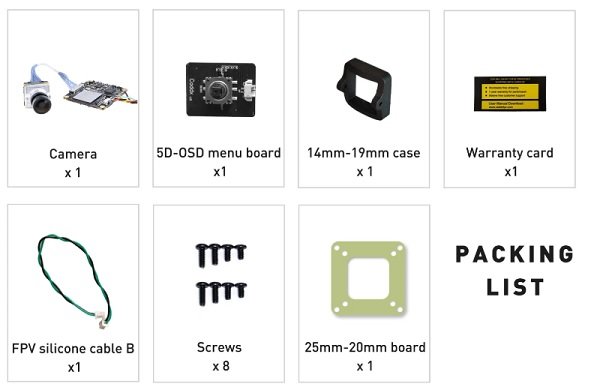 What do you get for $79.00?
Loris camera module;
4K DVR board;
5D-OSD menu controller;
14×14 to 19×19 camera adapter;
20×20 to 25×25 board adapter;
Camera to DVR servo cable;
FPV silicon cable.