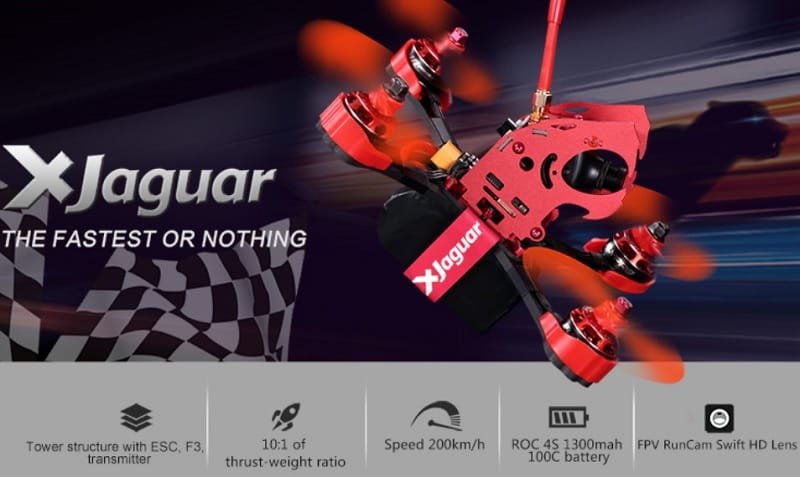 FLYPRO Xjaguar – "The fastest or nothing"
As recently many racer quadcopters including this FLYPRO Xjaguar were announced with flight speeds up to 200 km/s, I'm curious what is the highest speed that physically can be achieved with such toys.
Till now I had the chance to review only one FlyPro product, the Xeagle Sport watch controlled selfie drone. It proved to be a nice and unique quadcopter (at that time).
The FLYPRO Xjaguar racer is build around the SP Racing F3 flight controller. The four 2205 KV2300 brushless motors are driven by a single 4 in 1 BLHELI ESC, which can provide up to 30A / channels.
FlyPro decided to adopt a layered design (layer 1 – ESC, layer 2 – FC, layer 3 – TX + OSD) instead of a "row" design as adopted by other drone manufactures.
According to the specs, the ultra high continuous discharge (100C) Li-Po battery allows up to 9 minutes of hover time. I'm sure that this will be dramatically reduced when the FLYPRO Xjaguar quadcopter is flying at top speed.
Unlike the Ideafly Grasshopper F210 which is equipped with a no-name camera, the FLYPRO Xjaguar comes with the RunCam Swift camera.
FLYPRO Xjaguar features and specs
Compact, layered tower design;
10:1 thrust-weight ration;
Speed up to 200 km/h;
ROC 4s 100C Li-Po battery (high continuous discharge);
Professional FPV camera (by RunCam);
Long-range 5.8G 600mw 40CH video TX;
Latest SP Racing F3 flight controller;
Powerful 2205 KV2300 brushless motors;
30A 4 in 1 BLHELI ESC;
5045 three blade propellers;
Up to 9 minutes of hover time.
Included with the FLYPRO Xjaguar
1 set of three blade propellers (5045);
600TVL camera (RunCam Swift);
4S 1300mah 100C Li-Po battery;
Instruction guide.
Images with the FLYPRO X Jaguar drone