Although the second generation Foxeer MIX 2 FPV camera promises better FPV quality, higher definition recording and lower latency, the raw specs does not show too much differences compared to its predecessor. Both provide only 1080@60FPS recording. Anyway, in my opinion, since the launch of Caddx Tarsier 4K it is very hard to bring something truly interesting on the FPV market.
The Foxeer MIX 2 camera is an excellent choice for smaller builds where weight is critical and you can't use a secondary GoPro style DVR camera. While the main-board measures 37 x 37 mm, the lens module has only 19 x 19 mm.
Using the included 5D-OSD menu control board, you can fine tune the image quality of the camera. Featuring wide range on input voltage (DC 5-24V) it can be powered with 2s to 5s LIPO batteries.
Foxeer MIX 2 core features
2-in-1 design (Low latency FPV camera + DVR);
Built-in configuration menu;
Super small size with included mounting accessories;
155° at 16:9 and 130° at 4:3 field of view (FPV);
Wide range of input voltage (DC 5-24V);
Multiple video recording formats (1080P@60fp, 1080P@30fps or 720@60fps);
Up to 64GB micro SD card (suggested Class 10 or above);
Black, Red, Purple and Fluorescent green color options.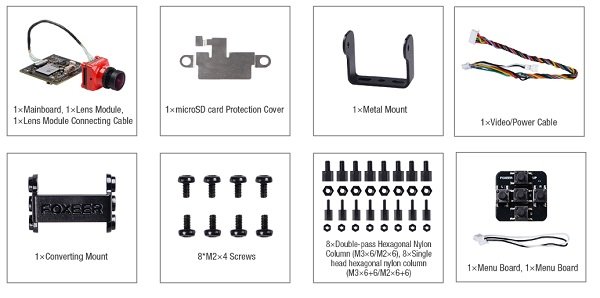 Foxeer MIX 2 package includes:
Foxeer Mix 2 mainboard;
Lens module;
Lens module connecting cable;
MicroSD Card protection cover;
Converting mount;
Metal mount;
Video/Power cable;
Menu board;
Menu board cable;
8 pieces of M2*4 screws;
8 pieces of Double-pass hexagonal nylon column (M3*6);
8 pieces of Single Head hexagonal nylon column(M3*6+6);
8 pieces of double-pass hexagonal nylon column(M2*6);
8 pieces of single head hexagonal nylon column(M2*6+6);
User manual;
Warranty card.