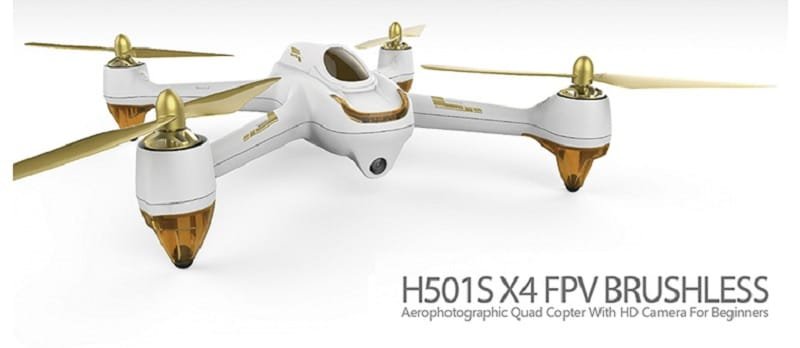 A few weeks ago I was asked by one of my partners whether I'm interested to review the Hubsan H501S X4 quadcopter. Although I really liked the eye-catching design I refused him and I opted for another model.
In my opinion, designing a micro brushless quadcopter with a GPS positioning system is a great idea. I think that through this H501SX4 Hubsan manufacturer found an unexplored market segment. For those who are not especially interested in professional aerial filming and seek only the fun part of flying a quad, the acquisition of a big expensive model can prove to be a bad investment. Anyway, the onboard HD camera allows recording the journey of your flight.
The Hubsan H501S X4 Pro quadcopter is equipped with 5.8G real-time image transmission which allows displaying the camera's live video feed on the transmitter's 3.7″ FPV screen.
While Hubsan is advertising this model with 20 minutes of flight autonomy, I didn't find any description regarding the capacity of the flight battery. On some specs, I found that it has 2300 mAh, and on other ones that it has 2700 mAh.
Thanks to the integrated GPS system, this model features accurate position holding and precise one key return to home. In case the aircraft is losing communication with the remote controller, it will return to home (takeoff point) and land.
This Hubsan micro brushless quad is available with 3 different transmitters:
Entry-level FPV remote controller (FPV2 with 4.3″ screen);
Pro edition with FPV transmitter (FPV1 with 3.7″ display);
Deluxe edition with professional H7000 transmitter (Android OS).
I just found out from Maggie that HobbyWOW has a nice promotion for the Pro edition deliverable from their European warehouse. Hubsan fans across Europe will definitely love the advantage of not paying additional taxes (customs duties and VAT).
Hubsan H501S X4 features and specs
Onboard full HD camera;
5.8Ghz real-time image transmission;
GPS positioning system;
Powerful brushless motors (KV1650 PM1806);
Self-tightening propellers;
Headless flight mode;
Follow me mode;
Precise position and altitude holding;
Automatic return to home;
300 meters control range;
Up to 300 meters control range;
Up to 20 minutes of flight time;
Available colors: white & gold and black & gold.
The latest firmware (03.31.2016) for the H501S quad can be download from the manufactures website.
Hubsan H501S X4 Pro package includes;
The aircraft itself with a built-in camera;
Remote controller with integrated FPV screen;
2s 7.4 2300 flight battery;
Battery charger;
1 set of propellers;
Hubsan H501S X4 user guide.