2020 comes with the first new FPV drone from LDARC (ex KingKong). The LDARC DJ220 will be available in 3 variants. While the PNP version comes without FPV rig and radio receiver, the DJ220-Digital and DJ220-4K are equipped with a camera and video transmitter. The "DIGITAL" edition has onboard DJI FPV Air Unit and the "4K" has RunCam 4K camera and up to 600mW VTX.
All versions of KingKong DJ220 have the same 219mm size carbon fiber frame with 7075 aluminum alloy camera mount. At the end of each 5mm arm, there is a powerful XT2306-2500K brushless motor matched with 5″ 3-leaf propeller. Thanks to the innovative design, there are blades visible in the FPV view.
On the tail of the drone, there are 12 pieces LED status strip with buzzer. By default, the versatile KT30-F4D flight controller comes with BetaFlight F4 firmware.
LDARC DJ220 drone highlights
3 versions: with on-board DJI FPV Air Unit, with RunCam 4K + 600mW VTX and PNP no FPV rig and radio;
219mm wheelbase;
KKT30-F4D flight controller (FC);
KKT30-E40A electronic speed controller (ESC);
XT2306-2500K brush-less motors with 51499 type 3-blade motors;
Camera angle adjustment (15-50 degree);
No propellers in FPV view;
Rear navigation LED strip;
On-board buzzer;
4S li-po compatible (14.8V 1300~1800mAh suggested).
LDARC DJ220 PNP package details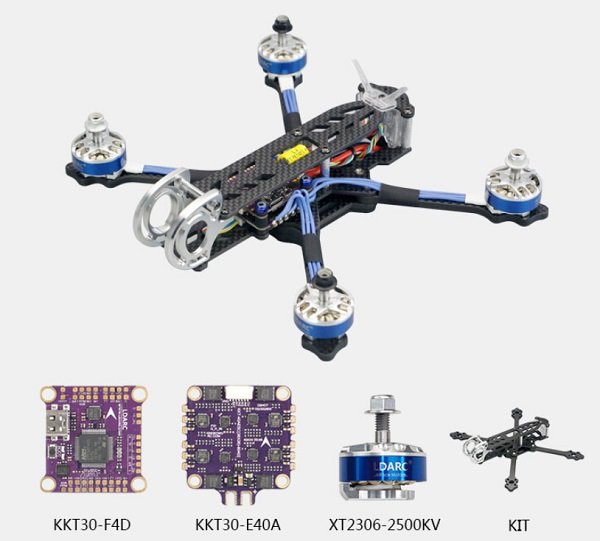 LDARC DJ220-DIGITAL package details
LDARC DJ220-4K package details