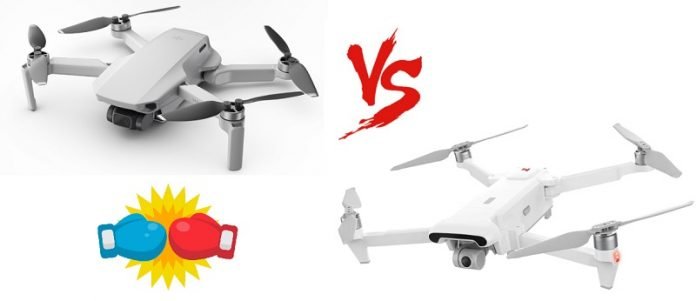 Xiaomi's plans with the Fimi X8SE was to offer an affordable option for DJI's Mavic series. Although it has less versatile features than DJI – its contender, the FIMI X8 SE shortly becomes one of the best camera drones under $500. The response from the king of drones came after one year through the super-compact Mavic Mini.
In the DJI Mavic Mini vs FIMI X8 SE, I will go through all the important aspects of each drone. At the end of the article, you will have all of your questions answered, at least I hope so. Anyway, the final decision is only yours!
If you are moving from the Phantom series to a foldable Mavic, you will be impressed with how much space you can save in your backpack. The Mini goes even further, it fits into your pocket if you want. By comparison, the Mavic Mini measures 140 × 82 × 57 mm and the FiMI X8SE a bit more 204 x 106 x 73 mm when they are folded. The huge difference comes when you put them on a scale. While the X8SE weighs 790 grams, the tiny MM 249 grams – which is just one gram below FAA's actual registration requirements. Furthermore, DJI has an even lighter version of the Mavic Mini intended for the Japanese market which weighs only 199g.
Mavic Mini vs Fimi X8SE: In-Depth Comparison Guide
In the table below I will try to compare the most important specs of both foldable drones. I highlighted with red was the Mavic Mini excels and with green were the FiMI X8 shines.
DJI Mavic Mini
Xiaomi FIMI X8 SE
Size

Folded: 140 × 82 × 57 mm




Unfolded: 160 × 202 × 55 mm

Folded: 204 x 106 x 73 mm
Unfolded: 287 x 247 x 96 mm
Weight

249 grams

790 grams
Camera
2.7K (2720×1530@30fps)

4K (3840×2160@30fps)

Max bit rate
40Mbps

100Mbps

Gimbal
3-axis
3-axis
FPV
720p
720P/

1080P

Range
2Km for EC and 4Km for FCC

5Km

Lights
1 – on tail
4 – one under each motor
Intelligent flight modes
Dronie, Rocket, Circle and Helix
POI flight, Orbit and Drone
Active tracking
No
Yes
Obstacle avoidance
No
No
Geo fence
Yes
No
Max flight speed
13 m/s
18 m/s
Wind resistance
≤28.8 kph
≤50 kph
Remote controller
Standard, NO Screen
Standard, NO Screen
Battery
2s/2400 mAh
3s/4500 mAh
Flight time
30 minutes

33 minutes

FAA registration

No

Yes
Regular price

$399 order from DJI

$499 order from BG
Camera
Let's talk a bit about the camera rig of each quadcopter. While booth drones feature 3-axis gimbals and 1/2.3″ CMOS image sensor with 12M effective pixels, the FiMi has 4K video recording and the Mavic Mini only 2.7K. Real-time image transmission is made via the remote's down-link. In both cases, you need to connect your mobile device (phone or tablet) to the transmitter using a USB/Lightning cable.
Battery life
While the FIMI X8 is powered by a high power LIPO pack (3s/4500mAh), the Mavic Mini by a small 2s/2400mAh battery. Despite the fact that there is more than twice the capacity difference, the MM manages to stay in the air almost the same as the X8SE. The raw manufacturer specs say that the MINI has 30 minutes of flight time and its rival 33 minutes.
Due to the smaller capacity battery, the Japanese version of the MiniMavic has about 18-19 minutes of airborne time (in optimal wind conditions).
Bottom line
I hope I succeeded to give you a bit of an overview of what's similar between Mavic MINI and FIMI X8SE and what's different. Unfortunately, I had the chance to fly the FIMI X8 for only a few hours, while I keep the Mavic Mini with me every day since I received it. I'm even thinking to sell my old heavy Phantom.
To be honest, during my Mavic Mini review I found few limitations of this drone: if there is a strong wind, you should keep it safe in your backpack, and that it doesn't have the range of its bigger brother.
Speaking of price, there is not much difference between these two drones. Actually, the Fly More Combo pack (3 batteries, 2-way charger, and case) of MM costs the same as its opponent. Time to time the FIMI X8SE is on sale and you can grab one for only $400 if you're lucky.