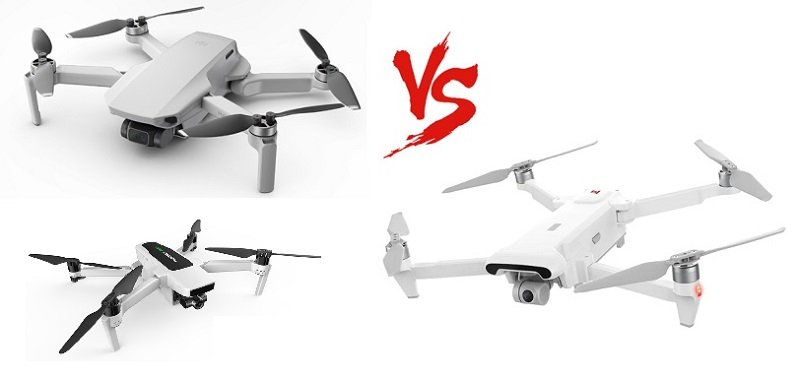 About a month ago I did a side-by-side comparison of the Mavic Mini and FiMI X8SE. Now it is time to extend the list with another player. The newly announced Zino 2 is also a serious competitor for the title of "Best drone under 500".
In this article I will go through all the important aspects (flight time, flight range and camera capabilities) of each drone, so at the end you should have all of your questions answered, at least I hope so. Anyway, the final decision is only yours!
Sponosored AD

Weighting almost 1 Kg/35 oz, the Hubsan Zino 2 is the heaviest from all. I think the increased weight is due to the high capacity LIPO pack. On the opposite side is the Mavic Mini which weights less than a quarter of a kg. According to FAA's regulation, recreational drones under 250 grams do not need to be registered (at least for now).
Hubsan Zino 2 vs Xiaomi FiMI X8SE vs DJI Mavic Mini: In-depth comparison guide
In the table bellow I will try to compare the most important specs of these 3 foldable drones. I highlighted with red were the Hubsan Zino2 excels, with green were the FiMI X8 shines and with blue the Mavic Mini's pros.
Zino 2
FiMI X8SE
Mavic Mini
Size (mm)
326 x 260 x 95
287 x 247 x 96

160 × 202 × 55

Weight
915g
790g

249g

Camera

4K@60fps

4K@30fps
2.7K@30fps
Max bit rate
100Mbps
100Mbps
40Mbps
Gimbal
3-axis
3-axis
3-axis
FPV
720P
720P/

1080P

720p
Range

6Km

5Km
2Km/EC or 4Km/FCC
Intelligent flight modes
?
POI flight, Orbit and Drone
Dronie, Rocket, Circle and Helix
Active tracking
Yes
Yes
No
Obstacle avoidance
No
No
No
Optical flow / Vision positioning
Yes
Yes
Yes
Geo fence
No
No
Yes
Max flight speed

72Km/h

65Km/h
47Km/h
Wind resistance
≤50 kph
≤50 kph
≤28.8 kph
RC LCD

Yes

No
No
Battery
4s/3800 mAh
3s/4500 mAh
2s/2400 mAh
Flight time
33 minutes
33 minutes
30 minutes
FAA registration
Yes
Yes

No

Price
$399 –

Order from GearBest

$499 –

Order from Banggood

$399 –

Order from DJI
Battery life
All 3 drones are advertised with more than 30 minutes of flight time. Based on my experience, manufacturer's specs are always optimistic or just measured in super optimal flight conditions. For example, the real-world flight time of the Mini and X8SE is about 23-27 minutes.
Both, number of cells and capacity of the batteries, are different. While the Mavic Mini is powered by a 2s/2400 mAh, the FiMi X8SE by 3s/4500 mAh and the Zino2 by a 4s/3800 mAh.
Camera
If you are interested into professional aerial filming, I think you should forget about the Mavic Mini with just 2.7k resolution. If you need 4K recording with 60 fps, the only option you have is the Zino 2. Also, if you want to make post-processing with professional photo editors, the RAW (uncompressed/lossless image) format is a must have.
In order to allow super-smooth footage, all 3 drones feature 3-axis mechanical image stabilization.
Bottom line
I hope I succeeded to give you a bit of an overview what's similar between these 3 drones and what's different. The comparison table above shows that the Zino2 excels most. Currently, is not just that it has the best price, but it overcomes its rivals in terms of flight range and camera specs.
While the Mavic Mini will fit for those who want a travel friendly and FAA registration free drone, the Zino 2 would be more suitable for those who like getting the best specs for their money. Speaking about the FiMI X8SE, it was a nice drone for 2019, but for the year 2020 Xiaomi should come up on the market with a new model.