I never thought I would need a power station until I reviewed the Anker 757. After a few days of testing, it proved to be a device with multiple applications. From bringing the conform to your home, in the middle of the forest, to surviving blackouts. I love that I can power my drone batteries, FPV goggles, and controllers right on the field with no limits. On an FPV racing competition, you will make some free beers, allowing other fellows to charge their LIPOs. The 1229 Wh capacity permits for charging around 60 4s/1300mAh packs. Update: Since I published my review, Anker changed the product name from PowerHouse 757 to SOLIX F1200.
My country has a border with Ukraine, and I live just around 100km from a nation that is under attack. The daily news tells about their electricity problem and that this could escalate to the entire European region. Maybe the Anker 757 PowerHouse can't cover your home's energy needs, but it can power the must-have appliances such as CPAP, security system, lights, and phone for a couple of hours. However, who would want to operate an air conditioner or fancy electric fireplace when a total blackout is out there?
The Anker 767 (novel SOLIX F1200) is much more than an uninterruptible power supply (UPS). It is built in mind with portability and user-friendliness. The unit features two large handles on the top, which make moving it easy. In addition to the two 220V AC outlets, it has six USB ports and a 12V car cigarette lighter socket. Furthermore, it can be charged in multiple ways, from a standard AC outlet, car 12V socket, or 300W solar panel.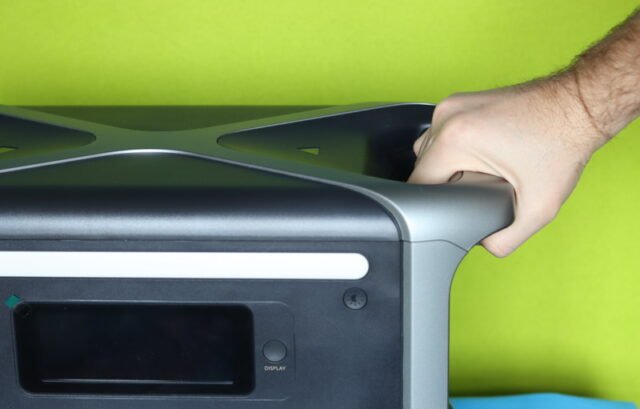 SOLIX F1200 (PowerHouse 757): Key features
[Long-Lasting Portable Power Station With a 10-Year Lifespan]: With proprietary long-lasting technology InfiniPower™, combined with LiFePO4 batteries, ultra-durable electronic components, an intelligent temperature control system that monitors temperature up to 100 times per second, and impact-resistant structural design, Anker 757 PowerHouse is built to last over a decade, even with everyday use.
[5-Year Full-Device Warranty] It is designed to power your devices every day for ten years reliably. The manufacturer offers a superior 5-year full-device warranty for a guaranteed, worry-free experience.
[Ultra-Powerful Capacity] With a 1229Wh storing capacity and 1500 wattage, it is an ideal solution to power all your essential devices and appliances during a trip, such as an electric grill, coffee maker, refrigerator, and more.
[Exceptionally Fast Recharge] Recharge to 80% in just 1 hour with our industry-leading technology, HyperFlash.
[9 Ports for All] It has all the ports you need to charge your devices and appliances. It has two AC ports, four USB-A ports, two USB-C ports, and a car outlet. With a fast-charging 100W USB-C port, get rid of bulky adapters and charge your laptop super-fast via a single cable.
[Free energy] Built-in MPPT charger that allows using 300W solar panel recharge in just 4.5 hours.
[Power-Saving Mode] Switching to power-saving mode extends the standby time and minimizes battery damage.
Anker SOLIX F1200 aka PowerHouse 757
Disclosure: I received this power station as part of a product review collaboration with Anker. Product specs and quality may vary according to the manufacturer's reliability, so I cannot guarantee that you will get a unit that performs the same as seen in my review.
In October, I was contacted by Anker's marketing team regarding the possibility of reviewing one of their new power stations. After doing some research about their products, I happily accepted their offer.
Anker claims to be a global leader in charging technology. The company is pioneering Power Delivery technology to charge phones, tablets, and laptops at unprecedented speed. Their product gamut includes Wired and Wireless Chargers, Power banks, and Power stations. The word Anker dates from 1673, an old Dutch and German liquid measure used in various countries of Europe, especially for spirits, and equal to about 9 to 10.5 U.S. gallons (30 to 40 liters).
I received the 757 PowerHouse more than a month ago. I wanted to test it in many ways before I published my article, especially since Anker mentioned that they are looking for an honest, authentic review instead of a salesy marketing post.
The Anker 757 comes in the box with an AC cord, 12V Car Cigarette lighter to XT60 cable, XT60 to 3x XT60 cable for solar panels, protective cover, and user manual.
At a glance
The Anker 757 has a futuristic design and superb build quality. It measures 46.3*28.8*23.7 cm (18.2*11.3*9.3 inches) with a dual-grip system that distributes the weight between your arms for easier handling. Batteries and high-power electronics are heavy things, so no wonder why it weighs almost 20kg. The bottom has anti-slip rubber padding, and there are vent holes on both sides.
On the front panel, there are 2 x 220V AC outputs, 2x USB-C, 4X USB-A, and a 10A car cigarette lighter socket with a rubber flap. The front panel outputs may vary according to your location. I saw photos of UK or US versions that have six AC outputs. AC input, Solar panel XT60 port, and fuse reset button are on the back, behind a protective cover.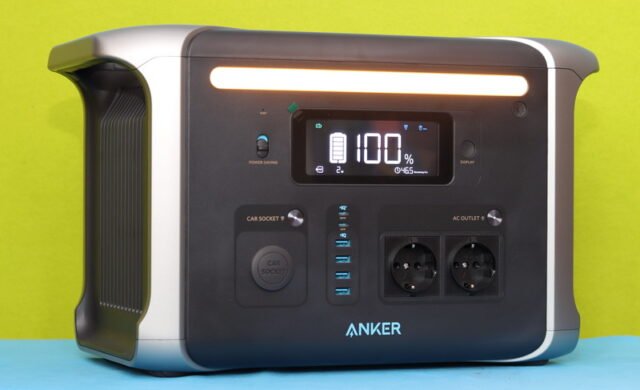 The control panel consists of a big LCD screen, four buttons, and a power-saving switch. Anker 757 provides only basic functionalities without any smart feature or remote control via mobile phone. Except for turning On/Off 220V AC and 12V DC out, you can't do anything. The ambient LED can be toggled between three light levels or SOS flashing mode.
On the center of the screen, with big letters, is displayed the battery charging level. On the top ribbon from left to right, there are the following icons: Power saving mode, High-temperature Alert, Low-temperature Alert, USB-C Output Port, USB-A Output, Car charging, and AC Charging and frequency. The bottom ribbon shows the Current Output Power, Current Input Power, and Remaining battery in hours.
Technical specifications
| | |
| --- | --- |
| Cell Capacity | 1229 Wh |
| AC Input Voltage | 100-120V~ 12A Max, 50Hz/60Hz |
| AC Input Power (Charging) | 1000W Max |
| AC Input Power (Bypass Mode) | 1440W Max |
| Solar Panel Input | 11-30V 10A (300W Max) |
| Car Charger Output | 12V 10A Max |
| AC Output | 110V/220V 13.64A, 50Hz/60Hz, 1500W Max |
| USB-A Output | 5V 2.4A (2.4A Max Per Port) |
| USB-C Output (100W) | 5V 3A/9V 3A/15V 3A/20V 3A/20V 5A (100W Max) |
| USB-C Output (60W) | 5V 3A/9V 3A/15V 3A/20V 3A (60W Max) |
| UPS switching speed | <20ms |
| Size | 46.3*28.8*23.7 cm / 18.2*11.3*9.3 inches |
| Weight | 19.9 kg/ 43.9 lb |
Pricing, availability, and options
The Anker SOLIX F1200 (PowerHouse 757) can be ordered from the manufacturer's website for $1,299.99 in the US and €1,699.00 in Europe (price may vary according to local VAT). For the combo solar generator kit with 3x100watt panels, you will need to pay $2,299.99 (€2,599.00). If you need a larger storage capacity (2048Wh) and higher power output (2400W), you should check the newly released Anker PowerHouse 767.
Anker 757 Inputs: How to charge it?
There are three ways to charge the Anker 757. At your home, you just need to plug it into an AC outlet socket. Thanks to the HyperFlash technology, it can reach from 0 to 80% in just an hour. Outdoor, on the road, or during camping, you can use the included XT60 to 12VDC car charger cable plugged into the DC-IN port (11-30V), or you can connect a compatible solar panel to the same port.
In the past, to keep my LIPO batteries in the best shape, after finishing my flights, I discharged the remaining full ones to 3.8V/cell using a resistor load. Now, I transfer the energy back (recycle) to the Anker 757 through the XT60 plug, which is eco-friendly.
Charging time:
AC 1.5 hours
Car 13.8 hours
Solar Panel 4.5 hours
SOLIX F1200 Outputs: How much can it last with one charge?
The SOLIX F1200 is intended to be used with all kinds of devices, including tech gadgets, power tools, and home appliances. These days, almost everything is powered and charged via and USB port. Laptops, cameras, drones, and gimbals, can all be powered or charged with this power station. It has four 12W USB-A ports for low-power legacy devices and two high-power PD USB Type C ports (60W and 100W) for fast-charging compatible devices. The car cigarette lighter socket allows for the use of camping fridges or 12V water boilers.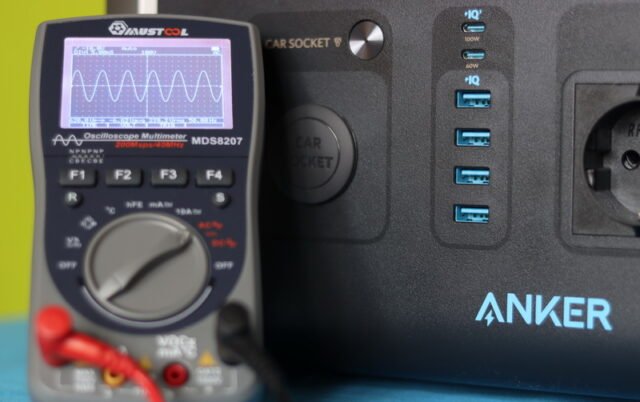 The pure sine wave AC output means that you can safely use it with refrigerators, sensitive electronics, power tools, and even medical equipment.
Output ports' power ratings:
2x AC Wall outlet 1500W (shared)
1x Car Outlet (120W)
4x USB-A (12W Each)
1x USB-C 100W
1x USB-C 60W
Depending on the job you use it for, the Anker 757 can last from 30 minutes to several days. As shown in the table below, a hammer drill could work continuously for more than an hour, but if you only drill holes, it would last a whole day without any issues.
Power usage
Usage time
Smartphone
10Wh
100 times
Laptop
65Wh
16 times
DJI Air 2S drone
28Wh
35 times
6S 1500mAh FPV LIPO
33Wh
30 times
BOSCH ProCORE 18V 12Ah
216Wh
5 times
Home backup power
LED Light bulb
12W
82 hours
Refrigerator
360W
2.7 hours
Coffee maker
1000W
1 hour
Hairdryer
1500W
40 minutes
Microwave
700W
1.4 hours
LCD TV 43″
110W
9 hours
PlayStation 5
150W
6.5 hours
CPAP respiratory machine
40W
24.5 hours
3D printer
350W
2.8 hours
Power tools
Hammer drill
850W
1.2 hours
Circular saw
1000W
1 hour
Random Orbit Sander
400W
2.5 hours
Chainsaw
1400W
36 minutes
Grass trimmer
1200W
48 minutes
My primary testing of the Anker 757 was to charge drone batteries on the flight field. I tested it with DJI and Autel branded smart batteries, as well as with standard LIPO packs. I also test it with a hairdryer, believe it or not, after the washing machine is the biggest energy consumer in your home. At the highest rate, the display shows 1739w and a remaining battery life of 20 minutes (from 100%)
Free unlimited renewable power with Anker 757 (SOLIX F1200)
Using three 100W Anker 625 Solar Panels, you can turn your SOLIX F1200 into a veritable solar generator. The high conversion efficiency (up to 23%) panels can fully charge the 1229Wh UPS in about five hours. The Anker 625 panels are foldable and have USB-C and a USB-A output port to charge two devices at the same time.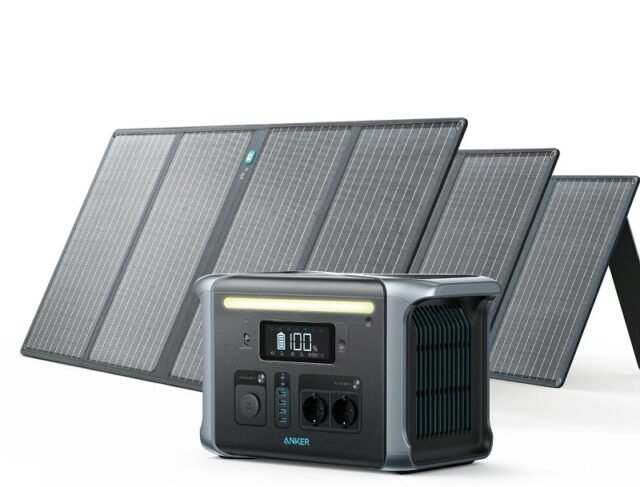 Through the DC 11-30V (up to 10A) XT60 input, you can use third-party solar panels as well. I ordered a 24V/275w panel to install on top of my son's treehouse. During the summer, it will provide energy to charge its phone and power the light, TV, and game console when his friends come over for a pajama party.
Anker 757 aka SOLIX F1200: Who's and What's for?
The Anker 757 is not a battery bank that you take in your pocket everywhere with you, but it is great to have around for traveling, camping, or emergencies at home. In the last month, I have used it for various jobs, from charging my drone batteries to making a cappuccino on the terrace. I like the freedom to plug in anything without exceeding a total power of 1500W.
The Anker 757 (SOLIX F1200) isn't a cheap product, but if you have the money for it, sooner or later, you will find the utility of a portable backup power station. Whether you like to camp, build stuff in the backyard, or are a heavy drone user. Also, it's reassuring to know that if the power goes out, you still have a way to power the essential things in your home.
For woodworking in remote areas with no electricity, it is also great. It can directly power your power tools (drill, circular saw, or sander) or charge the batteries of cordless tools. Here I should mention that the Anker 757 isn't dustproof, and wood dust can enter the inside of the power station easily through the side vent holes. The included protective cover should be used only when the unit is on standby (not charging or in use). Otherwise, it can overheat.
I recently started working with 3D printers. Some have power loss recovery, but this feature isn't perfect, as the heated build platform cools down quickly, and resuming the print job is not always reliable. 3D machines, such as the Neptune 3 Plus, can run large-volume print jobs for more than two days, and a power backup solution like Anker 757 is highly recommended to be used.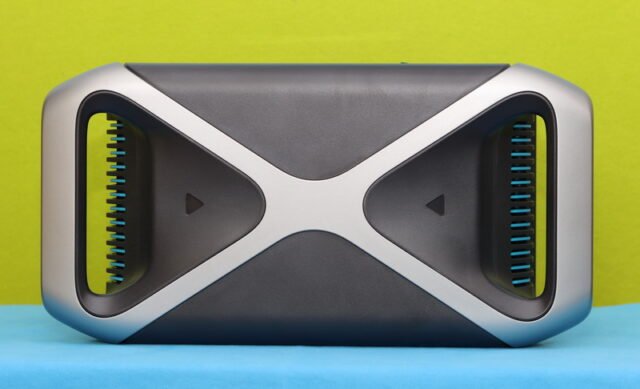 If you have questions regarding this power station, just drop a comment below.
last update on 17 October 2023