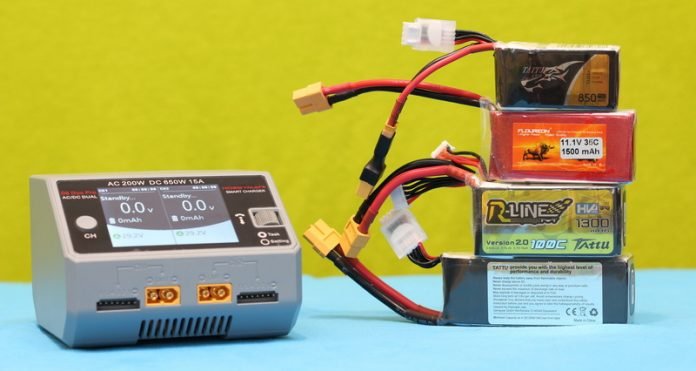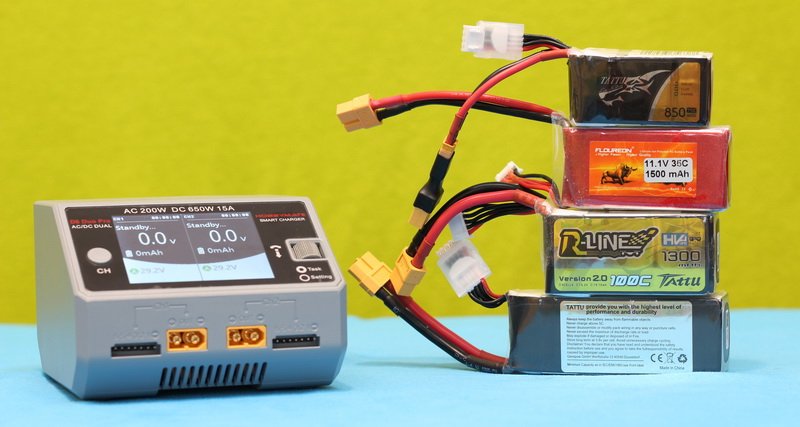 If you're looking for one of the best portable drone chargers, then the HOBBYMATE D6 Duo Pro is an excellent option. In addition that allows to charge simultaneously two LiPo batteries with up to 6 cells, also allows to charge wirelessly your smartphone.
The whole point of having an universal smart charger is that it allows to charge all your drone batteries, eliminating the need to purchase a bunch of dedicated chargers. The HOBBYMATE D6 Duo Pro is compatible with almost any type of rechargeable batteries.
Let's have a closer look on the D6 Duo Pro charger's specs
Input voltage: AC 100-240 V or DC 6.5~30V;
Charge power: 2 x 325W (total of 650 Wats);
Discharge power: 2 x 15W;
Charge current range: 0.1~15A × 2;
Discharge current rage: 0.1~3A × 2;
Balance current: 1.6A × 2;
LiPo/LiFe/LiIo/LiHV cell count: 1 – 6 series;
NiCd/NiMH battery cell count: 1-16 cells;
Pb battery voltage: 2V – 24V (1-12 cells);
USB Output: 5V / 2.1A;
Dimensions: 108 ×105 × 76mm;
Net Weight: 555g/580g (product specs/measured).
HOBBYMATE D6 Duo Pro drone charger review
Disclosure: I received this drone charger as part of a product review collaboration with HobbyMate. Product specs and quality may vary according to the manufacturer's reliability, so I cannot guarantee that you will get a charger that performs exactly the same as seen in my review.
Even if it was sent with standard free sipping, I receive it surprisingly fast, in just 9 days.
D6 Duo Pro drone review: At a glance
Inside the box, besides the charger, I found only an AC cord and no battery adapters included :( so, out of the box you are able to charge only XT60 LiPOs.
The charger measures about 108 ×105 × 76mm, and weighs 580 grams. That's roughly 4.25″ by 4.13″ and 19.58oz, for my American readers. Compared to the HB120 QUAD charger, which I personally find it inconveniently huge, the D6 Duo Pro is fairly compact. It would fit easily into any decent drone backpack.
As you can see in the image bellow, the design of the HOBBYMATE D6 Duo Pro is very similar to a jewelry scales.
Surely, the most eye catching part of this drone charger, is the color LCD display. The screen is divided in two individual parts, one for each charging channel.
Under the status display are located the XT60 discharge and 6 pin balance charging ports  (two of each). USB and micro USB firmware update ports are found on the right side of the HB D6 Duo Pro charger.
On top of the device is located the wireless phone charger, which is compatible with most of the latest smartphones (like iPhoneX, Iphone 8 and Samsung S8).
System fan, AC and DC inputs are found on back of the charger. No external thermal probe inputs.
What features make the HB D6 Duo Pro one of the best drone charger?
Integrated 200W AC/DC adapter;
Wide range of DC input (6.5~30V). Can be powered from a high capacity 12V battery;
Allows to charge up to 2 LiPo batteries in the same time;
Can charge up to 6 cell Li-Po batteries;
Each channel can be individually configured;
Multi-chemistry: can charge various type of batteries (LiPo, LiHV, LiFe, LiIon, Lixx, NiZn, Nicd, NiMH, Smart Battery, Lead Acid and Enelop);
Balance charging: each cell is individually monitored, end voltage will be similar on all
Balancing individual cells during battery discharging;
Fast charge and storage modes of lithium batteries;
Charging program for HV LiPOs (High Voltage 3.8V/cell);
Built-in battery meter: total voltage, individual cell voltage, highest and lowest cell voltage.
D6 Duo Pro drone review: First usage
Powering ON, the charger performs a quick self test. The color screen is beautiful and visible even in strong daylight. The charger's configuration menu can be accessed by long pressing the dial-knob.
Under the "Charger settings" menu, can be found:
Task parameters (Safety timer\Max capacity\End current\Trickle charge);
System parameters (Language\Max input power\Min input voltage\Back-light\Wireless charge\Volume);
CH1 calibration;
CH2 calibration;
System self-checking;
Factory settings.
Channel configuration can be done individually by pressing the "CH" button. You can configure different types of battery and charging programs for each channel. Under the "Task settings" menu you can configure the followings:
Select task (Charge\Discharge\Discharge EXT\Balance\Storage);
Battery type;
Cell Voltage;
Cell count (up to 6 cells for LiPo batteries);
Current settings (up to 15A);
Start task.
I used a HVLi 4s 1300 mAh battery and a 3s 850mAh standard LiPo battery in order to test the charger's performance. While number of cells are automatically detected, you need to manually adjust the battery type. Consequently, I need it to set CH1 to LiHv and CH2 to LiPo. As I previously mentioned, each channel can be freely configured as battery type, number of cells, charging current and program. Quite nice that the background color is changed according the program you select (standby\black, charge\green, discharge\pink and so on). Note: never charge standard LiPo batteries as High voltage LIPOs (LiHv), it may end ugly.
During charging  process are shown the following parameters: battery type, battery voltage, cell voltage, charging current, charger temperature, system voltage and elapsed time.
Despite my expectations, the charger remained very quite during charging process. The  cooling fan starts at full speed only when need it. For optimal operation you should never cover the frontal and rear venting holes.
Batteries remained well balanced after each programs (charging, discharging & storage).
Expert's ratting
Price/performance ratio

Design and build quality

Battery compatibility

Cell compatibility
Verdict
If you're looking for the easiest option for keeping your drone batteries ready to fly, we recommend the HOBBYMATE D6 Duo Pro charger. This versatile device allows to charge two LIPOs in the same time. It can be powered directly from AC outlet as well as from DC power source like your car's battery. It is compatible with almost any type of batteries, from the new generation LiHV to the classical lead-acid batteries. Furthermore, it also has a USB port and a built-in wireless phone charger.
This fully-featured drone charger can be found now here with 10% off. Shipping fee is calculated upon your location. In order to expand the compatibility of this drone charger, I suggest you to order also a pack of HOBBYMATE Battery Charger Adapter Plugs. It costs only $7.9 and it comes with 5 types of battery adapter. IMHO, these days, XT60 to XT30 and XT60 to JST adapters are also welcomed.
What I liked
Can charge up to 2 batteries in the same time;
Multi-chemistry, many types of battery are supported;
Wireless phone charging;
Built-in power supply;
Large color display;
Easy to use.
What I didn't liked
Lack of APP;
NO battery adapters included;
Pretty expensive.