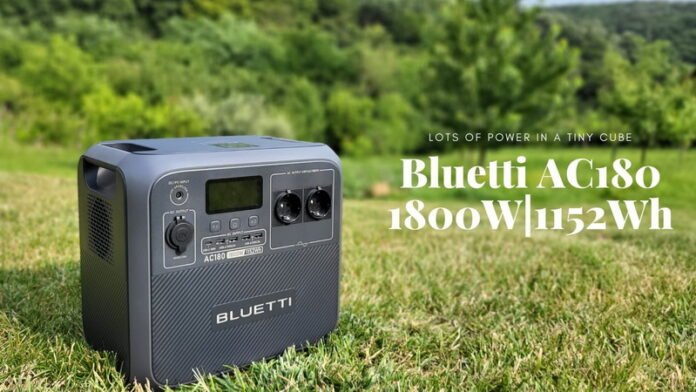 The Bluetti AC180 was first announced on 22 March and became available for orders on the 1st of June. We received this power station for review in late June, so we have about a week of testing behind.
Many confuse storage capacity with output power. The storage capacity of a portable power station determines how long it can power various devices before it needs to be recharged. It is measured in "Wh" and results from the built-in battery pack's capacity (amperage) and voltage. For example, the AC180, with a capacity of 1252Wh, can theoretically provide 1252 watts of power for one hour, 626 watts for two hours, and so on. If you need a longer runtime, the AC180 is extended up to 4224Wh using BLUETTI's B300 Expansion Battery pack.
On the other hand, output power specified in watts (W) refers to the maximum amount of electrical power it can deliver to devices connected to its outlets. The Bluetti AC180 has multiple types of power outlets, such as AC outlets, DC outlets, USB ports, and a Wireless charging pad, totaling 1800W output power. Furthermore, Power Lift mode enables the use of specific AC devices (inductive-load appliances) with up to 2700W.
Bluetti AC180's key features
[Compact & Portable] It measures 340x247x317mm(LxWxH) and weighs about 35.27lbs/16kg, adding a convenient handheld design that makes it easy to carry around on the way to your next adventure.
[Impresive output power and variety] AC180 has 1,800W constant output power and 1,152Wh capacity to cover most power demands. It also has a Power Lifting Mode that delivers 2,700W output to run high-powered devices effortlessly. A wide range of outputs, including AC outlet, USB-A, USB-C, 12V DC outlet, and wireless charging pad, are built for versatile charging for living off-grid or on the go.
[RunTime Grows As Needed] AC180′ built-in 36Ah (1152Wh) LiFePO4 pack can be extended by B80 (806Wh), B230 (2048Wh), or B300 (3072Wh) external battery packs – to ensure a continuous power source of up to 4,224Wh.
[One Hour to Charge, All Day to Power] The highly efficient charging rate ensures the battery can be fully loaded shortly. With only one charge, AC180 can deliver extended battery life to feed up your essentials at home or in the wild. Driven by Turbo Charging with up to 1,440W input, 0-80% recharging only takes 45mins!
[Free & Green energy] The max 500W solar input allows AC180 to be fully charged within just 3 hours on a sunny day, making it highly efficient to access renewable energy.
[Safe, Reliable, & Durable] Safety always comes first priority for Bluetti. The AC180 has the safest LiFePO₄ batteries to ensure durability and over 3,500 life cycles. A 5-year warranty and first-rate service are also included for more peace of mind.
Bluetti AC180 power station review
Disclosure: I received this portable power station as part of a product review collaboration with Bluetti. Product specs and quality may vary according to the manufacturer's reliability, so I cannot guarantee that you will get a unit that performs the same as seen in my review.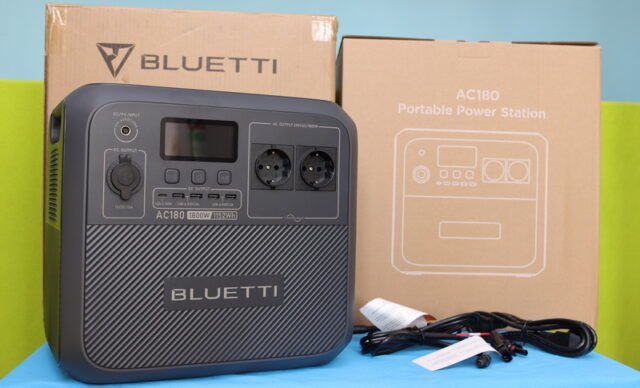 To protect the AC180 during transportation, it comes in two large cardboard boxes. The inner one has handlers for easy manipulation and is filled with high-density foam for extra protection. I suggest keeping it safe because the manufacturer says that "returns cannot be accepted without this box." Besides the user manual, there is included an AC power cable, a DC to MC4 solar panel cable, a car cigarette to DC charging cable, and a grounding screw.
Once out of the box, the AC180 measuring 340x247x317mm, is just a bit bigger than a 1.5 gal (5l) fuel tank and weighs about 36 lbs (16kg). By comparison, my existing 1200Wh solar power station is 10% larger and almost 4kg heavier.
It has handles on both sides for easy manipulation by one or two persons. Inside there is a pack of 36Ah long service life LiFePO4 cells. On the top, there is a 15W wireless phone charger. The AC input, 15A circuit breaker auto reset overload protector fuse, and grounding port are on the right side, under the cooling fan.
On the front panel, the ports are divided into three blocks around the display and controls. On the left is the PV input (VOC 12-60VDC, 10A) and 12v/10A DC car outlet; USB ports are in the middle, and AC plug outlets are on the right. It has one 100W PD Type-C port and four 5VDC/3A 15W USB-A ports(grouped by two). Seeing more high-power Type-C ports would have been nice, but that's a relatively minor complaint. While the US version has four 4 x 120V/15A AC outlets, the Europe edition has 2 x 230V/7.8A ones (1800W in total).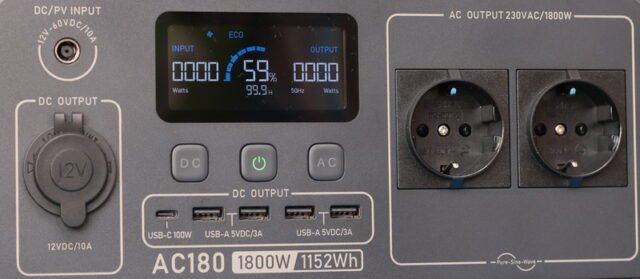 The large, easy-to-read LCD screen provides users instant information on the battery status (remaining runtime), input\output power, operation mode, and warning messages. It has only three physical control buttons: Power ON/OFF, DC out (including wireless charger), and AC out.
Pricing, Availability, and Options
Directly from Bluetti, the AC180 is currently on Summer Sale for just $799 ($1099) or 999,00€ in Europe. There are also three solar panel combo kits (120W, 200W, and 350W). The AC180 with PV350 panel is available for $1,598.00.
Bluetti AC180: Mobile APP for remote management
Bluetti's ecosystem, including the AC180, can be monitored and controlled via the company's mobile APP, available for Android and iOS devices. When I connected the Bluetti APP to the power station, it prompted that is a newer version and I should update it. The v2.1.0 features a brand new, more friendly user interface. You can access warranty services, request installation, trade-in service, community forum, online store, and more from the app. Although the APP's description says that you can manage your home energy storage system from anywhere, Bluetooth connectivity limits you to a few meters from the unit.
The APP allows turning ON/OFF AC and DC outputs, toggling Powerlifting, and configuring charging mode. Battery level, PV input (solar panel power), Grid (AC) input, DC, and AC consumptions are displayed at a glance.
Bluetti AC180 Power lifting mode
The AC180 has an advanced feature named "Power lift" (constant Power Mode). As its name suggests, this increases the power station's AC output power from 1800W to 2700W. This feature is intended for high-power heating devices such as electric water boilers, space heaters, and hair dryers.
To test the power lift (PL) mode, I used a 2200W water heater by boiling 1 liter of water. Initially, I started the process without PL-enabled. After about a minute, the AC180 entered protection mode and shut down the AC outlets. The display showed 2193W power usage. Next, I enabled PL and restarted the process. It took three minutes to reach the water's boiling point. Curiously, the display showed only 1750W this time, and, somehow, the process was slower than the previous one.
Remember, when using this mode, the sine wave is a bit distorted, which is harmful to sensitive electronics and motors.
AC180 Power station: Three charging modes
The Bluetti AC180 has three charging modes (shown in the table below). If you sleep in the same room with the solar power station, you should consider the slower but very silent mode with only a 45dB nose level.
| | | | |
| --- | --- | --- | --- |
| Charging mode | Input power | Charging time | Noise level |
| Silet | 260W | 4.9 hours (4.9-5.4 hrs) | 45dB |
| Standard | 1000W | 1.7 hours (1.7-2.2 hrs) | |
| Turbo | 1440W | 1.3 hours (1.3-1.8 hrs) | |
When is charged from a solar panel, you can expect the following charging times:
| | | |
| --- | --- | --- |
| Solar panel model | Panel Parameters | Charging time |
| PV420 | 44.3V|12.2A|23.4% | 2.7 hrs (3.2-3.7 hrs) |
| PV350 | 46.5V|10.8A|23.4% | 3.3 hrs (3.8-4.3 hrs) |
| PV200 | 26.1V|10.3A|23.4% | 5.5 hrs (5.5-7.5 hrs) |
Bluetti AC180: Who's and What's for?
Bluetti's global Facebook community has more than 27K members and growing fast. It looks like many have started to use these kind of devices. The AC180 is not just a solar controller, is more than UPS (uninterruptible power supply) and is definitively more than a power bank. It is an all-in-one powering solution for many daily activities at home, on the road, or off-grid camping. Personally, besides the AC180, I have two more power stations. I use the Bluetti EB3A for short outings in nature to play with drones. I like that is compact and can power my phone wirelessly and all my other gadgets simultaneously. My second power station has 1200Wh and stays connected in UPS mode on my 3D printer. The shortest power outage can ruin a work of 2-3 days.
If you want to transfer water from one tank to another using an electric pump, break a piece of concrete with a Hammer Drill without a power outlet nearby, or just want a freshly made cappuccino in front of your tent, this Bluetti cube is an excellent choice. Furthermore, thanks to the built-in pure sine wave inverter, you can safely use it for refrigerators, sensitive electronics, and even medical equipment such as CPAP devices.
Remember that the Bluetti AC180 is not waterproof, so you should keep away from rain, snow, and other fluids. Also, you should avoid exposing it to direct sunlight; it becomes super hot quickly due to the dark color. Initially, I placed it next to the solar panel, and it got hot in a few minutes; then, I moved it behind the solar panel in the shade, and it cooled down to the environmental temperature.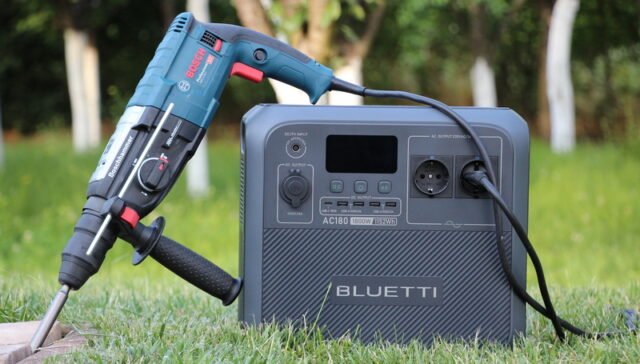 The table below shows some expected runtimes for the device you want to power or charge.
| | | |
| --- | --- | --- |
| | Power usage | Usage time |
| Smartphone | 15Wh | 62 times |
| Laptop | 70Wh | 13-15 times |
| DJI Air 2S drone | 28Wh | 35-40 times |
| 6S 1500mAh FPV LIPO | 33Wh | 30-30 times |
| BOSCH ProCORE 18V 5Ah | 90Wh | 10-12 times |
| Corded drill hammer | 820W | 70-90 minutes |
| LED bulb | 10W | 93 hours |
| Mini fridge | 120W | 7-14 hours |
| Portable AC | 1500W | 0.5-1.5 hours |
| Coffee maker | 1000W | 1 hour (30-50 coffees) |
| Electric oven | 1150W | 50 minutes |
| LCD TV 43″ | 110W | 2.4 hours |
| CPAP | 25w | 9 hours |
Bluetti AC180: Optional accessories
The AC180 comes in the box with a set of minimal cables required to start using this power station. To explore all its potential, a few other additional accessories are required.
If you plan to camp a lot or looking for a green energy system for the kid's tree house, a portable solar panel is a must-have. Thanks to the wide range of PV input ( 12-60VDC), the AC180 can be conveniently used with 12V, 24V, and 36V solar panels, without exceeding 500W. Bluetti has four compatible foldable solar panels, 120W, 200W, 350W, and the newly released PV420W.
To extend the runtime of the AC180, use one of Bluetty's expansion battery kits. Also, for connecting the B80 (806Wh), you'll need the Aviation to DC7909 cable, while the P090D cable is required for B230(2048Wh) and B300(3072Wh). Make sure the external battery is set to Power Bank Mode!
If you want to power 12V devices such as surveillance systems and IP cameras, you will need a car cigarette lighter plug to DC5521 and a 2-10 way splitter.
Bluetti AC180 technical parameters
Dimensions
13.39" x9.72" x12.48" / 340x247x317mm
Weight
37 lb / 17 kg
Battery
LiFePO4 36Ah (1152Wh)
Output power
1800W / 2700W peak
Inverter type
Pure Sine Wave
AC Outlet
2 × 230V/7.8A (EU) or 4 x 120V/15A (US)
DC OUT
1 x USB-C × 100W max
4 x USB-A ports (15W Max/pair)
1 x Wireless Charging Pad (15W max)
1 x 12V/10A (w/automotive adapter)
Inputs
AC: 1,440W Max
Solar: 500W Max., VOC 12-60VDC, 10A
DC Car: 12/24V from Cigarette Lighter Port
Charging time
AC: 1.3-1.8 Hours (1440W Turbo Charging)
Solar (500W Max): 2.8-3.5 Hours