When camping, road-tripping, or having outdoor activities that involve charging various gear, such as smartphones, cameras, and drones, a small portable solar generator like the Bluetti EB3A is a more convenient solution than a heavy home-backup power station or gas generator. It is quiet, emission-free, and requires no fuel, making it environmentally friendly.
If you are in areas with short blackouts, the Bluetti EB3A could also be a great option to keep your critical devices, such as a CPAP machine, up and running. With a max output of 600W and a 268Wh storage capacity, the EB3A can power through the various types of outputs (AC 220V\120V\110V, USB Type C, 2x USB, and DC 12V) most of your high-tech equipment.
In a nutshell, a portable power station is a pack of batteries in a protective case with an integrated charging circuit and DC to AC inverter. This, combined with various types of DC outs, ensures you can connect all kinds of appliances and devices wherever you are. The LiFePO4 battery pack capacity in the EB3A is 268Wh. This number represents how many watts it could handle in 1 hour until it runs out of power. As an example, if you were to connect a 50W camping fridge: 268Wh / 50W = 5.36 hours of continuous operation time.
Bluetti EB3A and PV120 in-depth review
Disclosure: I received this compact power station as part of a product review collaboration with Bluetti. Product specs and quality may vary according to the manufacturer's reliability, so I cannot guarantee that you will get a unit that performs the same as seen in my review.
BluettiPower offers power solutions for your home and outdoor activities —their product range includes Home battery backup, Portable power stations (solar generators), Expansion batteries, solar panels, and other Accessories. Last week I received their latest and smallest solar generator, the EB3A. Upon my request, they also included the PV120 portable solar panel. Despite the fact that the two products were sent out from different countries and using different shipping companies, both arrived on the same day.
To protect the EB3A during transportation, it comes in two cardboard boxes. The inner one has a handler for easy manipulation. I suggest keeping it in a safe place because the manufacturer says that "returns cannot be accepted without this box." Besides the user manual, there is included an AC power cable and a DC – MC4 solar panel cable. Some DC-XT60 (IN and Out) cables would have also been very useful for me.
At a glance
The Bluetti EB3A has a retro-radio-style design with all the control and sockets on the front panel. It weighs just 4.6 kg (10.14lbs) and measures 255 x 180 x 183mm making it highly portable, especially with a fold-down carry handle. On the top, there is also a 15W wireless phone charger. Maybe the 268Wh storage capacity doesn't seem like much, but by comparison, a 10000mAh battery bank has only 37Wh, so you will need eight of them to have the same running time.
While the 110v@60hz version has two AC outlets, the 220v@50hz shown in this review has only one AC socket. Both editions have two USB Type A, one USB Type C, a Car cigarette socket, and 12V/10A DC outs. On the left, in the input zone, there is a UPS-type C13 AC socket behind a rubber flap, a DC12-28V (solar panel) charging port, and a 10A Circuit breaker Auto Reset Overload Protector Fuse. The 3x6cm screen is very bright and provides details about input\output power, expected running time at the current load, and warning messages. It has only three control buttons: DC out (including wireless charger), AC out, and LED light control.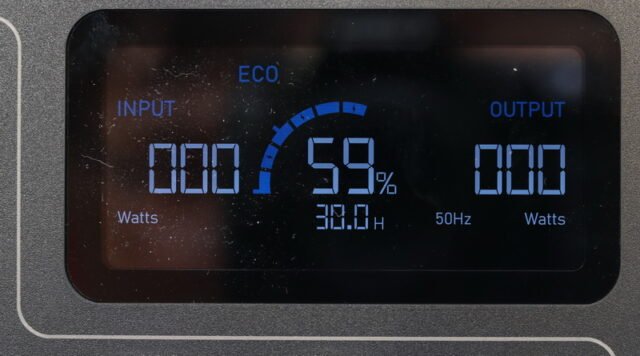 On both sides, there are some big venting holes. The cooling fan starts only under a heavy load of high-power charging, so the power station is usually super quiet. It has four rubber feet to stay stable even on a glass table. A bright LED with two light levels and SOS flashing mode is in the right-up corner.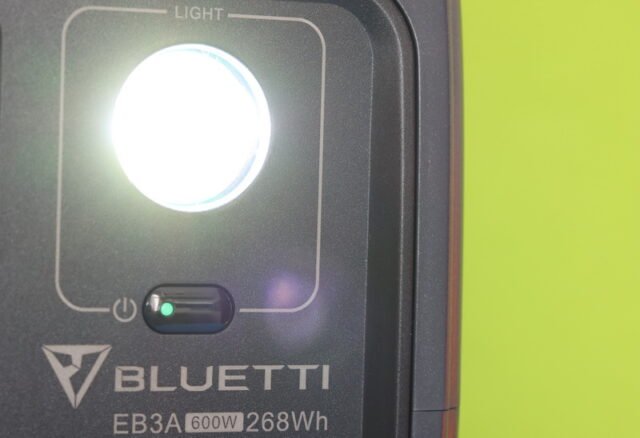 Key features
[Portable Power for A Sustainable Lifestyle] Designed to be more energy-efficient than traditional generators, BLUETTI EB3A is so light in terms of weight, doing its part to help you reduce carbon emissions to the environment.
[High output power] EB3A is compact enough, but you can count on it with big jobs. Whether it is a small blender, mini rice cooker, or small refrigerator, EB3A gets you all covered thanks to the 600W AC Pure Sine Wave Inverter (1200W surge) and an impressive 268Wh capacity.
[80% Charge in 40 Minutes] EB3A features 430W Fast Charging that enables an 80% charge in the time it takes you to drink a cup of coffee or have a chitchat, providing sufficient power on demand.
[6 Ways to Recharge] Go for an off-grid living anytime, from RV camping to wilderness exploration, with no fear of losing power. BLUETTI EB3A can be recharged in every way possible via AC, solar panels, car, generator, AC+Solar, or AC+Adapter, leaving you only peace of mind on the road.
[Safety Is in Detail] Experience increased safety brought by LiFePO4 battery and BMS (Battery Management System). Compared to traditional Lithium-ion cells, the LiFePO4 battery EB3A possesses a natural advantage due to its remarkable thermal and chemical stability, giving you better performance and a longer life cycle (2,500 cycles to 80%). While BMS is at all times monitoring and protecting your device from every potential risk.
[8 Outlets for Every Need] Flexible charging capability accommodates a wide range of charging needs. No more vying with family or friends for a quick charge. EB3A has enough ports for simultaneous charging, classic AC and DC output, 100W Type-C, a car socket, and even a wireless charger.
[Smart APP for monitoring and remote control] The intuitive BLUETTI APP offers a truly convenient experience at your fingertips, giving you quicker access to EB3A through Bluetooth within a radius of 10m and keeping it under your control around the clock.
Pricing, Availability, and Options
Directly from Bluetti, the EB3A is currently on Valentine's Day Sale for just $219 ($299) or 299,00€ (399,00€) in Europe. It is also available for $287 at their official Amazon store. The BLUETTI PV120 foldable 120W Solar Panel shown in this review alone costs $279.
EB3A solar panel bundles
PV68 – 68W – 448,00 €
PV120 – 120W – 599,00 € ($498)
PV200 – 200W – 768,00 € ($688)
I was about to forget to mention that the EB3A has three color options (Gray, Beige, and Blue) and three AC voltage options (100Vac, 120Vac, and 220-240Vac).
Bluetti APP
The EB3A power station features Bluetooth connectivity, allowing remote control and smartphone monitoring. BT is a wireless technology that uses a radio frequency to share data between two devices over a short distance (about a max of 10 meters). The Bluetti APP is available for Android and iOS mobile devices and allows registering and managing multiple devices. You can add new products by scanning the QR code or manually introducing the serial number. The APP has three main tabs: Service (Reques\Ongoing\Finished), My Bluetti (List of registered devices), and Me (User info, Privacy, General setting, and other information). The APP also allows firmware upgrades of the power units.
On the device screen, at a glance, you have all the important details: PV (DC) Power, AC Grid Power, DC out W, and AC out W. From there, you can turn ON/OFF AC and DC outputs. In the center, there is also a red power button that puts the EB3A in ECO mode.
Free energy with Bluetti EB3A and PV120 – 120W portable solar panel
Solar energy is an excellent, clean, and budget-friendly option for staying powered up on the go, but traditional panels are bulky and intended to stay fixed on top of your roof. Instead, foldable solar panels are designed to be portable and can charge your power station anywhere the sun is shining. When folded, the Bluetti PV120 measures just 53.3 × 47cm and weighs a bit more than 5kg. The panel has four sections, a comfortable blue handler on top, three adjustable tilt mounts, and a zipped pocket where the MC4 cable is stored.
Built with monocrystalline solar cells, the PV120 can convert up to 23.4% of sunlight into solar energy, charging your solar generators even in bad weather. The ETFE coating and IP65 junction box are designed to withstand scratches and water splash, perfect for camping, fishing, hiking, and much more. On a sunny day, it can deliver up to 120W, which means that it will fully charge the EB3A in about three hours.
Bluetti PV120 solar panel technical specs
Power
120 Watt
Voltage at Max Power (Vmp)
19.6V
Current at Max Power (Imp):
6.1A
Open Circuit Voltage (OCV)
24.4V
Short Circuit Current (Isc)
6.43A
Cell type
Monocrystalline Silicon
Lamination
ETFE (Ethylene tetrafluoroethylene)
Connector
Standard MC4 Connector
Dimensions
Unfolded: 21 × 65in (53.3 × 165.2cm)
Folded: 21 × 18.5in (53.3 × 47cm)
Weight
12.57lbs (5.7kg)
Bluetti EB3A outputs: 600W and 268Wh storage capacity
The Bluetti EB3A power station is intended to be used with all kinds of devices, including tech gear, power tools, and camping appliances. These days, most portable pieces of equipment are powered and charged via a USB port. Laptops, cameras, drones, and gimbals, can all be powered or charged with this power station. EB3A has two 15W USB-A ports for low-power legacy devices and one 100W PD USB Type C port for fast-charging compatible devices. The car cigarette lighter socket allows using camping fridges or 12V water boilers.
The pure sine wave AC output means you can safely use refrigerators, sensitive electronics, power tools, and even medical equipment. The table below shows some expected runtimes according to power usage.
| | | |
| --- | --- | --- |
| | Power usage | Usage time |
| Smartphone | 12Wh | 22 times |
| Laptop | 65Wh | 4 times |
| DJI Air 2S drone | 28Wh | 9 times |
| 6S 1500mAh FPV LIPO | 33Wh | 30 times |
| BOSCH ProCORE 18V 5Ah | 90Wh | 2.9 times |
| Fan | 20W | 11 hours |
| Mini fridge | 60W | 3.6 hours |
| Light | 5W | 30 hours |
| LCD TV 43″ | 110W | 2.4 hours |
| Corded drill | 600W | 20 minutes |
| CPAP | 25w | 9 hours |
To test the max load capacity on the AC socket, I used a hair dryer with 3 heating levels (400w, 750w, and 1500w). On 400W worked well, but when I switched to 750W, it shut down the AC port, and a red "Overload" message was shown on display.
Bluetti EB3A for 3D printing
If you print miniature things that take 30 minutes to an hour, restarting a print job in case of power loss is not an issue. However, if your 40 hours project stops due to a power outage at 90%, it can be quite frustrating.
In theory, most modern FDM 3D printers feature Power-loss recovery that periodically saves the print job state to the SD Card / Flash Drive. If a power outage occurs, you will be able to resume the interrupted print job. Unfortunately, if the power shortage is longer than a minute, the build platform will cool down, and the model will pop off, making it impossible to resume and continue the job. Also, the heavy use of the SD-Card can cause blobs depending on the complexity of the model you print.
Since I received the Bluetti EB3A, it is always connected to my Elegoo Neptune 3 Plus 3D printer. It gives me coverage for about 20 minutes in case of a power failure. I miss cloud connectivity for the remote control of the output ports. Often, I monitor my 3D machines via a WIFI camera, and if the printing process fails, it would be nice to cut the power remotely.
Bluetti EB3A for drone battery charging
When it comes to charging drone batteries in the field, there are a few options available:
Portable power banks: These small portable battery packs can be used to charge your drone batteries on the go, but they are very limited in charging capacity
Car chargers: If you have access to a vehicle, you can use a car charger to charge your drone batteries
Portable power stations: Portable charging stations are larger than power banks and can charge multiple batteries at once. The Bluetti EB3A paired with a solar panel, is ideal for longer trips requiring multiple batteries. With an MC4-XT60 cable, you can even transfer back (recycle) the energy from the unused LIPO batteries.
Technical specifications
General
Pass-through Charging
Yes
Inverter Type
Pure Sine Wave
Surge power
1200W
Certifications
UL Standard, CEC, DOE, FCC, CA Prop 65
Operating Temperature
-10-40℃ (14-104℉)
Dimensions (LxWxD)
255*180*183mm (10.04*7.09*7.20″)
Weight
4.6kg (10.14lbs)
Battery parameters
Capacity
268.8Wh (12Ah)
Chemistry
LiFePO4 (Lithium Iron Phosphate)
Life Cycles
2,500+ Cycles to 80% of Original Capacity
Shelf-life
Recharge to 80% Every 3-6 Months
Management System
MPPT Controller, BMS, etc
Recharge time
AC Charging Cable (Turbo Mode 350W)
~1 Hour
AC Charging Cable (Standard Mode 268W)
~1.5-2.0 Hours
Solar input (200W)
~1.8-2.3 Hours on sunny summer days
12V/24V Car Outlet (102W/204W)
~1.5-1.8 or 3.1-3.6 Hours
AC + Solar (430W)
~1.1-1.6 Hours
Dual AC (430W)
~1.1-1.6 Hours
Input ports
AC Charging Cable (Standard Mode)
350W Max.
AC Charging Cable (Turbo Mode)
350W Max.
Solar Input
200W Max, VOC 12-28VDC/ 8.5A
Car Input
12/24V from Cigarette Lighter Port (8.5A Max.)
Maximum Input
430W, with AC and Solar Input Simultaneously
Output ports
AC outlet
220V-240V/2.6A Outlet (600W)
USB-C Port
100W Max.
2x USB-A Ports
2 x 5V/3A USB-A
Car Outlet
12V/10A
DC 5521 (5.5mm Outlets)
12V/10A
Wireless Charging Pad
15W Max.
What's the difference between a power station and a solar generator?
Just the names – neither a solar generator nor a power station create energy. They store it and convert it to the desired parameters, so you can use it anytime. The "solar" word just indicates that it has a built-in MPPT circuit, allowing you to charge your battery-power station from a solar panel.